Culinary
Tuna Stuffed Peppers. An easy family favorite – tuna is the perfect healthy substitute for ground beef in this recipe Ingredients 1 pouch (11 oz.)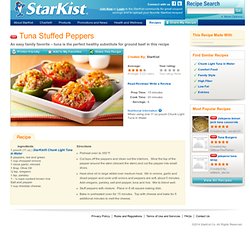 StarKist® Chunk Light Tuna in Water. Breakfast Recipes. ThaiTable.com. Thai Green Chicken Curry. Photo by Tina Rupp yield Makes 4 servings active time 25 minutes total time 25 minutes.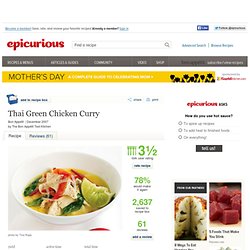 Ramen Recipes. Submit your favorite Ramen Noodle Recipe and you'll be automatically entered to win an Omaha Steak Sampler Package to help fill your freezer.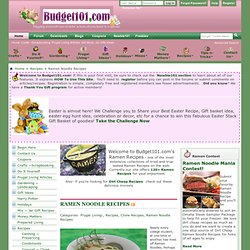 We love dirt cheap recipes as much as you do and we want to create a one stop source of Dirt Cheap Ramen Noodle Recipes for folks of all ages to enjoy. But even more than that, your creative recipes will be made available for others to see and enjoy, enlarging our resource and helping people (Like yourself!) Find wonderful meal ideas they can afford on any budget, no matter how meager. ... Joyofbaking.com. Contact Us Privacy Policy Joyofbaking On Twitter Stephanie Jaworski+ Find us on Google+ Use of materials on all pages on the domains Joyofbaking.com, joyofbaking.mobi, the Joyofbaking.com Facebook Page, @joyofbaking on Twitter, the Joyofbaking.com RSS Feed, the Joyofbaking.com email list the Joyofbaking1 YouTube Channel and any emails sent from @joyofbaking.com are entirely at the risk of the user and their owner, iFood Media LLC will not be responsible for any damages directly or indirectly resulting from the use.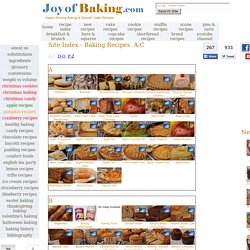 Peppermint Bark Recipe With Picture. It's funny how something can go unnoticed for years and then suddenly you see it everywhere.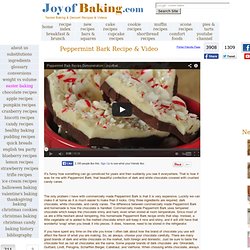 That is how it was for me with Peppermint Bark; that beautiful confection of dark and white chocolate covered with crushed candy canes. The only problem I have with commercially made Peppermint Bark is that it is very expensive. Luckily we can make it at home as it is much easier to make than it looks. Only three ingredients are required, dark chocolate, white chocolate, and candy canes. The difference between commercially made Peppermint Bark and homemade is how the chocolate is handled. White Chocolate Raspberry Brittle. Contact Us Privacy Policy Joyofbaking On Twitter Stephanie Jaworski+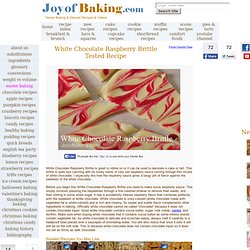 The Brownie Project. Cream Cheese Brownies. Cream Cheese Brownies: Preheat oven to 325 degrees F (160 degrees C) and place the rack in the center of the oven.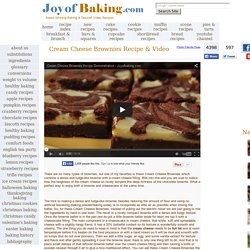 Have ready a 9 inch (23 cm) square baking pan that has been lined with aluminum foil. In a heatproof bowl, placed over a saucepan of simmering water, melt the butter and chocolate. Remove from heat and stir or whisk in the sugar and vanilla extract. Add the eggs, one at a time, beating well after each addition. Stir in the flour and salt and stir vigorously until the batter is smooth and glossy (about one minute). S'More Granola Bars. One bite of these delicious S'more Granola Bars and you will be hooked.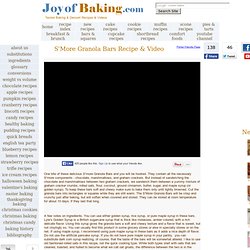 They contain all the necessary S'more components - chocolate, marshmallows, and graham crackers. But instead of sandwiching the chocolate and marshmallows between two graham crackers, we sandwich them between a yummy mixture of graham cracker crumbs, rolled oats, flour, coconut, ground cinnamon, butter, sugar, and maple syrup (or golden syrup). To keep these bars soft and chewy make sure to bake them only until lightly browned. Supercook: recipe search by ingredients you have at home. Chocolate Mint Brownie Cookies.
---