Neuroanatomy & Physiology
Anatomy. Clinical Neurophysiology. Interactive Neurophysiology Site. About. Www.neurophysiology.org - WebHome. Home | Open Connectome Project. The development of better biotech enzymes. Enzymes are proteins that speed up chemical reactions, such as laundry detergent digesting protein stains, which are otherwise very difficult to remove.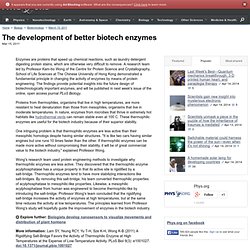 A research team led by Professor Kam-bo Wong of the Centre for Protein Science and Crystallography, School of Life Sciences at The Chinese University of Hong Kong demonstrated a fundamental principle in changing the activity of enzymes by means of protein engineering. The findings provide potential insights into the future design of biotechnologically important enzymes, and will be published in next week's issue of the online, open access journal PLoS Biology. Epilepsy & Neurophysiology. Sylvius Neuroanatomical Reference. Clinical Neurophysiology on the Internet. Neurophysiology. Copyright Information For Authors Submission of a manuscript implies: that the work described has not been published before (except in form of an abstract or as part of a published lecture, review or thesis); that it is not under consideration for publication elsewhere; that its publication has been approved by all co-authors, if any, as well as – tacitly or explicitly – by the responsible authorities at the institution where the work was carried out.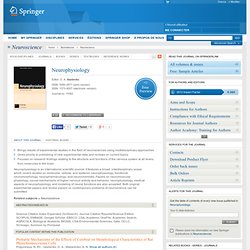 Author warrants (i) that he/she is the sole owner or has been authorized by any additional copyright owner to assign the right, (ii) that the article does not infringe any third party rights and no license from or payments to a third party is required to publish the article and (iii) that the article has not been previously published or licensed. The author signs for and accepts responsibility for releasing this material on behalf of any and all co-authors. Neurophysiology. Neurophysiology (from Greek νεῦρον, neuron, "nerve"; φύσις, physis, "nature, origin"; and -λογία, -logia) is a branch of physiology and neuroscience that is concerned with the study of the functioning of the nervous system.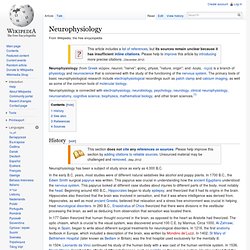 The primary tools of basic neurophysiological research include electrophysiological recordings such as patch clamp and calcium imaging, as well as some of the common tools of molecular biology. Neurophysiology is connected with electrophysiology, neurobiology, psychology, neurology, clinical neurophysiology, neuroanatomy, cognitive science, biophysics, mathematical biology, and other brain sciences.[1] Journal of Neurophysiology.
---