Music OST's
Music Reviews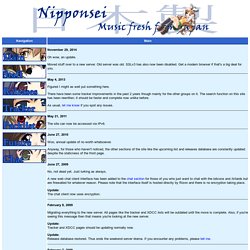 May 4, 2013 Figured I might as well put something here. There have been some tracker improvements in the past 2 years though mainly for the other groups on it. The search function on this site has been rewritten; it should be faster and complete now unlike before.
Nipponsei - Music Fresh From Japan Welcome to Gendou's Anime Music! Subscribe to the Gendou.com RSS feed for news, new songs, and more! Gendou Now Has A SubReddit!April 6th, 2014That's right, folks!
Gendou's Anime Music
Shinnoden!
Title: WHITE ALBUM 2 VOCAL COLLECTION Artist: Various Tracklist: 1. Todokanai Koi Live at Campus Fes (TV anime ver.) 2. Akujo 3. I'm fallin' in love 4. After All ~Tsuzuru Omoi~ '13 5.
All the original Touhou series' BGM goodness, in lossless and lossy formats. Read More.. Halozy's Touhou remix album released at C83 Read More..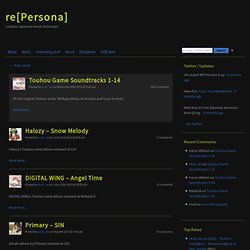 re[Persona]