Opensource
Library. Image. Mobile. Software. Pdf. Coldfusion. Microsoft`s Ozzie Talks Open Source, Azure and More. Ray Ozzie, Microsoft's chief software architect, took time out of a very busy schedule to chat with eWEEK Senior Editor Darryl K.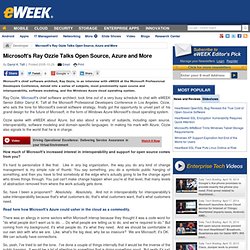 Taft at the Microsoft Professional Developers Conference in Los Angeles. Ozzie, who sets the tone for Microsoft's overall software strategy, finally got the opportunity to unveil part of his grand design for the future of Microsoft, in the form of Windows Azure-Microsoft's cloud operating system. Ozzie spoke with eWEEK about Azure, but also about a variety of subjects, including open source, interoperability, software modeling and domain-specific languages. In making his mark with Azure, Ozzie also signals to the world that he is in charge. How much of Microsoft's increased interest in interoperability and support for open source comes from you?
Goodbye activeCollab, hello ProjectPier: project management appl. The project management application I use extensively for some of my tasks has turned its back on the open source beginnings that attracted me and, I'm sure, many others to it during its initial versions.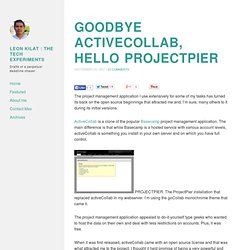 ActiveCollab is a clone of the popular Basecamp project management application. The main difference is that while Basecamp is a hosted service with various account levels, activeCollab is something you install in your own server and on which you have full control. PROJECTPIER. The ProjectPier installation that replaced activeCollab in my webserver. I'm using the goCollab monochrome theme that came it. Kaltura - Open Source Video Platform.
---