Handy dandy
Breast Enhancement Ringtone
Embed This Infographic <a href=http://www.todayifoundout.com/index.php/2011/08/how-to-infographic/ ‎"><img src="http://www.todayifoundout.com/wp-content/uploads/2011/08/Today-I-Found-Out-How-To...-copy.jpg" title="10 How Tos" alt="How To Infographic" border="0" class="nopin" /></a><br />Source: <a href='http://www.todayifoundout.com' title='Interesting Facts'><a href='http://www.todayifoundout.com' title='Interesting Facts'>Today I Found Out</a></a> 1) How to drastically increase the life of your shaving razor
How To…
Most Popular Repurposing Tricks of 2011
The best trick of all is repairing broken stuff. You would be amazed that in this throw away age so many things can be repaired easily. Invest your money in quality tools, and you will find the tool pays for itself in the first few repairs you make with it.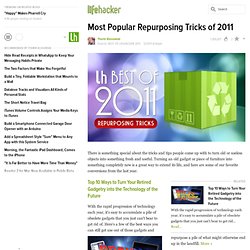 How to Fold a Shirt in 2 Seconds - Video - StumbleUpon
25 clever ideas to make life easier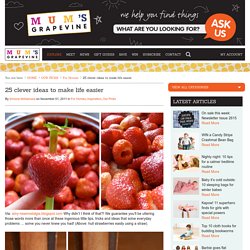 Via: amy-newnostalgia.blogspot.com Why didn't I think of that?! We guarantee you'll be uttering those words more than once at these ingenious little tips, tricks and ideas that solve everyday problems … some you never knew you had! (Above: hull strawberries easily using a straw).