Wordpress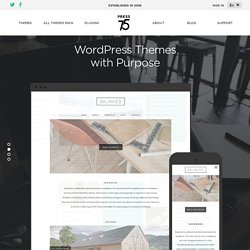 Create your site with WordPress publishing platform and any Press75 theme. Starting at just $75, you can get access to all 17 of our themes. That's just $4.41 per theme! Each membership includes theme updates, documentation, priority support, and unlimited use for all themes.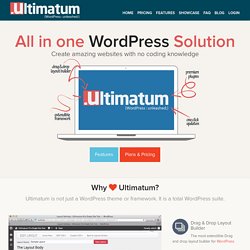 Create amazing WordPress sites with no coding knowledge Ultimatum 2.5 Ultimatum is not just a WordPress theme or framework. It is a total design suite.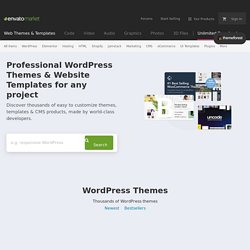 12,750 Site Templates and Themes from $3 HTML, Email, WordPress, PSD, Joomla, Magento Start Browsing Popular Files Learn More Weekly Features Next
21 Premium Wordpress Themes for 2012 | InkThemes | WordPress CMS Themes
PullOut Widgets/Plugins for WordPress
SHOWBIZ - Carousel
ALL IN ONE BANNER - PLAYLIST BANNER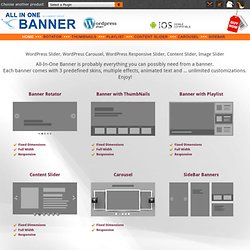 All In One is an Advanced Slider for WordPress which comes in 5 flavors: Banner Rotator, Thumbnails Banner, Banner with Playlist, Content Slider, Carousel. It allows you to easily create powerful WordPress Image Sliders with animated text using HTML standard tags, making the slider very easy to setup and maintain. Please see the features for each product and check the live preview of this slider and convince yourself of its quality. Using an Image Slider for the website design, has become a must have element over the last years. Our All In One Responsive Slider has everything you can possibly need from a banner. This Content Slider is professionally designed and will certainly boost the design of your website.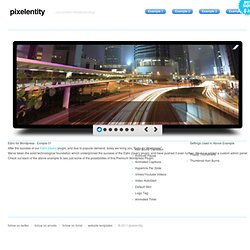 Estro jQuery Ken Burns Slider – A Premium Wordpress Plugin – Example 01 | Pixelentity
Pixelentity Just another Wordpress blog! Welcome To The Estro Wordpress Slider by Pixelentity pn close Estro for Wordpress - Exmple 01
KENBURNER - Ken Burns Slider Jquery Plugin
Parallax Slider for WP
Make Your WordPress Slider Stand Out with Striking Lenses Designed specifically for SlideDeck 2, Lenses give your slider a stunningly crafted appearance. With a dozen lenses (and even more to come) available for the WordPress version of SlideDeck, you now have more control and flexibility in customization than ever before. 12 Lenses 14 Sources 60+ Options 29+ Million Combinations See Live Examples Your Content, Your Look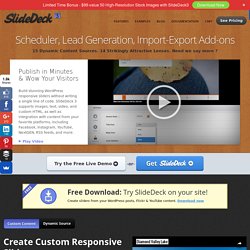 Welcome to Calendarize it! – a Powerful WordPress Calendar plugin. There are several great calendar plugins available for WordPress, but most of them target specific industries, or are limited in features.
Calendarize It! | - a powerful Calendar and Event plugin for WordPress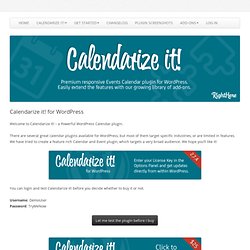 Page