Miniature
Miniaturas :
Welcome to CoolMiniOrNot Shop
MAELSTROM GAMES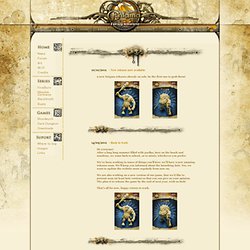 Enigma Miniatures
Hi everyone! After a long long summer filled with paellas, beer on the beach and sunshine, we come back to school…or to minis, whichever you prefer. We've been working in tones of things you'll love: we'll have 2 new amazing releases soon. We'll keep you informed about the launching date. Yes, we want to update the website more regularly from now on. We are also working on a new version of our game, that we'd like to present soon (at least beta version) so that you can give us your opinion.
BLACK SCORPION (miniatures)
Malifaux | Wyrd Miniatures, LLC
i Giochi dei Grandi.it
Zenit Miniatures
OTHERWORLD | Home Page
Miniaturenspiele - Fantasy-In Spiele & Bücher
Welcome to the world of Freebooter's Fate and Freebooter Miniatures | Freebooter Miniatures
Welcome to the world of Freebooter's Fate and Freebooter Miniatures | Freebooter Miniatures
Miniatures for role games
The Legends
TALE of WAR miniatures - Tale of War miniatures
Pegaso Models
ANDREA MINIATURES MARKET PLACE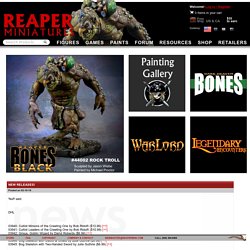 Monte Cook Games, LLC, and Reaper Miniatures announced today the release of miniatures for the Numenera roleplaying game. The miniatures set features 10 miniatures of characters and creatures, gorgeously sculpted to Reaper's famed standards. The sculpts are taken directly from Numenera artwork created by incredible artists like Kieran Yanner, Jason Engle, Scott Purdy, and more. They will be released as a box set in August, with a limited quantity available via Monte Cook Games at Gen Con 2013. "As you would expect with Reaper, they went above and beyond to create cool models for us," commented Monte Cook, creator of Numenera. "Sculptors Patrick Keith, Brett Admunson, and Kevin Williams really captured the look and feel of Numenera well."
Raging Heroes | Complete Collection
Kai Fuhrmann Figuren und Zubehör - Ihr Ansprechpartner für den Maßstab 1/72
Nachstellung einer mittelalterlichen Räderung. Es handelt sich um eine Hinrichtungsform des Mittelalters und der Frühen Neuzeit. Die Praxis wurde in Bayern erst 1813 vollständig abgeschafft, in Kurhessen war sie noch bis 1836 im Gebrauch. Die letzte bekannte Hinrichtung durch Rädern fand in Preußen 1841 statt. Der Raubmörder Rudolf Kühnapfe war wegen der Ermordung des Andreas Stanislaus von Hatten, des Bischofs von Ermland, verurteilt worden.
Herzlich willkommen!
Studio McVey
Historic Art Miniatures » 70 mm
GameZone Miniatures Italia