Politique
▶ Porter Robinson - The State by Porter Robinson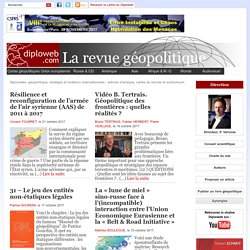 7 - OTAN, histoire et fin ? Catherine DURANDIN, le 16 janvier 2014. Le Diploweb.com publie un livre de Catherine Durandin, OTAN, histoire et fin ?. Chapitre 7.
xyH3n.png (Image PNG, 646x937 pixels)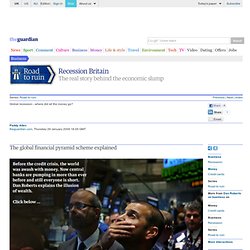 Turn autoplay off Edition: <span><a href="https://id.theguardian.com/dashboard?returnUrl=http://www.theguardian.com/business/dan-roberts-on-business-blog/interactive/2009/jan/29/financial-pyramid">Profile</a></span> Sign in Beta About us
Global recession - where did all the money go? | Business
J'avais prévu de vous parler de l'hyperinflation et de ses signaux avant-coureurs. Nous avons d'ailleurs commencé sur le sujet, hier, dans la Quotidienne . Voilà qu'aujourd'hui, 21 décembre, la très respectable Agefi, qu'on ne peut soupçonner d'alarmisme outrancier nous fait déployer nos petites antennes fébriles. « Le CDS sur la France à un niveau record », titre le quotidien. Le CDS, c'est cette assurance contre le défaut sur une dette. Il existe des CDS pour les pays – et donc les obligations souveraines qu'ils émettent – comme pour les entreprises.
La « main invisible » donne une grosse baffe à la France
The Guardian coalition pledge tracker | Politics
Turn autoplay off Edition: <span><a href="https://id.theguardian.com/dashboard?returnUrl=http://www.theguardian.com/politics/interactive/2010/aug/12/coalition-pledge-tracker">Profile</a></span> Sign in Beta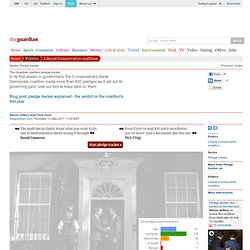 Credit Suisse - Compensating With Soft Currencies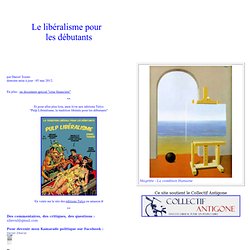 Le libéralisme pour les nuls
Pourquoi l'ordre spontané a-t-il mauvaise réputation ? "Au village, sans prétention, J'ai mauvaise réputation. Qu'je m'démène ou qu'je reste coi Je pass' pour un je-ne-sais-quoi!
Economist Debates: Reaching 65
How an Economist debate works What do you think? This debate has finished. Voting is now closed. Voting at a glance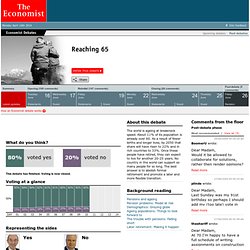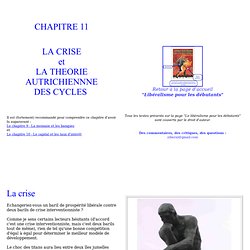 Sur l'île du Planisme Bureaucratique, c'est un peu la catastrophe. Les investisseurs constatent que les prix des biens de consommation augmentent beaucoup et que les bonnes affaires ne sont peut être pas dans les biens de capitaux éloignés temporellement des biens de consommation, mais plutôt dans ceux qui peuvent servir le grand public rapidement... les épuisettes par exemple. Et s'ils s'étaient trompés ? Et si les monstrueux investissements effectués dans les bateaux à voile -dont les prix grimpaient en permanence- étaient des mal-investissements ? Ce qui doit arriver arrive : c'est la crise.
La crise
Debtwatch No 41, December 2009: 4 Years of Calling the GFC | Ste
EmailShare 0EmailShare I first realised that the world faced a serious financial crisis in the very near future in December 2005, as I prepared an Expert Witness Report for the NSW Legal Aid Commission on the subject of predatory lending. My brief was to talk about the impact of such contracts on third parties, since one ground to overturn a loan contract was that it had deleterious impacts on people who were not signatories to the contract itself. I was approached because the solicitor in the case had heard of my academic work on Hyman Minsky's "Financial Instability Hypothesis". Minsky's hypothesis argued that a capitalist economy with sophisticated financial institutions could fall into a Depression as an excessive buildup of private debt occurred over a number of financially-driven business cycles.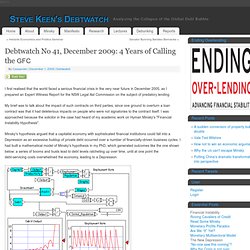 Chicago Economists on the Crisis - Freakonomics Blog - NYTimes.c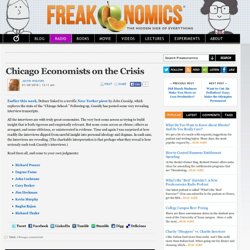 Earlier this week, Dubner linked to a terrific New Yorker piece by John Cassidy, which explores the state of the "Chicago School." Following up, Cassidy has posted some very revealing interview transcripts. All the interviews are with truly great economists. The very best come across as trying to build insight that is both rigorous and empirically relevant. But some come across as obtuse; others as arrogant; and some oblivious, or uninterested in evidence.
Maison de la Radio ou siège du Parti ? L'heure est grave. Le rouleau-compresseur de la censure sarkozyste est en marche. Heureusement, de courageux résistants sauvent l'honneur, au sacrifice, sinon de leur vie, du moins de leurs émoluments. En ces heures sombres qui nous en rappellent d'autres, la liberté a deux visages, ceux de Didier Porte et de Stéphane Guillon, qui ont appelé aujourd'hui leurs auditeurs furibonds à manifester devant la Maison de la Radio. On ne s'étonnera pas qu'ils tournent en rond.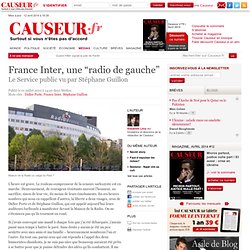 France Inter, une "radio de gauche" - Causeur.fr