Ebooks
Free-eBooks.net | Download free Fiction, Health, Romance and many more ebooks. Books or Nooks? How Americans' reading habits are shifting in a dig... How to Buy an Ebook Reader - How to Buy an eBook Reader | Roundup. OB Roundup The transition to digital books is happening faster than anyone expected.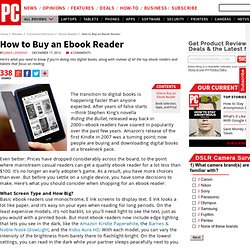 After years of false starts—think Stephen King's novella Riding the Bullet, released way back in 2000—ebook readers have soared in popularity over the past few years. Amazon's release of the first Kindle in 2007 was a turning point; now people are buying and downloading digital books at a breakneck pace. Even better: Prices have dropped considerably across the board, to the point where mainstream casual readers can get a quality ebook reader for a lot less than $100.
It's no longer an early adopter's game. Amazon Kindle (2011) Review & Rating. Over a decade after the first ebook readers launched, and four years after Amazon debuted the original Kindle, we finally have a device that could conquer the mainstream.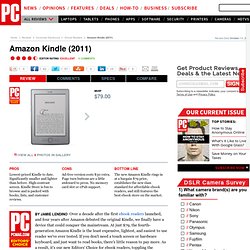 At just $79, the fourth-generation Amazon Kindle is the least expensive, lightest, and easiest to use reader we've ever tested. If you don't need a touch screen or hardware keyboard, and just want to read books, there's little reason to pay more. As a result, it's our new Editors' Choice for ebook readers, toppling the reigning Barnes & Noble Nook Touch ($139, 4.5 stars). Amazon Kindle Touch 3G Review & Rating. If you're a Kindle fan, but don't want to bother with physical buttons, Amazon finally has an ebook reader for you.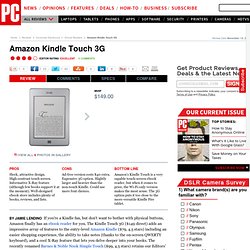 The Kindle Touch 3G ($149 direct) adds an impressive array of features to the entry-level Amazon Kindle ($79, 4.5 stars) including an easier shopping experience, the ability to take notes (thanks to the on-screen QWERTY keyboard), and a cool X-Ray feature that lets you delve deeper into your books. The recently renamed Barnes & Noble Nook Simple Touch ($99, 4.5 stars) retains our Editors' Choice award for touch-screen ereaders, thanks to B&N's $40 price drop, ad-free design, and recent speed improvements, but the Kindle Touch runs a close second. Design, Screen, and Reading BooksThe Kindle Touch 3G comes in four varieties: Wi-Fi only with ads ($99), Wi-Fi only without ads ($139), Wi-Fi + 3G with ads ($149; the subject of this review), and Wi-Fi + 3G without ads ($189).
Amazon Kindle Fire Review & Rating. The Amazon Kindle Fire puts the Apple iPad on notice.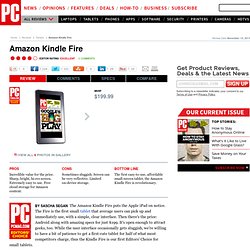 The Fire is the first small tablet that average users can pick up and immediately use, with a simple, clear interface. Then there's the price: Android along with amazing specs for just $199. It's open enough to attract geeks, too. While the user interface occasionally gets sluggish, we're willing to have a bit of patience to get a first-rate tablet for half of what most competitors charge, thus the Kindle Fire is our first Editors' Choice for small tablets. DesignA solid little brick at 7.5 by 4.7 by .45 inches (HWD) and 14.6 ounces, the Kindle Fire looks and feels a lot like the BlackBerry PlayBook ($499, 2.5 stars), but the Fire is smaller in all dimensions. Kobo eReader Touch Edition Review & Rating. Kobo's not the first name you'd think of when naming ebook reader manufacturers, nor is it the second.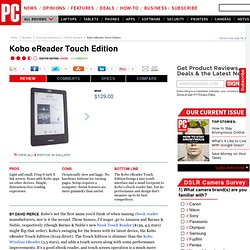 Those honors, I'd wager, go to Amazon and Barnes & Noble, respectively (though Barnes & Noble's new Nook Touch Reader ($139, 4.5 stars) might flip that order). Kobo's swinging for the fences with its latest device, the Kobo eReader Touch Edition ($129 direct). The Touch Edition is slimmer than the Kobo Wireless eReader (3.5 stars), and adds a touch screen along with some performance improvements. Kobo Vox Review & Rating. The Kobo Vox ($199 direct) aims to douse the Amazon Kindle Fire ($199, 4 stars) as an inexpensive tablet and ebook reader.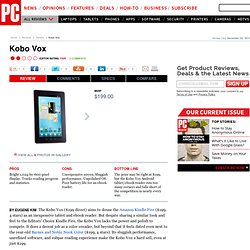 But despite sharing a similar look and feel to the Editors' Choice Kindle Fire, the Kobo Vox lacks the power and polish to compete. It does a decent job as a color ereader, but beyond that it feels dated even next to the year-old Barnes and Noble Nook Color ($199, 4 stars). N2A Card (for Nook Color) Review & Rating. The Barnes & Noble Nook Color ($249, 4 stars) is already so much more than an ebook reader.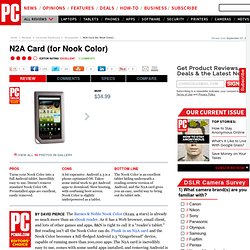 As it has a Web browser, email client, and lots of other games and apps, B&N is right to call it a "reader's tablet." But reading isn't all the Nook Color can do. Plunk in an N2A card and the Nook Color becomes a full-fledged Android 2.3 "Gingerbread" device, capable of running more than 200,000 apps. The N2A card is incredibly easy to use, comes with some useful apps installed, and removing Android is as simple as rebooting your Nook Color.
Barnes & Noble Nook Tablet Review & Rating. The reader's tablet is back.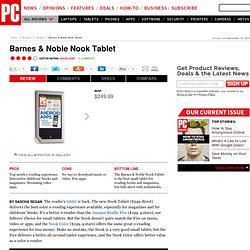 The new Nook Tablet ($249 direct) delivers the best color e-reading experience available, especially for magazines and for childrens' books. It's a better e-reader than the Amazon Kindle Fire ($199, 4 stars), our Editors' Choice for small tablets. But the Nook doesn't quite match the Fire on music, video or apps, and the Nook Color ($199, 4 stars) offers the same great e-reading experience for less money.
How to download e-books from your local library. Before you purchase e-books from vendors like Amazon or from the iBookstore, see what your local library has to offer.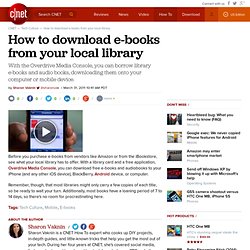 With a library card and a free application, Overdrive Media Console, you can download free e-books and audiobooks to your iPhone (and any other iOS device), BlackBerry, Android device, or computer. Remember, though, that most libraries might only carry a few copies of each title, so be ready to wait your turn. Additionally, most books have a loaning period of 7 to 14 days, so there's no room for procrastinating here. North Canton Public Library. Ohio eBook Project. E-book management. Digital Editions Iniformation.
Get Adobe Digital Editions. The Adobe USA site has been optimized for users within the United States.
If you live outside the U.S., we recommend that you visit your local site for the most relevant information, including pricing, promotions, and local events. United States Canada - English Your country selection will be remembered for future visits. Global distributor of digital eBooks, audiobooks, music & video for library, school & retail.
---
ncpl May 19 2012

This is a pearl tree created to assist in understanding the increasing popular and booming emerging world of e-books!