E-reputation and datamining
CV Christophe ASSELIN - Expert Veille Internet, e-réputation, We. • Expertise sur les outils de recherche et sources internet : recherche, collecte, identification, validation, analyse visuelle et cartographie d'informations, de sources et métaressources.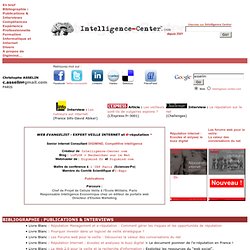 Méthodologie de recherche, nouvelles tendances, nouveaux outils... • Evangélisation des tendances et concepts web : le Web 2.0, l'e-réputation (Digimind a lancé le concept de réputation internet en France en 2007), le web invisible, le Consumer Insight 2.0 (avis consommateurs sur le web), "la veille pour tous", le réputation management... • Maîtrise du net pour la recherche d'information et la veille (web, mailings lists, newsgroups, forums, bases de données, Web invisible, Web 2.0 : blogs, RSS, OPML, réseaux sociaux, bookmarks sociaux, moteurs collaboratifs, moteurs de tags, mashups, wikis...) • Elaboration de méthodologies et de stratégies de recherche d'informations. New generation sunproof screens - technology : sci-tech, hi-tech. We all know how difficult it can be to see a liquid crystal screen when the sun comes out.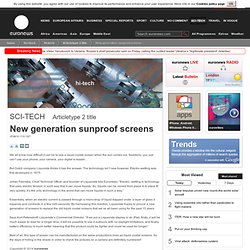 Suddenly, you just can't use your phone, your camera, your digital e-reader… But Dutch company Liquivista thinks it has the answer. The technology isn't new however. Electro-wetting was first developed in 1875. Johan Feenstra, Chief Technical Officer and founder of Liquavista told Euronews: "Electro- wetting is technology that uses electric tension in such way that it can move liquids.
Www.ixxo.fr. Digimind - Competitive Intelligence Software. HotGrinds - Serving fresh-ground opinions from the web. Mozilla Firefox.
---