My Projects
CitationStyles.org | The Citation Style Language - open and free citation styles. Fbennett / citeproc-js. OnSwipe - Insanely Easy Tablet Publishing. Wifi Hotspot Locations | NYC Open Data. The Socrata Open Data API (SODA) allows software developers to access data hosted in Socrata data sites programmatically.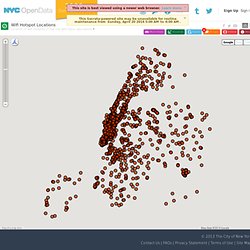 Developers can create applications that use the SODA APIs to visualize and "mash-up" Socrata datasets in new and exciting ways. Create an iPhone application that visualizes government spending in your area, a web application that allows citizens to look up potential government benefits they'd overlooked, or a service that automatically emails you when new earmarks are added to bills that you wish to track. CSM. Certified ScrumMasters® help project teams properly use Scrum, increasing the likelihood of the project's overall success.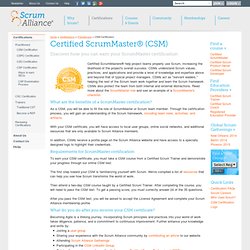 CSMs understand Scrum values, practices, and applications and provide a level of knowledge and expertise above and beyond that of typical project managers. CSMs act as "servant leaders," helping the rest of the Scrum team work together and learn the Scrum framework. CSMs also protect the team from both internal and external distractions. Read more about the ScrumMaster role and see an example of a ScrumMaster's checklist. What are the benefits of a ScrumMaster certification? Web Fonts. Public - Windows Live. Tender Support — Support your product: Knowledge Base, Helpdesk, Forums.
Maker. Android. iOS. HTML5. Tryit Editor v1.4. Point your feed here. We'll do the rest. Mathematics Resources. The Future of Publishing. Zotero | Home. Open Conference Systems. Academic reference management software for researchers.
Creating structured documents with books. A book is a set of pages tied together in a hierarchical sequence, perhaps with chapters, sections, subsections, and so on.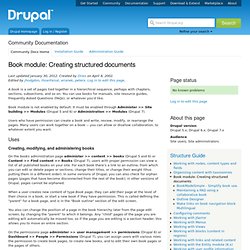 You can use books for manuals, site resource guides, Frequently Asked Questions (FAQs), or whatever you'd like. Book module is not enabled by default. It must be enabled through Administer >> Site building >> Modules (Drupal 5 and 6) or Administration >> Modules (Drupal 7).
---