HTML5
Ann_Oncology. Hype. Tumult Hype tries hard to deliver 100% fidelity across all browsers.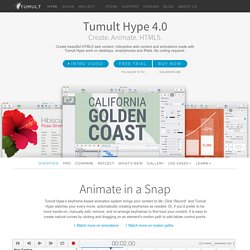 Yes, that even includes IE 6! When there are no good fallbacks, Tumult Hype warns about browser incompatibilities in the inspector and at export time, so you're never caught by surprise. Tumult Hype outputs state of the art HTML5, CSS3 styles, and JavaScript. Built-in support for HTML5 audio and video allows for creating multimedia experiences. Tumult Hype strives to always adopt cutting edge features, like blurring, hue shifts, box shadows, reflection, and 3D transformations.
IS HTML5 READY YET? Pro CSS and HTML Design Patterns. Welcome. Search Results. Create a new Fiddle - jsFiddle - Online Editor for the Web (JavaScript, MooTools, jQuery, Prototype, YUI, Glow and Dojo, HTML, CSS) SproutCore.
jQuery Mobile: Demos and Documentation. HOWTO: Native iPhone/iPad apps in JavaScript. More resources On top of the information below, I can recommend a few other resources: Building iPhone Apps with HTML, CSS, and JavaScript is the only book I found that covered everything.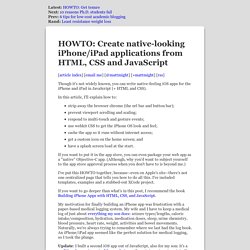 I highly recommend it if you're planning on doing serious app development in JavaScript. How to Test your Local Website Online with Dropbox. Learn how you can code your HTML /CSS /JavaScript files on a local computer and still test the site online using Dropbox.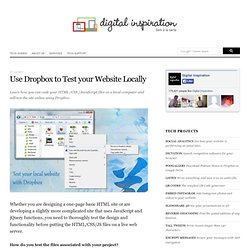 Whether you are designing a one-page basic HTML site or are developing a slightly more complicated site that uses JavaScript and jQuery functions, you need to thoroughly test the design and functionality before putting the HTML/CSS/JS files on a live web server. How do you test the files associated with your project? Safari Web Content Guide: Configuring the Viewport. Safari on iOS displays webpages at a scale that works for most web content originally designed for the desktop.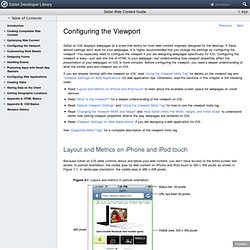 If these default settings don't work for your webpages, it is highly recommended that you change the settings by configuring the viewport. You especially need to configure the viewport if you are designing webpages specifically for iOS. Configuring the viewport is easy—just add one line of HTML to your webpage—but understanding how viewport properties affect the presentation of your webpages on iOS is more complex. Before configuring the viewport, you need a deeper understanding of what the visible area and viewport are on iOS.
If you are already familiar with the viewport on iOS, read "Using the Viewport Meta Tag" for details on the viewport tag and "Viewport Settings for Web Applications" for web application tips. Base64 converter for embeded URI Images. Description A script for converting text or images or anything else to and from Base64.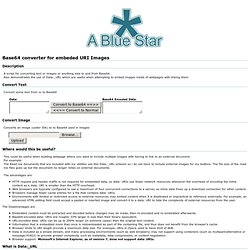 Also demonstrates the use of Data:_URL which are useful when attempting to embed images inside of webpages with linking them Convert Text Convert some text from or to Base64. About. PhoneGap is an open source framework for quickly building cross-platform mobile apps using HTML5, Javascript and CSS.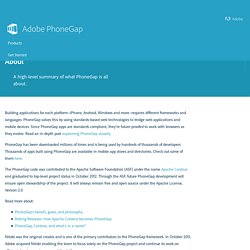 Wrap your app with PhoneGap Deploy to mobile platforms! Building applications for each device–iPhone, Android, Windows Mobile and more–requires different frameworks and languages. PhoneGap solves this by using standards-based web technologies to bridge web applications and mobile devices. Since PhoneGap apps are standards compliant, they're future-proofed to work with browsers as they evolve. Read an in-depth post explaining PhoneGap visually. Raquel Hernández. Web Storage. Abstract This specification defines an API for persistent data storage of key-value pair data in Web clients.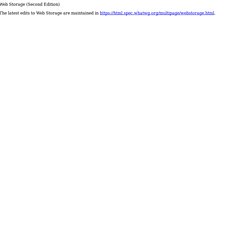 Status of This document This section describes the status of this document at the time of its publication. Other documents may supersede this document. A list of current W3C publications and the most recently formally published revision of this technical report can be found in the W3C technical reports index at. HTML Standard. 1.10.3 Restrictions on content models and on attribute values 2.7.2 Encrypted HTTP and related security concerns 2.8.1 Reflecting content attributes in IDL attributes 3.2.3.8 Embedding custom non-visible data with the data-* attributes.
Web SQL Database. Abstract This specification defines an API for storing data in databases that can be queried using a variant of SQL.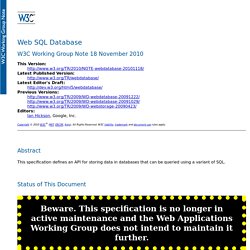 Status of This Document Beware. This specification is no longer in active maintenance and the Web Applications Working Group does not intend to maintain it further.
---