Stuff i like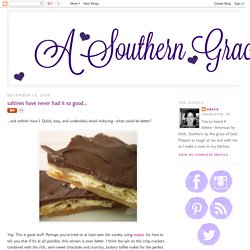 ...and neither have I. Quick, easy, and undeniably drool-inducing--what could be better?
saltines have never had it so good...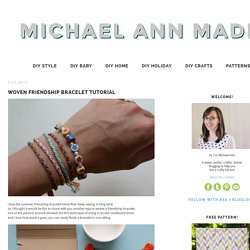 i love the summer friendship bracelet trend that i keep seeing in blog land, so i thought it would be fun to share with you another way to weave a friendship bracelet. one of the parents at work showed me this technique of using a circular cardboard loom and i love how quick it goes, you can easily finish a bracelet in one sitting. - cardboard - something small and circular (like a teacup or ramekin) - scissors, ruler, pen - embroidery thread in pretty colors , thin yarn, or ribbon trace a circle onto your cardboard, and use a ruler to draw 8 lines cut a small ways into each line, between 1/2 an inch to an inch and make a hole in the middle of the circle where all the lines intersect.
Recycled magazine baskets
Some buddies came over last night and we made magazine baskets. My paper weaving phase is getting out of control. In the spirit of spontaneous DIY experimentation, we decided to create a new drink, whereupon we mixed peach vodka, raspberry lemonade, and Venetian Carnival Pinot Grigio (purchased for its exciting label). Not good; don't do it. Since we didn't drink much of the stuff, our baskets turned out pretty well.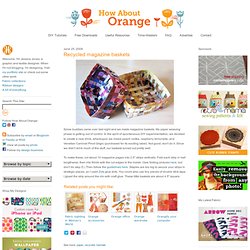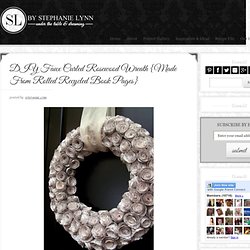 I have seen various versions of Faux Rosewood Wreaths in just about every store and catalog for the upcoming season; most with a price tag running upwards of $40 or more. Some are crafted of paper and other of real wood shavings. Last year I made a few rolled flower gift toppers from recycled book pages and they remind me so much of the curled wood roses I thought they would make a good substitute.
Glow Stones, Glow Rocks & Pebbles, Aqua Blue, Sky Blue, Yellow, Green Glow Stones | Ambient Glow Technology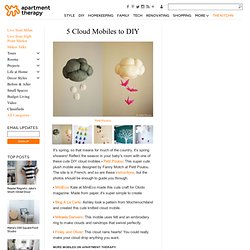 5 Cloud Mobiles to DIY
It's spring, so that means for much of the country, it's spring showers! Reflect the season in your baby's room with one of these cute DIY cloud mobiles.
How to make paper map flowers- Real Northern California Wedding- Amber | Fancy Pants Weddings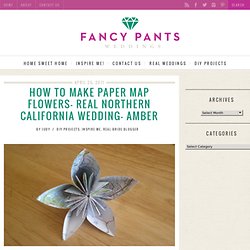 I 've been working on a few different projects for décor to go along with our vintage travel theme.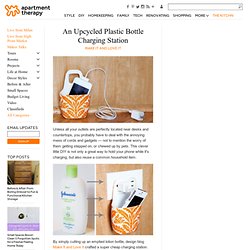 Unless all your outlets are perfectly located near desks and countertops, you probably have to deal with the annoying mess of cords and gadgets — not to mention the worry of them getting stepped on, or chewed up by pets.
An Upcycled Plastic Bottle Charging Station Make It and Love It
DIY Coffee-Filter Garland - Martha Stewart Weddings Decorations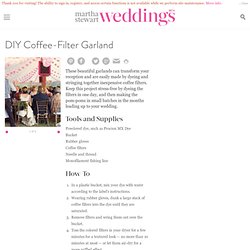 Tools and Supplies Powdered dye, such as Procion MX Dye Bucket Rubber gloves Coffee filters Needle and thread Monofilament fishing line
How It Works - Deposit a Gift - Cash Gift Registry
We now offer international shipping through global provider, FiftyOne.
Capiz Classic Chandelier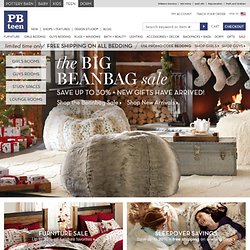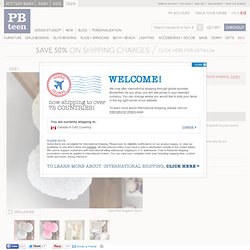 Flower Ball Pendant
We now offer international shipping through global provider, FiftyOne. As you shop, you will see prices in your selected currency. You can change where you would like to ship your items in the top right corner of our website.
Every day at 5pm the Sifter posts the Picture of the Day . Below you will find a collection of the Sifter's Top 50 from 2011. It's hard to imagine the year is almost over, time seems to fly faster each successive year so it's fun to take a moment and look back at the year that was. Click any of the pictures below to be taken to the individual post to learn more about the photographer and picture taken . Enjoy and stay sifty my friends!
Twenty-five years after his Well-Tempered Chair , Ron Arad has used a similar process--in which the naturally sprung properties of tempered steel, bolted in tension, gives a natural yield or "softness"--to build a bike with wheels made of sprung steel. To account for the added flexibility in the materials, Arad's sprung wheels of steel are in fact a little bit larger than the average bike wheel, says Marcus Hearst, director of the design department at Arad's studio . But it's this yield that gives the wheels a slight cushion and makes the wheels work in a practical way.
Soft-Ride Bike Has Steel Tires, And You Can Ride It Now
My Name is Andy
I would usually never end a sentence with a preposition. Ending a sentence with a preposition is something up with which I will not put! (Winston Churchill said that–I think we would've gotten along famously.) But this article is important, so I bit the bullet on the title for this one. Too many of my friends have spent more than they needed to spend on things for school.
Student Discounts You Should Know About
When it comes to advertising, college students are some of the most sought-after customers. Yet most students fail to realize how that little strip of plastic they carry around every day can save them hundreds of dollars over the course of their college career.
Put Your Student ID To Work: 35 Student Discounts To Take Advantage Of
Easy Macro Cell Lens Band
Chocolate Chip Cookie Dough Brownies *If you are visiting this post for the first time, you may wish to visit my " Chocolate Chip Cookie Dough Brownies Take Two " post- a more recent post where I share (what I think is) a better version of these brownies! These are good too- but I took the comments suggested in this post and created a new recipe based on feedback. Okay, Cookie Dough Lovers. I gave you those Chocolate Chip Cookie Dough Truffles a few weeks ago, and now I'm giving you Chocolate Chip Cookie Dough Brownies ! The raw dough is egg-free, of course.
Places I'd Like to Go
Cute/Funny Animals
Shop | Erstwhile Jewelry Co.
DIY Fashion Foward / bake the marbles on a cookie sheet at about 325 - 350 for 20 minutes, as soon as you take them out of the oven put them in a metal bowl or sink of cold water and ice. I used plain marbles usually found in the floral department of craf
Transaction - Fresh Mistletoe, Dilley Brand Extra Strength Mistletoe - Only 2 days left to place your order.
travels.
BCBGMAXAZRIA Magdalena Gown
1006-broken-heart_sm.jpg (430×323)
Design / I could eat a horse spaghetti measuring tool. $15
Fashion / Design Crush
"What if..." Movies reimagined for another time & place on the Behance Network