Vehicle à effet de sol
triplant canard Ekranoplant (russe)
bi Plant Delta inversé Lippisch (Type B)
L'idée d'utiliser l'effet de sol afin de réaliser des appareils de transport rapides et économiques n'est pas toute récente.
Historique des avions à effet de sol
The WIG Page - information about Ekranoplan and Wing-In-Ground effect craft
Ground effect vehicle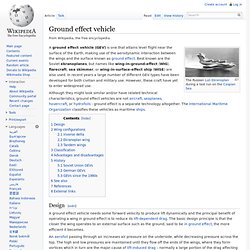 The Russian Lun Ekranoplan during a test run on the Caspian Sea . A ground effect vehicle (GEV) is one that attains level flight near the surface of the Earth, making use of the aerodynamic interaction between the wings and the surface known as ground effect .
Plan canard
Un article de Wikipédia, l'encyclopédie libre. Un plan canard est une surface portante placée à l'avant d'un aérodyne (avion ou planeur) ou d'un navire à portance dynamique (hydroptère), ces petites ailes à l'avant du fuselage étant parfois appelées « moustaches ».