Info/text
What You'll Wish You'd Known. January 2005 (I wrote this talk for a high school.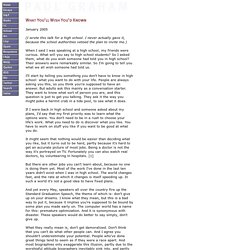 I never actually gave it, because the school authorities vetoed the plan to invite me.) When I said I was speaking at a high school, my friends were curious. What will you say to high school students? So I asked them, what do you wish someone had told you in high school? Post #1547176. I think the lonely world that I live in was perhaps self imposed at the beginning but has now become the invisible prison that I can never escape.
When all we yearn for is a single soul to understand our own, the greatest pain is realizing it will never be. There is no one around me that I can feel that connected to, or share my heart with and in the absence of that emotional warmth, I only have the cold expanse of the Internet to document my human condition. Let's Face It. English Is a Stupid Language. There is no egg in the eggplant, No ham in the hamburger And neither pine nor apple in the pineapple.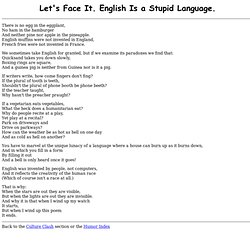 English muffins were not invented in England, French fries were not invented in France. We sometimes take English for granted, but if we examine its paradoxes we find that: Quicksand takes you down slowly, Boxing rings are square, And a guinea pig is neither from Guinea nor is it a pig. The 10 Most Puzzling Ancient Artifacts. The Bible tells us that God created Adam and Eve just a few thousand years ago, by some fundamentalist interpretations.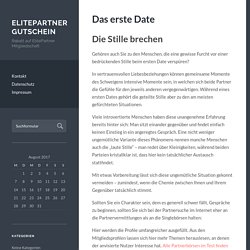 Science informs us that this is mere fiction and that man is a few million years old, and that civilization just tens of thousands of years old. Could it be, however, that conventional science is just as mistaken as the Bible stories? There is a great deal of archeological evidence that the history of life on earth might be far different than what current geological and anthropological texts tell us. Consider these astonishing finds: Best of craigslist: Why Geeks and Nerds Are Worth It... In the wide world of dating, there are many options.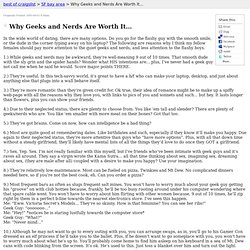 Do you go for the flashy guy with the smooth smile, or the dude in the corner typing away on his laptop? The following are reasons why I think my fellow females should pay more attention to the quiet geeks and nerds, and less attention to the flashy boys. 1.) While geeks and nerds may be awkward, they're well-meaning 9 out of 10 times.
That smooth dude with the sly grin and the spider hands? Politics Explained. FEUDALISM: You have two cows.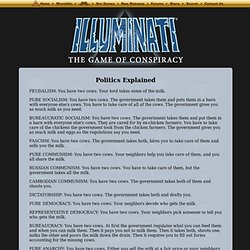 Your lord takes some of the milk. PURE SOCIALISM: You have two cows. The government takes them and puts them in a barn with everyone else's cows. You have to take care of all of the cows. The government gives you as much milk as you need. The Seven Wonders of the World. Why americans should never be allowed to travel.
I had someone ask for an aisle seats so that his or her hair wouldn't get messed up by being near the window.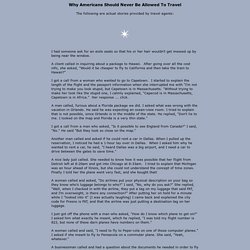 A client called in inquiring about a package to Hawaii. After going over all the cost info, she asked, "Would it be cheaper to fly to California and then take the train to Hawaii? " Some paradoxes - an anthology. Click the W links for related Wikipedia articles If you have enjoyed this site, please show your appreciation by making a donation here to the Hope Projects, supporting and accommodating destitute and homeless asylum-seekers in the UK.
Catch-22 There was only one catch and that was Catch-22, which specified that concern for one's own safety in the face of dangers that were real and immediate was the process of a rational mind. Orr was crazy and could be grounded. Unique Conversation Starters: 50 Questions You Haven't Already Asked Your Date. Fair warning: Consider your audience.
You're no doubt too cool to ask a virtual stranger to name a favorite school supply (Question #8), but anyone can talk about a habit that was hard to break (Question #6) if the subject's introduced naturally into the conversation. If you're loathe to spring any of these questions on a date, e-mail them to the contacts in your address book for the latest round of Getting to Know Your Friends. What's your favorite Dr. Seuss book? If you could live in any home on a television series, what would it be? Schopeng.<br>htm: Thirty - Eight Ways to Win an Argument, by Schopenhauer. Useless information — richardpettinger.com. Funny but relatively useless information A rat can last longer without water than a camel.Your stomach has to produce a new layer of mucus every two weeks or it will digest itself.The dot over the letter "i" is called a tittle.A raisin dropped in a glass of fresh champagne will bounce up and down continuously from the bottom of the glass to the top.A female ferret will die if it goes into heat and cannot find a mate.A duck's quack doesn't echo.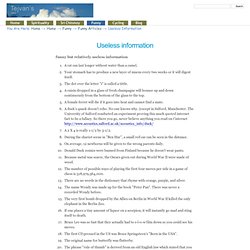 No one knows why. (except in Salford, Manchester. The University of Salford conducted an experiment proving this much quoted internet fact to be a fallacy.
---