Genetics Videos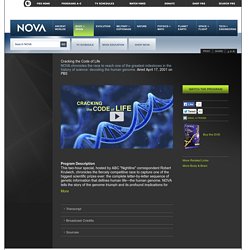 Cracking the Code of Life PBS Airdate: April 17, 2001 ROBERT KRULWICH: When I look at this—and these are the three billion chemical letters, instructions for a human being—my eyes glaze over. But when scientist Eric Lander looks at this he sees stories.
What Darwin Never Knew | NOVA
Switching Genes On and Off | NOVA
Sleep: Genes Cause People to React Differently to Lack of Sleep, Says Study
No matter how little they sleep, some people can keep a skip in their step while others will yawn and struggle through the day. A new study from the University of Pennsylvania School of Medicine found that the reason could be in our genes. Researchers found that healthy people with one particular genetic variant were generally sleepier than those without the gene. About 25 percent of the general public has the genetic variant, called DQB1 *0602, but only a small percentage of them actually suffer from sleep problems. One person who has been told by his doctor that he may have this genetic variation is Robert Gibson, a 43-year-old machine shop supervisor in Milan, Illinois.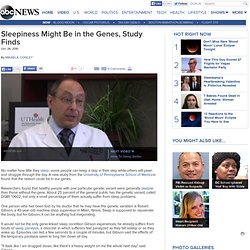 The Origin of Intelligence
The Origin of Life - Abiogenesis - Dr. Jack Szostak
The Origin of Genes
60 Minutes Video - Patented Genes
The Origin of the Genetic Code
The Human Family Tree - Part 1
Part 1 - The Ghost in your Genes - BBC Horizon