Internet Privacy
"Dans le business de la publication, les lecteurs sont les produits et les consommateurs sont les publicitaires" , affirme Dave Winer , paraphrasant une citation célèbre : "Si vous ne voyez pas le produit, c'est que vous êtes le produit" . La bulle des données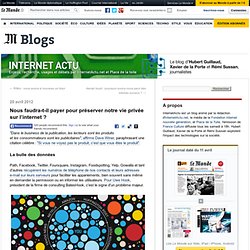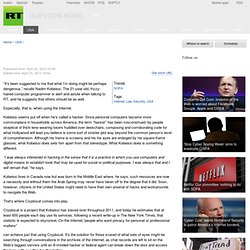 Published time: April 20, 2012 05:56 Edited time: April 20, 2012 19:54 "It's been suggested to me that what I'm doing might be perhaps dangerous," recalls Nadim Kobeissi. The 21-year-old, frizzy-haired computer programmer is alert and astute when talking to RT, and he suggests that others should be as well. Especially, that is, when using the Internet. Kobeissi seems put off when he's called a hacker.
Online chats, off the record: Cryptocat puts privacy back on the Web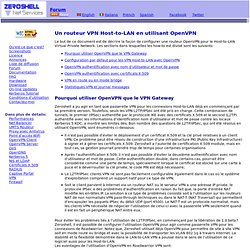 Un routeur VPN Host-to-LAN en utilisant OpenVPN
Le but de ce document est de décrire la façon de configurer une routeur OpenVPN pour le Host-to-LAN Virtual Private Network.
The How-To Geek Guide to Getting Started with TrueCrypt
If you're looking for a simple and powerful way to encrypt everything from system drives to backup discs to everything in between, TrueCrypt is an open-source tool that will help you lock up your files. Read on as we show you how to get started.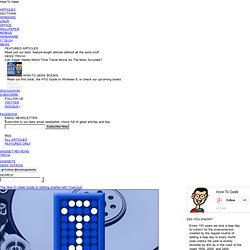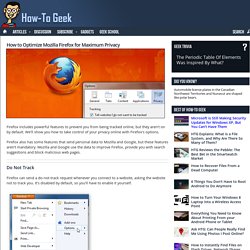 How to Optimize Mozilla Firefox for Maximum Privacy
Firefox includes powerful features to prevent you from being tracked online, but they aren't on by default. We'll show you how to take control of your privacy online with Firefox's options. Firefox also has some features that send personal data to Mozilla and Google, but these features aren't mandatory.
THIS IS WHAT FACEBOOK SENDS THE POLICE WHEN THEY COME ASKING FOR YOUR INFORMATION. | SUPERCHIEF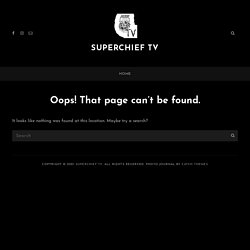 The Boston Phoenix's recent article on the Craigslist killer uncovered something very interesting in it's research into how the web hunt for the killer was conducted; something neither it's reporters, or the general public, had never seen before: The full results of a Facebook subpoena. This is some scary stuff; for the first time, we can now see EXACTLY what Facebook sends when the Police, or a judge, ask them to hand over your information (view the full file here ): This is what it looks like:
From being a niche product used by the few, in the past few years VPN services have hit the big time. These days more and more Internet users see running a privacy enhancing service as a requirement rather than just a luxury.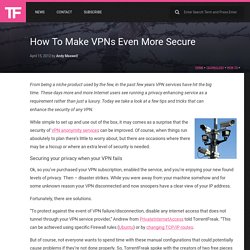 How To Make VPNs Even More Secure
How to secure your computer and surf fully Anonymous BLACK-HAT STYLE
Cybersecurity is important to all Internet users because it can make the Internet a safer place to shop, conduct business, and communicate with others. However, pending cybersecurity bills include provisions that pose major civil liberties risks that must be addressed before any bill is enacted into law. This is urgent: the House is ready to take up legislation as soon as the week of April 23; after that, the Senate will act.
Cybersecurity's 7-Step Plan for Internet Freedom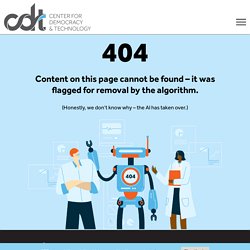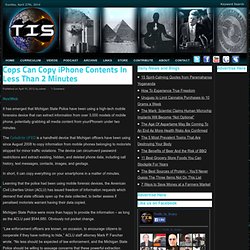 Cops Can Copy iPhone Contents In Less Than 2 Minutes 
Published on April 10, 2012 by admin · 1 Comment
For the last couple of years discussion around censorship of websites in the West has become as prolific as the that around already established blockades in countries such as China and Iran.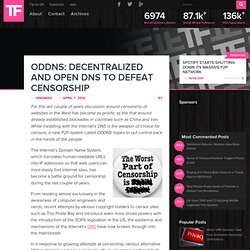 ODDNS: Decentralized and Open DNS To Defeat Censorship
The Spy Files - WikiLeacks
En partenariat avec WikiLeaks, OWNI révèle l'existence d'un nouveau marché des interceptions massives, permettant d'écouter toutes les télécommunications à l'échelle d'une nation. Ses acteurs vendent leurs produits en Europe, aux États-Unis et à des dictatures. WikiLeaks rend public aujourd'hui près de 1 100 documents internes, plaquettes commerciales et modes d'emploi des produits commercialisés par les industriels des systèmes de surveillance et d'interception des télécommunications.
Big Brother Arrives Via Facebook And He's Your Friend
Personal data as new Currency?
Staying connected on your smartphone can also come with privacy concerns
CLEVELAND - A new survey by Nielsen found that 43 percent of mobile phone users in the U.S. now have a smartphone. While all this new technology is helping us all stay connected, it can also pose a privacy risk. From email and Internet to GPS and apps, the possibilities on our smartphones seem endless.