A vintage themed party!
A selection of all you need for creating a vintage themed party! Mar 12
Welcome to Past Perfect - Vintage Music - Nostalgia, Jazz, Swing & Big Band CDs
BBC Radio 2 Programmes - Sounds of the 60s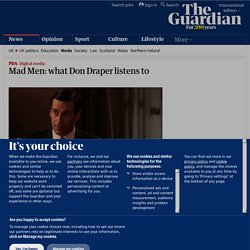 Mad Men: Don Draper's playlist includes Misery by Barrett Strong and Smoke Gets In Your Eyes by the Platters What you listen to says a lot about what kind of person you are: just look at the interest generated by Barack Obama's iPod playlist . The same logic applies to TV shows – and no show has more taste than Mad Men .
Mad Men: what Don Draper listens to | Media
Old Music (1930s-40s) Spotify Playlist
Parties are always a blast, but the sure way to make your party even more of a hit is to give it a theme. One theme that seems to be popular is the 1940s.
Top 1940s Party Songs | Popular 1940's 40s Forties Music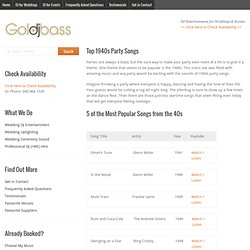 TOP 100 20S SONGS
LITTLE SPARROW by Dolly Parton - vintage playlist
Vintage Clothing - Retro Clothing - Vintage style special occasion dresses at Blue Velvet Vintage
Vintage Jewellery | Costume Jewellery | Glitzy Secrets
Vintage Clothes, Shoes, Jewellery & Accessories - Jadore Vintage Clothing
Vintage Clothing and accessories | Vintage and Retro Clothes | Vintage Dresses | Devoted 2 Vintage
Mens, Womens Vintage Clothing | Armstrongs Edinburgh
Retro-Food.com | A Love Song with Vintage Recipes
A 1960s Cocktail Party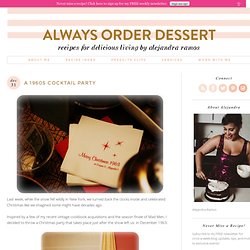 Last week, while the snow fell wildly in New York, we turned back the clocks inside and celebrated Christmas like we imagined some might have decades ago. Inspired by a few of my recent vintage cookbook acquisitions and the season finale of Mad Men, I decided to throw a Christmas party that takes place just after the show left us: in December 1963.
Here's a fun question from Kristin. She writes: I'm hosting a book club meeting for 10 at my teeny-tiny apartment and since we're reading a novel that takes place in 1955, I thought I'd whip up a bunch of 50's-era dishes.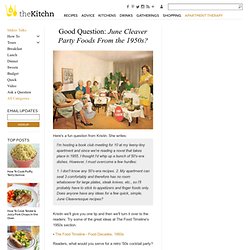 Good Question: June Cleaver Party Foods From the 1950s?
Vintage Recipes
Mad Men Menu and Entertaining Tips at Epicurious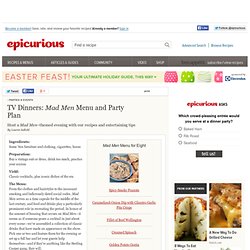 Ingredients: Some '60s furniture and clothing, cigarettes, booze Preparation: Buy a vintage suit or dress, drink too much, practice your sexism
Vintage Recipes
The Vintage Recipe Blog
Retro Furniture, Diner Booths, Jukeboxes, Record Players and Arcade Machines
Vintage Home Decor on Etsy - Vintage clothing, home decor, collectibles, antiques, accessories, bags and purses, book, electronics
Vintage Decorations, Garlands & String of Pegs | Decorations & Garlands | Shop by Category | Wholesale Giftware, Gifts and Interior Decor | RJB Stone Ltd.
Vintage Party Supplies
Wedding, Anniversary & Birthday Party supplies Vintage theme, Cake & Table Decorations, Guest books, tableware, Christening & Naming Day, Engagement, balloons, Personalised banners, gifts
Vintage Announcements, Vintage Invites