Research
Although it is widely purported that women are paid less than men for equal work, the reality is otherwise ("Poll shows mixed feelings about feminism," Nation, Tuesday). The truth about this matter comes from the most definitive and comprehensive analysis of the gender-pay-gap issue, a study conducted by the U.S.
LETTER TO THE EDITOR: Gender pay gap reflects choices, not bias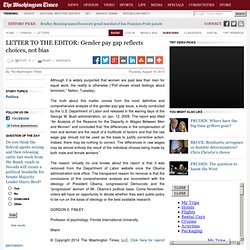 Economics / Great Depression IIAug 05, 2010 - 02:29 PM GMT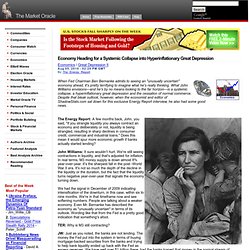 Economy Heading for a Systemic Collapse into Hyperinflationary Great Depression
A marvelous thing happened over on Paul Krugman's blog at the New York Times last week.
American Thinker: Paul Krugman Gives Up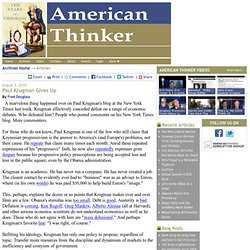 by Gary North by Gary North Recently by Gary North: A Free Week-Long Economics Seminar Two widely respected economic commentators, Harvard's Niall Ferguson and Nassim "black swan" Taleb, have offered highly pessimistic assessments of what lies ahead for the American economy. Information like this is widely ignored by investors in weeks when they have decided that nothing can stop them: they will get rich by investing in the American stock market, no matter what. On July 21, Ben Bernanke told the Senate Banking committee that "the economic outlook looks unusually uncertain." Stocks fell sharply as soon as he gave his testimony. But the Dow Jones Industrial Average recovered at the opening bell the next day, and then rose by almost 400 points over the next three business days.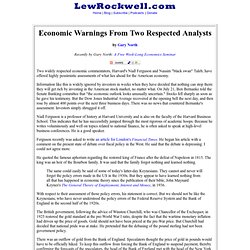 Economic Warnings From Two Respected Analysts by Gary North
http://www.lewrockwell.com/lrc-blog/once-in-a-great-while-npr-gets-it-right/ Here is a terrific radio interview with author Matt Ridley about his latest book, The Rational Optimist: How Prosperity Evolves. I'm not sure whether or not Ridley is a follower of Austrian economics, but he certainly knows what he's talking about in this interview. What's fascinating is how the NPR host, Leonard Lopate—who is a very cultured man but, like all liberals, is economically-ignorant—throws all of the usual cliched negative questions asked by people who don't even know basic economics at Ridley and how beautifully Ridley responds. (Though I'm sure that with Lopate, the answers went in one ear and out the other.)
Once in a Great While, NPR Gets It Right « LewRockwell.com Blog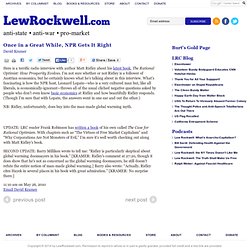 Hayek on Reagan & "Supply Side Economics" in 1985 | Taking Hayek Seriously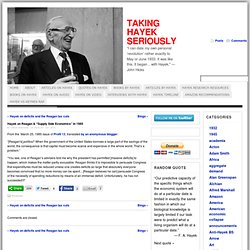 By Greg Ransom, on August 1st, 2010
States are borrowing more - CNNMoney.com
Federal State Local Public Spending United States 2010 - Charts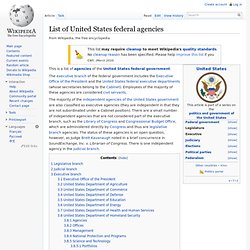 This is a list of agencies of the United States federal government. The majority of the independent agencies of the United States government are also classified as executive agencies (they are independent in that they are not subordinated under a Cabinet position).
List of United States federal agencies - Wikipedia, the free enc
Stonewalled by the C.I.A.
Close Popup Don't worry, you're in the right place! TransparencyData's functionality has been incorporated into Influence Explorer. InfluenceExplorer.com provides overviews of political influence data for politicians, companies and prominent individuals.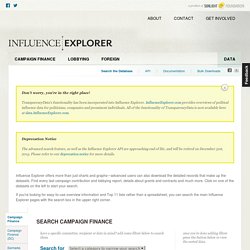 Search State and Federal Campaign Contribution Data - Transparen
MrCropper's Channel
Designed in the late 1970s as an anti-aircraft weapon, the Patriot was modified in the mid-1980s to defend against ballistic missiles as well.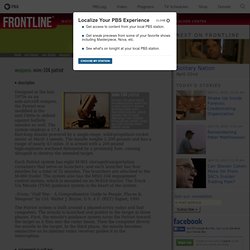 frontline: the gulf war: weapons: mim-104 patriot