Research
LETTER TO THE EDITOR: Gender pay gap reflects choices, not bias. Economy Heading for a Systemic Collapse into Hyperinflationary Great Depression. Economics / Great Depression IIAug 05, 2010 - 02:29 PM GMT By: The_Energy_Report When Fed Chairman Ben Bernanke admits to seeing an "unusually uncertain" economy ahead, it's pretty terrifying to imagine what he's really thinking.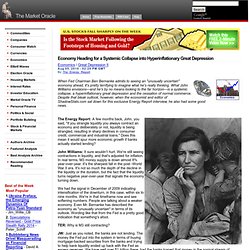 What John Williams envisions—and he's by no means looking to the far horizon—is a systemic collapse, a hyperinflationary great depression and the cessation of normal commerce. Despite that bleak outlook, however, when the economist and editor of ShadowStats.com sat down for this exclusive Energy Report interview, he also had some good news. Is Our Money Based on Debt?   | by Robert Murphy. American Thinker: Paul Krugman Gives Up. A marvelous thing happened over on Paul Krugman's blog at the New York Times last week.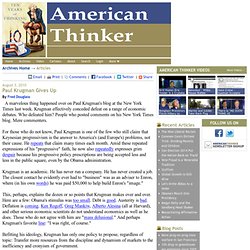 Krugman effectively conceded defeat on a range of economic debates. Who defeated him? People who posted comments on his New York Times blog. Economic Warnings From Two Respected Analysts by Gary North. By Gary North by Gary North Recently by Gary North: A Free Week-Long Economics Seminar Two widely respected economic commentators, Harvard's Niall Ferguson and Nassim "black swan" Taleb, have offered highly pessimistic assessments of what lies ahead for the American economy.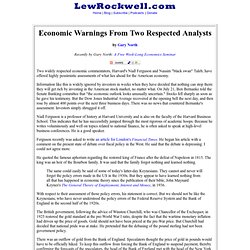 Information like this is widely ignored by investors in weeks when they have decided that nothing can stop them: they will get rich by investing in the American stock market, no matter what. On July 21, Ben Bernanke told the Senate Banking committee that "the economic outlook looks unusually uncertain. " Stocks fell sharply as soon as he gave his testimony. But the Dow Jones Industrial Average recovered at the opening bell the next day, and then rose by almost 400 points over the next three business days.
Once in a Great While, NPR Gets It Right. Here is a terrific radio interview with author Matt Ridley about his latest book, The Rational Optimist: How Prosperity Evolves.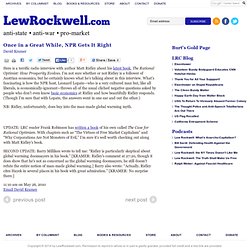 I'm not sure whether or not Ridley is a follower of Austrian economics, but he certainly knows what he's talking about in this interview. What's fascinating is how the NPR host, Leonard Lopate—who is a very cultured man but, like all liberals, is economically-ignorant—throws all of the usual cliched negative questions asked by people who don't even know basic economics at Ridley and how beautifully Ridley responds. (Though I'm sure that with Lopate, the answers went in one ear and out the other.) Hayek on Reagan & "Supply Side Economics" in 1985 | Taking Hayek Seriously. By Greg Ransom, on August 1st, 2010 From the March 25, 1985 issue of Profil 13, translated by an anonymous blogger: "[Reagan's] politics?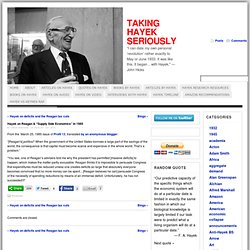 When the government of the United States borrows a large part of the savings of the world, the consequence is that capital must become scarce and expensive in the whole world. That's a problem." MarketingCharts: charts and data for marketers in web and Excel format. States are borrowing more - CNNMoney.com.
Federal State Local Public Spending United States 2010 - Charts. Homepage. List of United States federal agencies - Wikipedia, the free enc. This is a list of agencies of the United States federal government.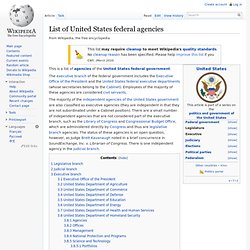 The majority of the independent agencies of the United States government are also classified as executive agencies (they are independent in that they are not subordinated under a Cabinet position). There are a small number of independent agencies that are not considered part of the executive branch, such as the Library of Congress and Congressional Budget Office, which are administered directly by Congress and thus are legislative branch agencies. The status of these agencies is an open question, however, as Judge Brett Kavanaugh noted in a brief concurrence in SoundExchange, Inc. v. Librarian of Congress. There is one independent agency in the judicial branch. Stonewalled by the C.I.A. Sorting out the truth in politics. Search State and Federal Campaign Contribution Data - Transparen. Close Popup Don't worry, you're in the right place!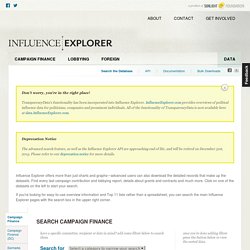 TransparencyData's functionality has been incorporated into Influence Explorer. InfluenceExplorer.com provides overviews of political influence data for politicians, companies and prominent individuals. MrCropper's Channel. Frontline: the gulf war: weapons: mim-104 patriot. Designed in the late 1970s as an anti-aircraft weapon, the Patriot was modified in the mid-1980s to defend against ballistic missiles as well.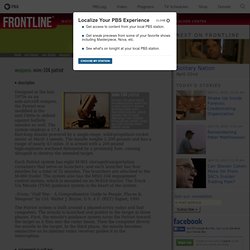 The system employs a 17.4 foot-long missile powered by a single-stage, solid-propellant rocket motor at Mach 3 speeds. The missile weighs 2,200 pounds and has a range of nearly 43 miles. It is armed with a 200-pound high-explosive warhead detonated by a proximity fuse, causing shrapnel to destroy the intended target.
---