Politics
The Border Is a Back Door for U.S. Device Searches. Know Your Rights: What To Do If You're Stopped By Police, Immigration Agents or the FBI. We rely on the police to keep us safe and treat us all fairly, regardless of race, ethnicity, national origin or religion.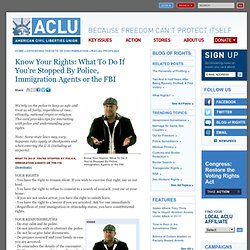 This card provides tips for interacting with police and understanding your rights. Note: Some state laws may vary. Ezra Klein: Why Unions Are Worth Fighting For. GOP budget cuts would kill 700,000 jobs: report. By Sahil KapurMonday, February 28, 2011 12:30 EDT WASHINGTON – The Republican budget proposal to sharply cut federal spending would cost 700,000 jobs through 2012, according to the independent analyst Moody's.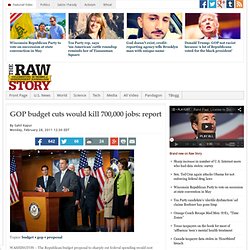 In a new report obtained Monday by the Washington Post, Moody's Analytics chief economist Mark Zandi analyzes the House Republican budget proposal cutting spending by $61 billion this year and projects that it will curtail job growth. "The House Republicans' proposal would reduce 2011 real GDP growth by 0.5% and 2012 growth by 0.2%. 'Honour' Veterans more likely to be homeless, study says. By William M.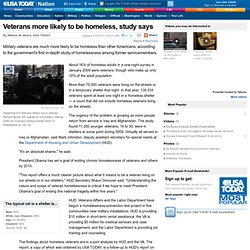 Welch, USA TODAY Updated 2/10/2011 6:29:21 AM | Military veterans are much more likely to be homeless than other Americans, according to the government's first in-depth study of homelessness among former servicemembers. By Matt Rourke, APDepartment of Veterans Affairs nurse clinician Richard Burdo, left, speaks to a homeless veteran under an overpass during a winter storm in Philadelphia on Jan. 26. Judge Jim Gray on The Six Groups Who Benefit From Drug Prohibition. Mapping America — Census Bureau 2005-9 American Community Survey. State of the Nation. My first act of civil disobedience was a protest I led in fifth grade against a teacher who wouldn't call on the girls as often as the boys.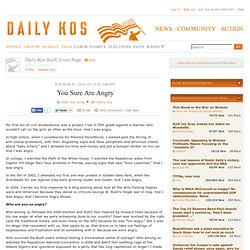 And I was angry. In high school, when I volunteered for Planned Parenthood, I walked past the throng of anti-choice protestors, with their disgusting signs and false pamphlets and atrocious chants about "baby killers," and I donated my time and money and put a bumper sticker on my car. And I was angry. In college, I watched the theft of the White House. I watched the Republican aides from Capitol Hill stage their faux protests in Florida, waving signs that said "Sore Loserman." Sen Bernie Sanders Amazing Speech DEC 02 2010 .flv.
Us.mobile.reuters. Top News Nigeria graft agency charges Cheney, Halliburton boss Tue, Dec 07 15:01 PM EST.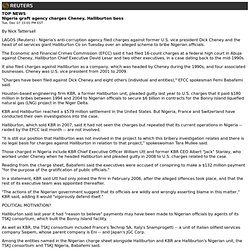 Federal judge pleads guilty to drug charges. By the CNN Wire Staff November 20, 2010 2:39 a.m.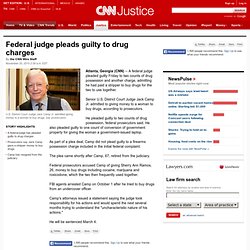 EST U.S. Bill Clinton, to stump for Rahm Emanuel, warned by Danny Davis: Stay out of Chicago mayor race. Chicago mayoral hopeful Rep.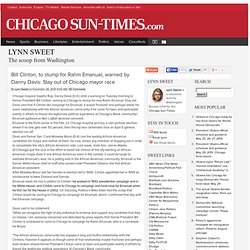 Danny Davis (D-Ill.) shot a warning on Tuesday morning to former President Bill Clinton, coming to Chicago to stump for rival Rahm Emanuel: Stay out. Davis said that if Clinton did campaign for Emanuel, it would "fracture" and perhaps break his warm relationship with the African American community if he came "to town and participate overtly in efforts to thwart the legitimate political aspirations of Chicago's Black community. " Emanuel spokesman Ben LaBolt declined comment.
Emanuel is the front-runner in the Feb. 22 Chicago mayoral primary, a non-partisan election where if no one gets over 50 percent, then the top two contenders face an April 5 general election run-off. Davis and former Sen. 9 in custody as Detroit police hunt for serial rapist. Police have detained nine men in a search for a serial rapist, says Detroit Police Chief Ralph Godbee.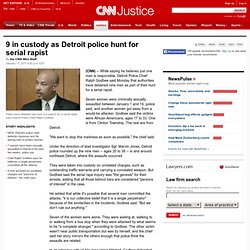 NEW: Detroit's police chief defends response and his asking men to protect women7 women have been sexually assaulted in Detroit in the past two weeks, police sayChief Ralph Godbee says he believes a single perpetrator committed all the attacks9 men arrested on unrelated charges are "persons of interest," the chief says (CNN) -- While saying he believes just one man is responsible, Detroit Police Chief Ralph Godbee said Monday that authorities have detained nine men as part of their hunt for a serial rapist. DNC bans corporate cash from convention. Washington (CNN)—The Democratic National Committee will not accept corporate contributions or donations from lobbyists to help fund the 2012 Democratic National Convention, a committee spokesman said on late Friday afternoon.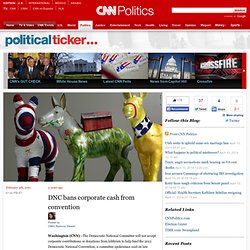 An excerpt of the contract with the Charlotte, North Carolina host committee provided to CNN reveals that the DNC required a ban corporate cash as well as contributions from political action committees and lobbyists. Emphasizing the importance of grassroots donations, the DNC expressed an eagerness to involve "people from all over the country" during the three-day convention that closes with the Democratic nomination for president. DNC Communication Director Brad Woodhouse said, "From the very beginning, President Obama has placed a high priority on increasing the influence of grassroots and individual donors, and this convention will go further in that direction than any convention ever." Christianity now a minority religion in Great Britain - Philadelphia atheism. According to the British Social Attitudes Survey (BSA), the number of Christians in Great Britain is now down to 42%.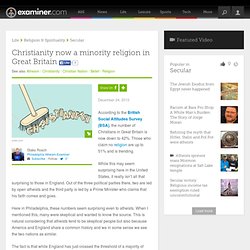 Those who claim no religion are up to 51% and is trending. While this may seem surprising here in the United States, it really isn't all that surprising to those in England. Out of the three political parties there, two are led by open atheists and the third party is led by a Prime Minister who claims that his faith comes and goes. Here in Philadelphia, these numbers seem surprising even to atheists. VOTE 2010 | Democrats.org. Pat Quinn and Bill Brady on the issues - Your Doubting Thomas. The Chicago Tribune's editorial board asked Pat Quinn and Bill Brady certain questions pertaining to the most pressing issues facing our state. You can find all the questions and answers (including the answers of Independent Party candidate, Scott Lee Cohen, Green Party candidate Rich Whitney, and Libertarian candidate, Lex Green) here: Please read and make an informed decision on Tuesday- if you haven't made that decision yet in early voting.
WikiLeaks has caused little lasting damage, says US state department | Media. The official implied that the WikiLeaks fiasco was bad public relations but had little concrete impact on policy. Photograph: Ben Stansall/AFP/Getty Images The damage caused by the WikiLeaks controversy has caused little real and lasting damage to American diplomacy, senior state department officials have concluded. It emerged in private briefings to Congress by top diplomats that the fallout from the release of thousands of private diplomatic cables from all over the globe has not been especially bad.
Civil liberties. "Don't Ask Don't Tell" Clears Vital Hurdle. Hide captionSen. Joseph Lieberman (I-CT), with Sen. Susan Collins (R-ME) and Sen. Mark Udall (D-CO), talks about the passage of legislation to repeal "don't ask, don't tell" at the Capitol on Saturday. House passes 'don't ask, don't tell' repeal.
House votes to repeal 'don't ask' NEW: Reid warns Republican stall tactics could prevent a repeal from passingPresident Obama, defense secretary urge Senate passage of the repeal billRepublican Sen. Snowe announces her support of a repealThe House votes to repeal the "don't ask, don't tell" policy, sending it to the Senate. Statesmarriagecousin. Salon.com.
---