Architecture
What can one say about Hemeroscopium House in Madrid, by Antón García- Abril? It was built in just seven days, out of seven massive structural elements. And yes, that thing cantilevering out the front on top is a swimming pool. I suppose one can say that it proves that prefabrication can be used for good or evil ends. A Hemeroscopium is evidently greek for the place where the sun sets, so they probably don't worry about unprotected floor to ceiling glass in Madrid. But it is crazy wonderful engineering; that pile of rock on top of the beam acts as a counterbalance to the cantilever of the beam.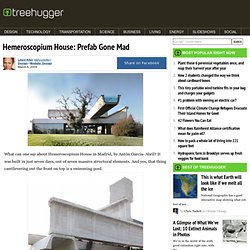 Hemeroscopium House: Prefab Gone Mad
Living the simple life in a beautiful french villa | 1 Kind Design
ntemporary GT House by Studio Guilherme Torres | Luxury Furniture, Property, Travel & Interior Design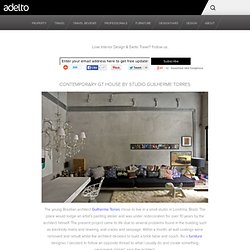 Contemporary GT House by Studio Guilherme Torres The young Brazilian architect Guilherme Torres chose to live in a small studio in Londrina, Brazil. The place would lodge an artist's painting atelier and was under redecoration for over 10 years by the architect himself. The present project came to life due to several problems found in the building such as electricity mains and rewiring, wall cracks and seepage.
The Luxury Casa Kimball Private Retreat in the Caribbean The Casa Kimball luxury villa has been designed to the highest of standards by Architect firm Rangr Studio. It is a unique luxury rental villa located in Cabrera, Dominican Republic and consists of eight immaculately designed bedroom suites, which all feature breathtaking views over the Atlantic Ocean. About Richard Barker
The Luxury Casa Kimball Private Retreat in the Caribbean | Luxury Furniture, Property, Travel & Interior Design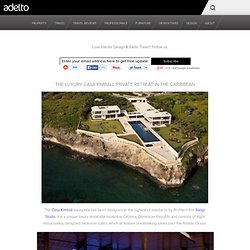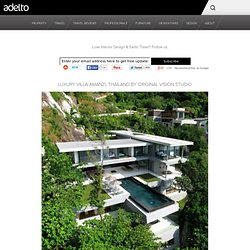 Luxury Villa Amanzi, Thailand by Original Vision Studio The Villa Amanzi by Architect firm Original Vision Studio is a stunning modern vacation residence located in the exclusive Cape Sol on the West coast of Phuket, Thailand. Villa Amanzi is a stunning six bedroom residence with a 15m infinity pool and breathtaking views over the Andaman Sea. This luxury villa enjoys a spectacular headland location along Kamala's exclusive Millionaires Mile and captures cool gentle breezes all year round with uninterrupted sea views from every vantage point, in one of the most breathtaking locations Phuket has to offer. The contemporary design features ultra modern architecture and interiors that combine to provide guests with the optimal environment to relax and unwind in unspoilt luxury. Photograpghy by Marc Gerritsen & Helicam Asia Aerial Photography