Shoes
Changeable Shoe Bows Tutorial. Thanks for your responses yesterday!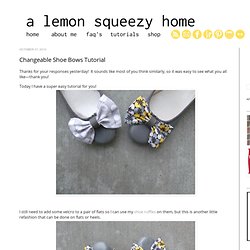 It sounds like most of you think similarly, so it was easy to see what you all like—thank you! Today I have a super easy tutorial for you! I still need to add some velcro to a pair of flats so I can use my shoe ruffles on them, but this is another little refashion that can be done on flats or heels. How to make baby boots from a felted sweater. Good thing Piper Jane is fifteen months old and generally fairly oblivious about things like surprises.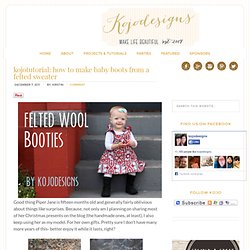 Because, not only am I planning on sharing most of her Christmas presents on the blog (the handmade ones, at least), I also keep using her as my model. For her own gifts. Pretty sure I don't have many more years of this- better enjoy it while it lasts, right? Anyhow, besides the Cottage Mama dresses (also Christmas presents for her), Piper Jane's wardrobe could really use a pair of black boots. Spray paint+Bleach+T-shirts=Fun times. Tutorial ~ Dressed Up High Heels. I wish I had a font that could accurately reflect my excitement over these shoes!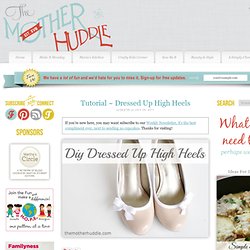 I will have to settle on the exclamation point. You guys, !!!!!!!. It all started about a month ago when I spotted these little beauties on Pinterest (seems that is where many obsessions start for me these days). Upcycled Sweater Boots. Shoe Makeover. I love the simple, carefree style of laceless tennis shoes, especially in the summer.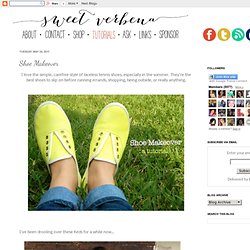 They're the best shoes to slip on before running errands, shopping, being outside, or really anything. I've been drooling over these Keds for a while now... However $50 for one pair of shoes really isn't in my budget. So when I saw plain white Keds knock offs at Walmart for only $5 , I knew exactly what I wanted to do. Materials Needed: Tea-Stained Shoe. Another, even cheaper way, to transform cheap white tennis shoes is by using steeped tea.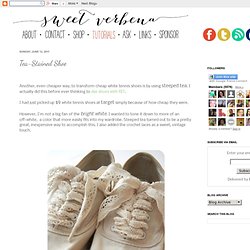 I actually did this before ever thinking to dye shoes with RIT. I had just picked up $9 white tennis shoes at target simply because of how cheap they were. However, I'm not a big fan of the bright white. I wanted to tone it down to more of an off-white, a color that more easily fits into my wardrobe. Steeped tea turned out to be a pretty great, inexpensive way to accomplish this.
---