Dibujo
Gallery: Urban Sketches. Beautiful/Decay Cult of the Creative Arts | Artist Book Series + Daily Art And Design Blog And Creative Community. Sketchbooks by Mattias Adolfsson. Chris rush :: Drawings on Ancient Paper. Sketch1 by kjross - kyle ross. Фото и рисунки, арт и креативная реклама. Laurie Lipton – "Machine Punk" @ La Luz de Jesus. One of the most gifted artists we know that works mainly graphite, Laurie Lipton, will be presenting a mostly new body of work this Friday night at the venerable La Luz de Jesus.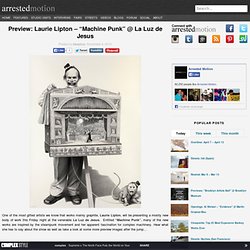 Entitled "Machine Punk", many of the new works are inspired by the steampunk movement and her apparent fascination for complex machinery. Hear what she has to say about the show as well as take a look at some more preview images after the jump… "This show was inspired by the Steampunk movement that is sweeping Britain. Instead of steam, however, my devices are mostly run by electricity and madness. Thomas ehretsmann. Illustre. DesignWar : art, design, photography, architecture, streetart, fashion, advertisement, cinema & tv - art, design, inspiration.
EMPTY KINGDOM You are Here, We are Everywhere | A Home For Media Artists.
---