Logos
Web2.0 - Logo Creatr. 30 Minimal Logo Designs that Say More with Less. A logo is the visual cornerstone of one's branding.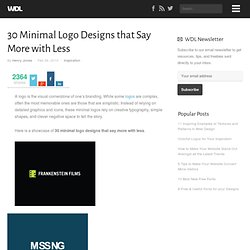 While some logos are complex, often the most memorable ones are those that are simplistic. Instead of relying on detailed graphics and icons, these minimal logos rely on creative typography, simple shapes, and clever negative space to tell the story. Negative space in logo design. It's hard to beat a clever use of negative space.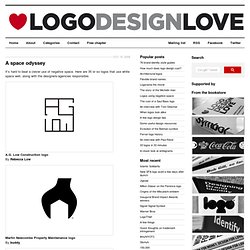 Here are 35 or so logos that use white space well, along with the designers/agencies responsible. A.G. Low Construction logo By Rebecca Low Martin Newcombe Property Maintenance logo By buddy. Design Inspiration Gallery - FAVEUP. Logo and Graphics Generator. The FontFeed » The Logos of Web 2.0. The Logos of Web 2.0 There is no official standard for what makes something "Web 2.0", but there certainly are a few tell-tale signs.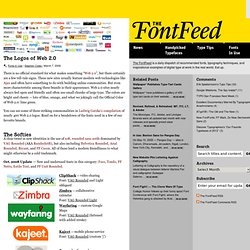 These new sites usually feature modern web technologies like Ajax and often have something to do with building online communities. But even more characteristic among these brands is their appearance. Logo Creator by Alex P. Create a Web 2.0 logo using Abobe Photoshop. Here is an extensive tutorial on how you can create a great looking web 2.0 logo (like the one above that I created for the tutorial).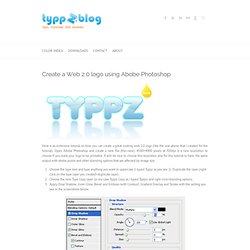 Open Adobe Photoshop and create a new file (file>new): 4500×4000 pixels at 300dpi is a nice resolution to choose if you want your logo to be printable. It will be nice to choose this resolution also for this tutorial to have the same output with stroke points and other blending options that are affected by image size. Choose the type tool and type anything you want in uppercase (I typed Typpz as you see :)). Duplicate the layer (right click on the type layer you created>duplicate layer). Choose the new Type Copy layer (in my case Typpz Copy as I typed Typpz) and right click>blending options.
Web 2.0 Design Kit, Part 2. In this continuation of the Web 2.0 Design Kit I'll show you how to do a few more simple effects that I've seen becoming more popular in web design.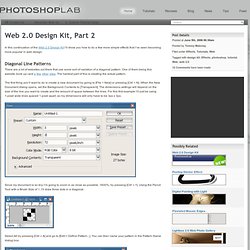 Diagonal Line Patterns There are a lot of websites out there that use some sort of variation of a diagonal pattern. One of them being this website (look up) and a few other sites. The hardest part of this is creating the actual pattern.
---