NEWS
Rare snowfall shocks much of South Africa
JOHANNESBURG – People slowly came outside despite the cold wind Tuesday across South Africa, pointed their mobile phone cameras to the sky and opened their mouths to taste a rare snowfall that fell on much of the country. The snow began Tuesday morning, part of an extreme cold snap now biting into a nation still in its winter months. By mid-afternoon, officials recorded snowfall across most of South Africa. However, forecasters acknowledged snow remains so unusual that they typically aren't prepared to provide details about snowfall in the nation. The snow closed some roads and at least one high-altitude pass. The snowfall also closed several border posts in the country.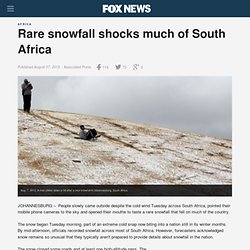 What if the Secret to Success Is Failure?
Tape Installation by Stephen Doyle. Photograph by Stephen Wilkes for The New York Times. Riverdale Country School in the Bronx. Randolph, by contrast, comes across as an iconoclast, a disrupter, even a bit of an eccentric. He dresses for work every day in a black suit with a narrow tie, and the outfit, plus his cool demeanor and sweep of graying hair, makes you wonder, when you first meet him, if he might have played sax in a ska band in the '80s.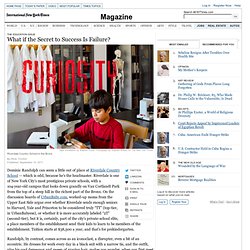 The New Yorker
The Daily Beast