Film directors
Lars von Trier. Lars von Trier (Danish: [ˈlɑːs fʌn ˈtʁiːˀɐ]; born Lars Trier; 30 April 1956)[2] is a Danish film director and screenwriter.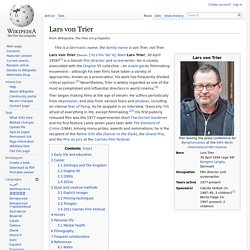 He is closely associated with the Dogme 95 collective – an avant-garde filmmaking movement – although his own films have taken a variety of approaches. His work has frequently divided critical opinion.[3] Andrei Tarkovsky. Andrei Arsenyevich Tarkovsky (Russian: Андре́й Арсе́ньевич Тарко́вский, IPA: [ɐnˈdrʲej ɐrˈsʲenʲjɪvʲɪt͡ɕ tɐrˈkofskʲɪj]; 4 April 1932 – 29 December 1986) was a Soviet and Russian film-maker, writer, film editor, film theorist, theatre and opera director.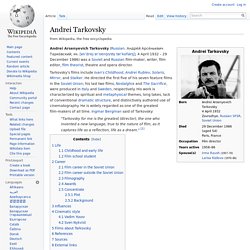 Tarkovsky for me is the greatest [director], the one who invented a new language, true to the nature of film, as it captures life as a reflection, life as a dream. Life[edit] Childhood and early life[edit] Quentin Tarantino. Tarantino's films have garnered both critical and commercial success.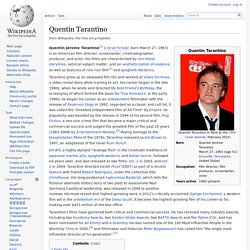 He has received many industry awards, including two Academy Awards, two Golden Globe Awards, two BAFTA Awards, the Palme d'Or, has been nominated for an Emmy and a Grammy, and has been named one of the 100 Most Influential People in the World by Time Magazine in 2005.[5] Filmmaker and historian Peter Bogdanovich has called him "the single most influential director of his generation".[6] Early life[edit] Tarantino was born in Knoxville, Tennessee in 1963.[7] He is the son of actor and amateur musician Tony Tarantino and nurse Connie McHugh.[8][9] He has a younger half-brother named Ron. Ridley Scott. Early life and career[edit] Scott was born 30 November 1937 in South Shields, Tyne and Wear in the North East of England,[2] the son of Elizabeth and Colonel Francis Percy Scott.[3] He was brought up in an army family, so for most of his early life, his father — an officer in the Royal Engineers — was absent.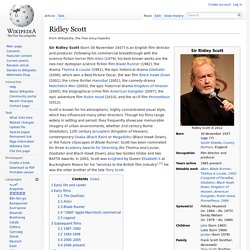 His elder brother, Frank, joined the Merchant Navy when he was still young and the pair had little contact. During this time the family moved around, living in (among other areas) Cumberland, Wales and Germany. He had a younger brother, Tony, who also became a film director. Michel Gondry. Martin Scorsese. Scorsese's body of work addresses such themes as Italian American identity, Roman Catholic concepts of guilt and redemption,[4] machismo, modern crime and gang conflict.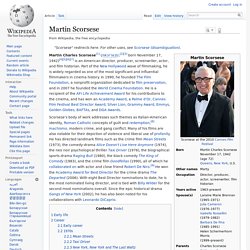 Many of his films are also notable for their depiction of violence and liberal use of profanity. Scorsese has directed landmark films such as Mean Streets (1973), Taxi Driver (1976), Raging Bull (1980), and Goodfellas (1990) – all of which he collaborated on with actor and close friend Robert De Niro.[5] He won the Academy Award for Best Director for The Departed (2006). With eight Best Director nominations to date, he is the most nominated living director, and is tied with Billy Wilder for the second most nominations overall. Alain Resnais. In later films, Resnais moved away from the overtly political topics of some previous works and developed his interests in an interaction between cinema and other cultural forms, including theatre, music, and comic books.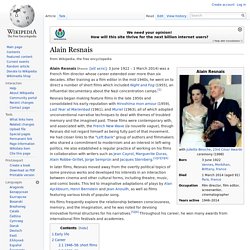 This led to imaginative adaptations of plays by Alan Ayckbourn, Henri Bernstein and Jean Anouilh, as well as films featuring various kinds of popular song. His films frequently explored the relationship between consciousness, memory, and the imagination, and he was noted for devising innovative formal structures for his narratives.[5][6] Throughout his career, he won many awards from international film festivals and academies. Early life[edit] Roman Polanski. Roman Polanski (born Rajmund Roman Thierry Polański; 18 August 1933) is a Polish and, since 1976, naturalized-French[1] film director, producer, writer, and actor.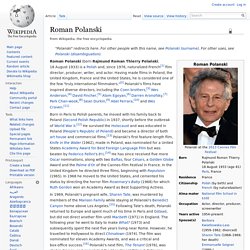 Having made films in Poland, the United Kingdom, France and the United States, he is considered one of the few "truly international filmmakers. "[2] Polanski's films have inspired diverse directors, including the Coen brothers,[3] Wes Anderson,[4] David Fincher,[5] Atom Egoyan,[6] Darren Aronofsky,[7] Park Chan-wook,[8] Abel Ferrara,[9] and Wes Craven.[10] Early life. Terrence Malick. Early life[edit] Film career[edit] Malick started his film career after earning an MFA from the AFI Conservatory in 1969, directing the short film "Lanton Mills".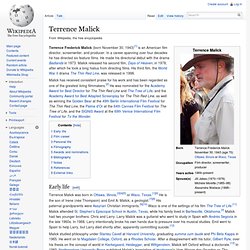 At the AFI, he established contacts with people such as Jack Nicholson, longtime collaborator Jack Fisk, and agent Mike Medavoy, who procured for Malick freelance work revising scripts. He is credited with the screenplay for Pocket Money (1972), and he wrote an early draft of Dirty Harry (1971).[14] David Lynch. David Keith Lynch (born January 20, 1946) is an American film director, television director, visual artist, musician and occasional actor.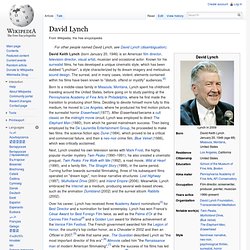 Known for his surrealist films, he has developed a unique cinematic style, which has been dubbed "Lynchian", a style characterized by its dream imagery and meticulous sound design. The surreal, and in many cases, violent, elements contained within his films have been known to "disturb, offend or mystify" audiences.[2] Fritz Lang. Life and career[edit] Early life[edit] Lang was born in Vienna as the second son of Anton Lang (1860–1940),[3] an architect and construction company manager, and his wife Pauline "Paula" Lang née Schlesinger (1864–1920).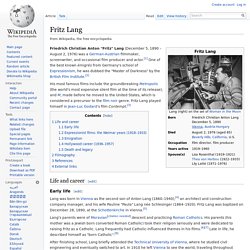 Fritz Lang himself was baptized on December 28, 1890 at the Schottenkirche in Vienna.[4] Stanley Kubrick. Stanley Kubrick (/ˈkuːbrɪk/; July 26, 1928 – March 7, 1999) was an American film director, screenwriter, producer, cinematographer, and editor who did much of his work in the United Kingdom. He is regarded by many as one of the greatest filmmakers of all time.
His films, typically adaptations of novels or short stories, are noted for their "dazzling"[1] and unique cinematography, attention to detail in the service of realism, and the evocative use of music. Alfred Hitchcock. Over a career spanning more than half a century, Hitchcock fashioned for himself a distinctive and recognisable directorial style.[5] He pioneered the use of a camera made to move in a way that mimics a person's gaze, forcing viewers to engage in a form of voyeurism.[6] He framed shots to maximise anxiety, fear, or empathy, and used innovative film editing.[6] His stories often feature fugitives on the run from the law alongside "icy blonde" female characters.[7][8] Many of Hitchcock's films have twist endings and thrilling plots featuring depictions of violence, murder, and crime. Many of the mysteries, however, are used as decoys or "MacGuffins" that serve the film's themes and the psychological examinations of the characters.
Hitchcock's films also borrow many themes from psychoanalysis and feature strong sexual overtones. Through his cameo appearances in his own films, interviews, film trailers, and the television program Alfred Hitchcock Presents, he became a cultural icon. Coen brothers. Background[edit] Early life[edit] Joel and Ethan Coen, of Jewish descent,[2] grew up in St. Louis Park, Minnesota, a suburb of Minneapolis.[3] Their mother, Rena (née Neumann), was an art historian at St. Darren Aronofsky. Darren Aronofsky (born February 12, 1969) is an American film director, screenwriter and film producer. He has received acclaim for his often surreal, disturbing films and has been noted for frequent collaborations with cinematographer Matthew Libatique, film editor Andrew Weisblum and composer Clint Mansell. His films have generated controversy and are well known for their often violent, bleak subject matter.
Early life and education[edit] Aronofsky became interested in film at Harvard University, where his senior thesis film was a finalist for an award. Ingmar Bergman. Ernst Ingmar Bergman (Swedish pronunciation: [ˈɪŋmar ˈbærjman] ( ); 14 July 1918 – 30 July 2007) was a Swedish director, writer and producer for film, stage and television. He is recognized as one of the most accomplished and influential film directors of all time.[1] He directed over sixty films and documentaries for cinematic release and for television, most of which he also wrote.
---