Film directors
Lars von Trier (Danish: [ˈlɑːs fʌn ˈtʁiːˀɐ]; born Lars Trier; 30 April 1956)[2] is a Danish film director and screenwriter. He is closely associated with the Dogme 95 collective – an avant-garde filmmaking movement – although his own films have taken a variety of approaches. His work has frequently divided critical opinion.[3]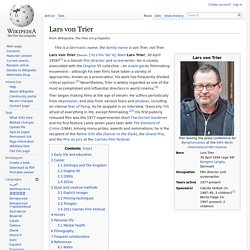 Lars von Trier
Andrei Arsenyevich Tarkovsky (Russian: Андре́й Арсе́ньевич Тарко́вский, IPA: [ɐnˈdrʲej ɐrˈsʲenʲjɪvʲɪt͡ɕ tɐrˈkofskʲɪj]; 4 April 1932 – 29 December 1986) was a Soviet and Russian film-maker, writer, film editor, film theorist, theatre and opera director.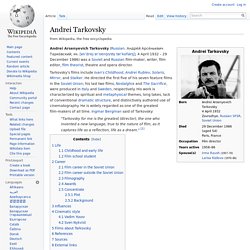 Andrei Tarkovsky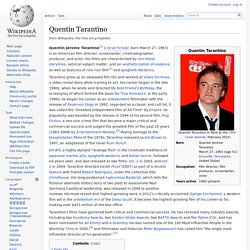 Tarantino's films have garnered both critical and commercial success. He has received many industry awards, including two Academy Awards, two Golden Globe Awards, two BAFTA Awards, the Palme d'Or, has been nominated for an Emmy and a Grammy, and has been named one of the 100 Most Influential People in the World by Time Magazine in 2005.[5] Filmmaker and historian Peter Bogdanovich has called him "the single most influential director of his generation".[6]
Quentin Tarantino
Early life and career[edit]
Ridley Scott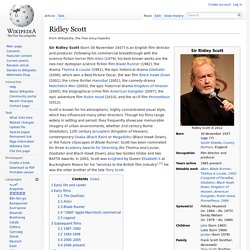 Martin Scorsese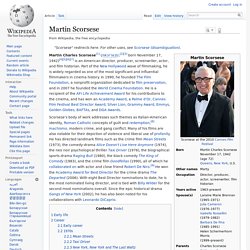 Martin Charles Scorsese[1] (/skɔrˈsɛzi/;[2][3] born November 17, 1942)[4][5][6][7] is an American film director, screenwriter, producer, actor, and film historian.
In later films Resnais moved away from the overtly political topics of some previous works and developed his interests in an interaction between cinema and other cultural forms, including theatre, music, and comic books.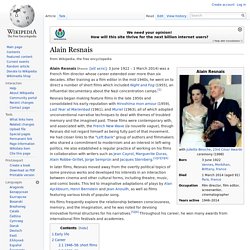 Alain Resnais
Roman Polanski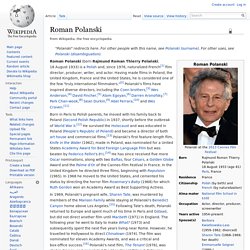 Roman Polanski (born Rajmund Roman Thierry Polański; 18 August 1933) is a Polish and, since 1976, naturalized-French[1] film director, producer, writer, and actor.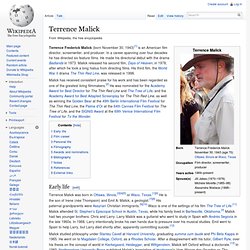 Terrence Malick
Early life[edit]
David Lynch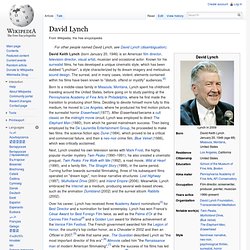 David Keith Lynch (born January 20, 1946) is an American film director, television director, visual artist, musician and occasional actor. Known for his surrealist films, he has developed his own unique cinematic style, which has been dubbed "Lynchian", a style characterized by its dream imagery and meticulous sound design. The surreal, and in many cases, violent, elements contained within his films have been known to "disturb, offend or mystify" audiences.[2]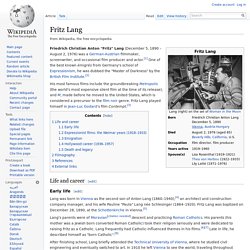 Life and career[edit]
Fritz Lang
Stanley Kubrick
Stanley Kubrick (/ˈkuːbrɪk/; July 26, 1928 – March 7, 1999) was an American film director, screenwriter, producer, cinematographer, and editor who did most of his work as an expatriate in the United Kingdom. He is regarded by many as one of the greatest filmmakers of all time. His films, typically adaptations of novels or short stories, are noted for their "dazzling"[1] and unique cinematography, attention to detail in the service of realism, and the evocative use of music.
Sir Alfred Joseph Hitchcock, KBE (13 August 1899 – 29 April 1980)[2] was an English film director and producer.[3] He pioneered many techniques in the suspense and psychological thriller genres.
Alfred Hitchcock
Background[edit]
Coen brothers
Darren Aronofsky
Darren Aronofsky (born February 12, 1969) is an American film director, screenwriter and film producer.
Ernst Ingmar Bergman (Swedish pronunciation: [ˈɪŋmar ˈbærjman] (
Ingmar Bergman