MTF
SmartPool. Turquoise. Turquoise adds ETCs. LSEG Turquoise Transaction. Chi-X Europe's Misra Quits for 'Other Interests' (Update1) - Bus. BATS Europe. Burgundy | The efficient way to trade Nordic securities. Nasdaq OMX. Nasdaq OMX Nordic shifting to INET. NASDAQ OMX rolls out INET. Hans-Ole Jochumsen, President, NASDAQ OMX Nordic: "With INET in place we can offer investors access to the world's fastest and most scalable trading system.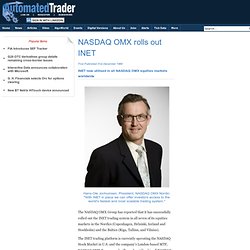 " The NASDAQ OMX Group has reported that it has successfully rolled out the INET trading system in all seven of its equities markets in the Nordics (Copenhagen, Helsinki, Iceland and Stockholm) and the Baltics (Riga, Tallinn, and Vilnius). The INET trading platform is currently operating the NASDAQ Stock Market in U.S. and the company's London-based MTF, NASDAQ OMX Europe, and will now be utilized in all NASDAQ OMX equities markets across the world.
Hans-Ole Jochumsen, President NASDAQ OMX Nordic said, "This trading system shift is one of the biggest infrastructural changes in the history of the Nordic and Baltic equities markets. With INET in place we can offer investors access to the world's fastest and most scalable trading system. INET. NASDAQ OMX Nordic and Baltic exchanges introduced new trading system INET for equity trading.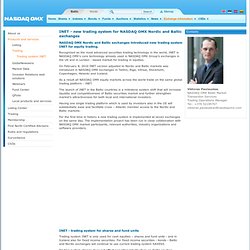 Recognized as the most advanced securities trading technology in the world, INET is NASDAQ OMX's core technology already used in NASDAQ OMX Group's exchanges in the US and in London - based market for trading in equities. On February 8, 2010 INET version adjusted to Nordic and Baltic markets was introduced in NASDAQ OMX exchanges in Tallinn, Riga, Vilnius, Stockholm, Copenhagen, Helsinki and Iceland. Nasdaq OMX aims to launch third U.S. venue in May. Thu Feb 4, 2010 4:18am IST * PSX to have 'price-size priority pro-rata' model * May launch requires regulatory approval NEW YORK Feb 3 (Reuters) - Nasdaq OMX (NDAQ.O) plans to launch its third U.S. stock-trading platform, called NASDAQ OMX PSX, or simply PSX, in May, the exchange operator said in a note to traders on Wednesday.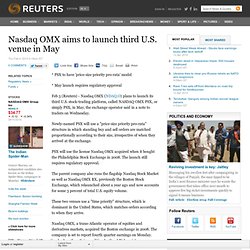 Vega-Chi
Vega-Chi Ltd: Vega-Chi receives FSA approva | Company Announceme. Markets in Canada.
---