MTF
SmartPool
Turquoise
Turquoise adds UK stocks to aggregation service | The Trade News
Turquoise, the pan-European multilateral trading facility (MTF) owned by the London Stock Exchange (LSE), has expanded the coverage of its TQ Lens liquidity aggregation service by adding UK stocks. UK stocks were not included in TQ Lens from its launch in August 2009 because members would have incurred a stamp duty charge. Turquoise has been working with regulators to create a negotiated trade waiver that allows it to migrate trades onto its displayed MTF so they do not attract this charge.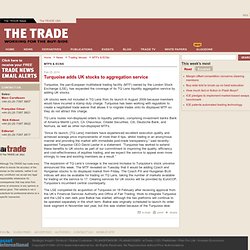 Turquoise, a broker-backed pan-European multilateral trading facility, has expanded the range of instruments on its platform with six exchange-traded commodities (ETCs). The series of ETCs will track the performance of physical gold and silver as well as gold bullion indices, and will be available for trading on Turquoise from 13 November. The trades will be cleared by EuroCCP, the MTF's incumbent central counterparty.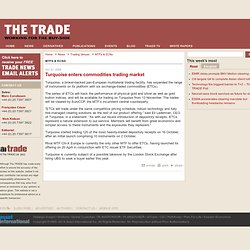 Turquoise enters commodities trading market | The Trade News
Turquoise adds ETCs
LSEG Turquoise Transaction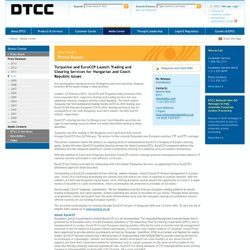 Turquoise and EuroCCP Launch Trading and Clearing Services for H
News Center First pan-European clearing service for 25 Hungarian and Czech securities; Turquoise to be first MTFto launch trading in these securities London, 23 February 2010 – EuroCCP and Turquoise today announce they have expanded their respective clearing and trading services into two additional markets, Hungary and the Czech Republic. The move makes Turquoise the first multilateral trading facility (MTF) to offer trading and EuroCCP the first pan-European CCP to offer clearing services in the 25 components of the main Hungarian and Czech indices—the BUX and PX indices, respectively. EuroCCP's clearing services for Hungary and Czech Republic securities are open to any trading venue to which it is linked that offers trading in these securities. Turquoise will offer trading in the Hungarian and Czech securities cleared through EuroCCP from 26 February.
Chi-X Australia Appoints Jamie Crank as Head of Operations 4 December 2012 Peter Fowler to step down from Chi-X Australia CEO position in 2013 23 November 2012 Chi-X Australia Marks 1st Year of Operation 1 November 2012 Chi-X Japan Receives PTS Exemption 26 October 2012 Chi-X Global Deploys CorvilNet 30 August 2012 Chi-X Canada Hits 15.6% Market Share 17 August 2012 Chi-FX Brazil Commences Participant Certification 17 July 2012 Enyx FPGA based Trading Platform Certified for Chi-X Canada 12 June 2012 Chi-X Canada Reports Another Record Month 6 June 2012
Chi-X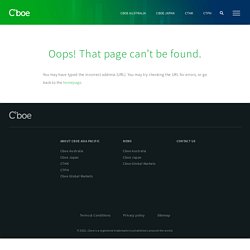 Chi-X chief operating officer resigns | Banking Technology magaz
You can submit your own links or stories to the directory.. Censorship , Cultural Policy , Reference , Awards , Criticism and Theory , Local History , Cultures and Groups , Booksellers , Organizations , Institutes , ... Library , Politics , Eclectic , Science , Money , Webmaster , Making Money , Blog Hosting , Personal , News , ... History , Charity , Ethics and Responsibility , Cooperatives , Economics , Labor , Intellectual Property , Storage , Uniforms and Clothing , ID cards , ...
Baikal
BATS Europe
BATS unveils routing and latency improvements | The Trade News
BATS Exchange, the US equities exchange operated by BATS Global Markets, has announced a series of improvements to its trading technologies. The exchange says it has recently completed significant enhancements to its smart order router, which have resulted in it achieving a greater than 70% share fill rate and an 8 millisecond average order lifetime. BATS has also recently completed projects which have reduced overall system latency and increased throughput.
Equiduct
Burgundy | The efficient way to trade Nordic securities.
Liquidnet Europe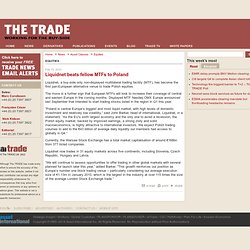 Liquidnet, a buy-side only non-displayed multilateral trading facility (MTF), has become the first pan-European alternative venue to trade Polish equities. The move is a further sign that European MTFs will look to increase their coverage of central and eastern Europe in the coming months. Displayed MTF Nasdaq OMX Europe announced last September that intended to start trading stocks listed in the region in Q1 this year. "Poland is central Europe's biggest and most liquid market, with high levels of domestic investment and relatively low volatility," said John Barker, head of international, Liquidnet, in a statement. "As the EU's sixth largest economy and the only one to avoid a recession, the Polish equity market, backed by improved earnings, a strong zloty and solid macroeconomics, is highly attractive to international investors. We expect Polish trading volumes to add to the €43 billion of average daily liquidity our members had access to globally in Q4."
Liquidnet beats fellow MTFs to Poland | The Trade News
Nomura NX
Nasdaq OMX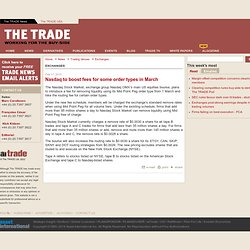 Nasdaq to boost fees for some order types in March | The Trade N
The Nasdaq Stock Market, exchange group Nasdaq OMX's main US equities bourse, plans to introduce a fee for removing liquidity using its Mid Point Peg order type from 1 March and hike the routing fee for certain order types. Under the new fee schedule, members will be charged the exchange's standard remove rates when using Mid Point Peg for all volume tiers. Under the existing schedule, firms that add more than 95 million shares a day to Nasdaq Stock Market can remove liquidity using Mid Point Peg free of charge. Nasdaq Stock Market currently charges a remove rate of $0.0030 a share for all tape B trades and tape A and C trades for firms that add less than 35 million shares a day.
Nasdaq OMX Nordic shifting to INET
Hans-Ole Jochumsen, President, NASDAQ OMX Nordic: "With INET in place we can offer investors access to the world's fastest and most scalable trading system." The NASDAQ OMX Group has reported that it has successfully rolled out the INET trading system in all seven of its equities markets in the Nordics (Copenhagen, Helsinki, Iceland and Stockholm) and the Baltics (Riga, Tallinn, and Vilnius). The INET trading platform is currently operating the NASDAQ Stock Market in U.S. and the company's London-based MTF, NASDAQ OMX Europe, and will now be utilized in all NASDAQ OMX equities markets across the world. Hans-Ole Jochumsen, President NASDAQ OMX Nordic said, "This trading system shift is one of the biggest infrastructural changes in the history of the Nordic and Baltic equities markets. With INET in place we can offer investors access to the world's fastest and most scalable trading system.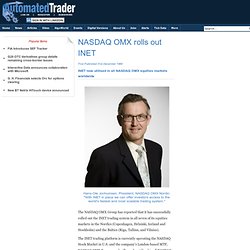 NASDAQ OMX rolls out INET
NASDAQ OMX Nordic and Baltic exchanges introduced new trading system INET for equity trading. Recognized as the most advanced securities trading technology in the world, INET is NASDAQ OMX's core technology already used in NASDAQ OMX Group's exchanges in the US and in London - based market for trading in equities. On February 8, 2010 INET version adjusted to Nordic and Baltic markets was introduced in NASDAQ OMX exchanges in Tallinn, Riga, Vilnius, Stockholm, Copenhagen, Helsinki and Iceland.
INET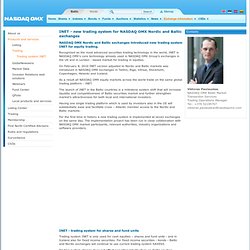 Thu Feb 4, 2010 4:18am IST * PSX to have 'price-size priority pro-rata' model * May launch requires regulatory approval NEW YORK Feb 3 (Reuters) - Nasdaq OMX ( NDAQ.O ) plans to launch its third U.S. stock-trading platform, called NASDAQ OMX PSX, or simply PSX, in May, the exchange operator said in a note to traders on Wednesday.
Nasdaq OMX aims to launch third U.S. venue in May
Vega-Chi Ltd: Vega-Chi receives FSA approva | Company Announceme