MARKETING CAMPAIGNS
Behind the scenes - Unlock the 007 in you. You have 70 seconds! 50 Creative WWF Campaigns That Make You Think Twice. The World Wide Fund for Nature (WWF) is an international non-governmental organization working on issues regarding the conservation, research and restoration of the environment.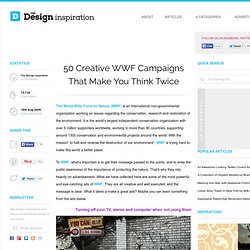 It is the world's largest independent conservation organization with over 5 million supporters worldwide, working in more than 90 countries, supporting around 1300 conservation and environmental projects around the world. With the mission" to halt and reverse the destruction of our environment", WWF is trying hard to make this world a better place. To WWF, what's important is to get their message passed to the public, and to arise the public awareness of the importance of protecting the nature. That's why they rely heavily on advertisement. A DRAMATIC SURPRISE ON A QUIET SQUARE. NY Hurricane. Stupendo spot belga sull'ingenuità della gente riguardo i propri dati in pasto ai social network.
La Mejor Camara Escondida. STREETPONG. Zombie Experiment NYC. Berlin Holi Open Air Festival 2012. Tropicana 'Natural Energy' Sex Sells, 50 Creative Sexual Advertisements. Here is the cold hard truth, "Sex Sells."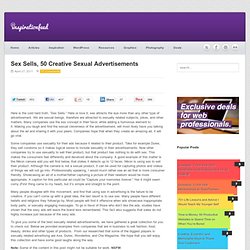 Hate or love it, sex attracts the eye more than any other type of advertisement. We are sexual beings, therefore are attracted to sexually related subjects, jokes, and other matters. Many companies use the sex concept in their favor, while adding a humorous element to it. Paperplane - Street, ambient, guérilla marketing and out of home. 20 creative guerilla marketing campaigns. We are so overwhelmed with advertising everywhere that it becomes hard for creative agencies to make ads that stand out.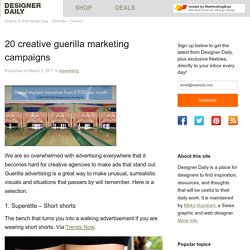 Guerilla advertising is a great way to make unusual, surrealistic visuals and situations that passers by will remember. Here is a selection. 1. Superette – Short shorts The bench that turns you into a walking advertisement if you are wearing short shorts. NOAH - Eggmachine. Going Gone Gorilla.
---