Services
last.fm top albums generator
BoxRockit | A simple way to sell your digital products on Twitter
Comparateur de deals - Avis et deals du jour
Employee Scheduling Software with Free Mobile Apps
Lack of motivation still runs unrestrained. It stonewalls us at every turn and twist. But as a wise man once said – "People often say that motivation doesn't last. Well, neither does bathing – that's why we recommend it daily." How to motivate yourself isn't taught in schools. It is something each of us must learn to do on one's own…or take the help of the web for some pointers.
4 Simple Motivational Web Apps That Can Spur You Into Action In Seconds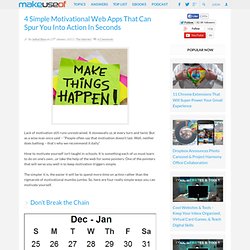 Acheter et télécharger Légalement Tous les jeux vidéo PC sur DLgamer
Phone Size - Phone size comparison made easy!