Ze arts
Thickness: A SEXUAL PANOPTICON. Thickness is an anthology of erotic comics co-edited by Michael DeForge and Ryan Sands.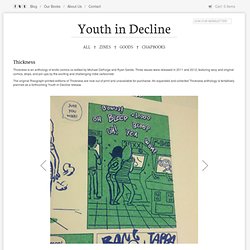 Three issues were released in 2011 and 2012, featuring sexy and original comics, strips, and pin-ups by the exciting and challenging indie cartoonists The original Risograph-printed editions of Thickness are now out of print and unavailable for purcharse. An expanded and collected Thickness anthology is tentatively planned as a forthcoming Youth in Decline release.
Issue #148 pages, color covers and Risograph-printed interiors. Public Art Concepts - Dan Sternof Beyer 2011. Big Doodle.
---