Social Media Crisis Management
Subscribe to get 10 free content ideas daily Last week, I was sitting in a meeting of executives to discuss social business. Seated next to me was a man who had a lot on his mind – Greg Creed, President of Taco Bell.
Social Business As Usual « Dachis Group Collaboratory
Social media to the rescue: Getting your brand back on track when a crisis breaks
This post was written by Jay Baer and Amber Naslund and was culled from their forthcoming book, "The NOW Revolution: 7 Shifts to Make Your Business Faster, Smarter & More Social," available for pre-order and debuting Feb. 1. Download the first chapter free at Facebook.com/nowrevolution. Sometimes, all does not go according to plan in social media.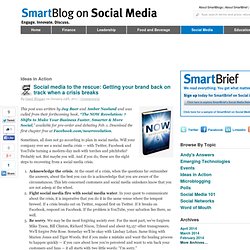 How to Prepare for a Social Media Crisis | SMI