Social Business 2
UK Businesses are Struggling to Communicate With one Voice - new Research From Unified Communications Expo 2011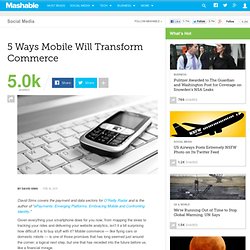 David Sims covers the payment and data sectors for O'Reilly Radar and is the author of "ePayments: Emerging Platforms, Embracing Mobile and Confronting Identity."
5 Ways Mobile Will Transform Commerce
How Social Media Changed Small Business Marketing #SEWatch
Davanti Digital Media, a full-service digital marketing agency specializing in social media solutions for businesses of all sizes, has just uploaded a new YouTube video entitled, "Social Media For All: How Social Media Changed Small Business Marketing."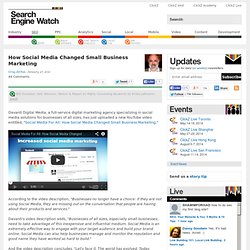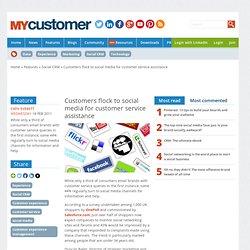 Customers flock to social media for customer service assistance
While only a third of consumers email brands with customer service queries in the first instance, some 44% regularly turn to social media channels for information and help. According to a survey undertaken among 1,000 UK shoppers by OnePoll and commissioned by Salesforce.com , just over half of shoppers now expect companies to monitor social networking sites and forums and 43% would be impressed by a company that responded to complaints made using these channels. The trend is particularly marked among people that are under 34 years old.
Is this the start of the second dotcom bubble? | Business | The Observer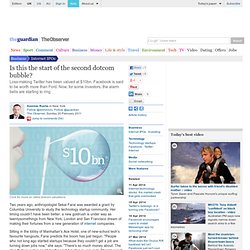 Two years ago, anthropologist Sekai Farai was awarded a grant by Columbia University to study the technology startup community.
Fremtidens markedsføring: Den største glede man kan ha, er å gjøre andre glad! | Beate tenker høyt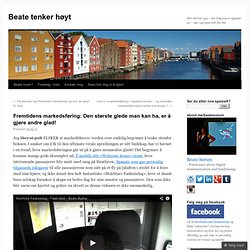 Jeg liker så godt ELSKER at markedsførere verden over endelig begynner å tenke utenfor boksen.
Fremtiden er mobil – apps og sosiale nettverk « Petter`s Blogg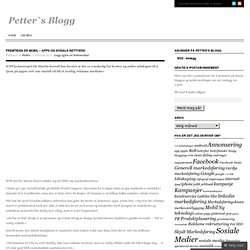 Fremtiden er mobil – apps og sosiale nettverk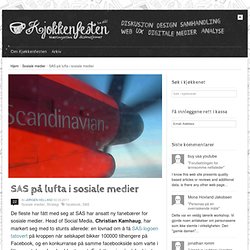 De fleste har fått med seg at SAS har ansatt ny fanebærer for sosiale medier. Head of Social Media, Christian Kamhaug, har markert seg med to stunts allerede: en lovnad om å få SAS-logoen tatovert på kroppen når selskapet bikker 100000 tilhengere på Facebook, og en konkurranse på samme facebookside som varte i litt over et døgn før den ble stoppet. Er dette veien å gå for kjente merkevarer i tiden framover?
SAS på lufta i sosiale medier
Facebook & Twitter: Shadow Customer Support « Dachis Group Collaboratory
Subscribe to get 10 free content ideas daily For social media savvy customers looking to engage companies directly, Facebook and Twitter serve alternate customer support channels. Instead of waiting on the phone for an agent, customers jump to the front of the queue by going online.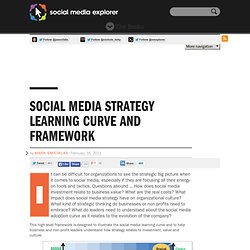 A Big Picture Social Media Strategy
It can be difficult for organizations to see the strategic big picture when it comes to social media, especially if they are focusing all their energy on tools and tactics. Questions abound … How does social media investment relate to business value? What are the real costs?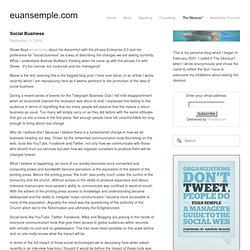 Stowe Boyd wrote today about his discomfort with the phrase Enterprise 2.0 and his preference for "social business" as a way of describing the changes we are seeing currently. While I understand Andrew McAfee's thinking when he came up with the phrase I'm with Stowe - it's too narrow, too corporate and too managerial!
Social Business
Posted on 13 February 2011.
Social Media Strategies: Is Social Media Adoption The New Quality Standard Of Successful Company? | Social Media Citizens
B2B i sosiale medier – tall og trender « Petter`s Blogg
B2B i sosiale medier – tall og trender Publisert av Petter 16. februar 2011 · 1 kommentar
Fortune 100 i sosiale medier
Fortune 100 i sosiale medier – Burson-Marsteller – Norge
Hvordan måler du din egen bedrifts suksess med sosiale medier?
ROI på Sosiale medier
CMO Survey Results Reported
socialmediasandy.wordpress
The main thing I loved about the post was this one side maturity assessment, which could be used in conjunction with the Social Media Strategy and Framework in a previous post of mine.
Your Social Business Maturity Level
U.S. Social Media Ad Spending To Surpass $3 Billion This Year | Smedio | The New Media and Social Web Guide for Business and Marketers
Overcoming the 5 Barriers to B2B Social Media Marketing Success | B2C Marketing Insider
How Small Businesses Are Using Social Media [INFOGRAPHIC]
jeffbullas
Sales and marketing: Can a social media firestorm sink your brand? | Executive
8 steps to build your Social Media strategy - Rune Haugestad's posterous
Live from Social Media Week: The Suxorz picks the worst social media moves of 2010
- Får ikke inntekter fra sosiale medier | Bransjetrender, Finansiering, Forretningsstrategi
Cutting Through The Noise: Tying Social Media Program to Business Objectives
Best Practices: Five Simple Rules For Social Business
10 Things Your Agency Missed That Continue to Hurt Your Business
The Psychology of Facebook: Implications for Social Commerce
Report: How Corporations Should Prioritize Social Business Budgets - Founder of Altimeter Group, Author of Open Leadership, Coauthor of Groundswell
Richard Branson on 'Social' Relations
The Many Faces of Enterprise 2.0
Social Commerce: About People or Software?
Spend Wisely. Finally, an Investment Roadmap for Social Business Buyers (Altimeter Report)
Keynote: Social Business Forecast: 2011 The Year of Integration
Essential SharePoint: Award winning SharePoint intranets that don't look like SharePoint | Network World
IT Poll: Should Enterprise Technology Be Sexy?
From e-business to Social Business
Facebook and Twitter Dominate Small Biz Social Media Use
Forrester identifies four technologies b-to-b CMOs should watch
Sequoia-Backed Hearsay Launches Social Media Platform For Corporations With Local Branches
More Brands Need To Become Social Media Publishers
Social Business As Usual « Dachis Group Collaboratory
Hearsay Corporation
Magic Quadrant 2010 for Internal Social Software
Social Commerce To Rise Six Fold To $30 Billion In 2015, According To Booz & Co
Liminal: The 2011 Razorfish Customer Engagement Report
Social CRM: Ground zero for Enterprise 2.0 in 2010
How to Engage in Social Media: A Dell Perspective
Email Evolution: Web-based Email Shows Signs of Decline in the U.S. While Mobile Email Usage on the Rise
A Year in Social Commerce [infographic
Where Are Social Media Marketers Seeing the Most Success?
Top 14 Benefits of Social Media Marketing for You and Your Business
Enterprise Social Networking: 4 Ways You're Probably Doing It Wrong — Datamation.com
Rethinking the Future of Business Part 1: The State of Corporate Social Media « Brian Solis Brian Solis
Do Enterprises 'Get' Social Media? — ecrmguide.com
Jive Software Survey Shows Growth in Social Enterprise Software | Arik Hesseldahl | NewEnterprise | AllThingsD