Social Business 2
UK Businesses are Struggling to Communicate With one Voice - new Research From Unified Communications Expo 2011. 5 Ways Mobile Will Transform Commerce. David Sims covers the payment and data sectors for O'Reilly Radar and is the author of "ePayments: Emerging Platforms, Embracing Mobile and Confronting Identity.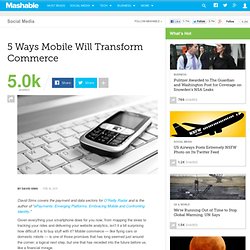 " Given everything your smartphone does for you now, from mapping the skies to tracking your rides and delivering your website analytics, isn't it a bit surprising how difficult it is to buy stuff with it? Mobile commerce — like flying cars or domestic robots — is one of those promises that has long seemed just around the corner; a logical next step, but one that has receded into the future before us, like a financial mirage. At the risk of getting fooled again, I think that's about to change. Twitter lights up every time Apple hires an engineer with expertise in near field communication (NFC), the wireless technology that will most likely power wave-and-pay mobile systems, and Eric Schmidt showed off tap-and-pay capability in an Android phone at the Web 2.0 Summit last fall. How Social Media Changed Small Business Marketing #SEWatch.
Davanti Digital Media, a full-service digital marketing agency specializing in social media solutions for businesses of all sizes, has just uploaded a new YouTube video entitled, "Social Media For All: How Social Media Changed Small Business Marketing.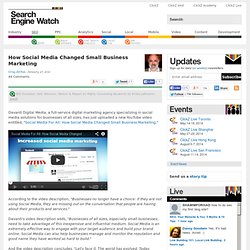 " According to the video description, "Businesses no longer have a choice: if they are not using Social Media, they are missing out on the conversation that people are having about their products and services. " Davanti's video description adds, "Businesses of all sizes, especially small businesses, need to take advantage of this inexpensive and influential medium. Social Media is an extremely effective way to engage with your target audience and build your brand online. Customers flock to social media for customer service assistance. While only a third of consumers email brands with customer service queries in the first instance, some 44% regularly turn to social media channels for information and help.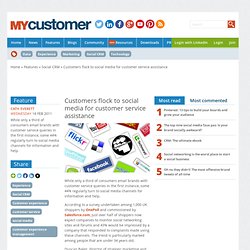 According to a survey undertaken among 1,000 UK shoppers by OnePoll and commissioned by Salesforce.com, just over half of shoppers now expect companies to monitor social networking sites and forums and 43% would be impressed by a company that responded to complaints made using these channels. The trend is particularly marked among people that are under 34 years old. Is this the start of the second dotcom bubble? | Business | The Observer. Two years ago, anthropologist Sekai Farai was awarded a grant by Columbia University to study the technology startup community.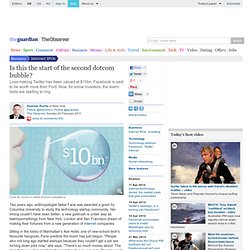 Her timing couldn't have been better: a new goldrush is under way as twentysomethings from New York, London and San Francisco dream of making their fortunes from a new generation of internet companies. Sitting in the lobby of Manhattan's Ace Hotel, one of new-school tech's favourite hangouts, Farai predicts the boom has just begun. "People who not long ago started startups because they couldn't get a job are turning down jobs now," she says. "There's so much money about. Fremtidens markedsføring: Den største glede man kan ha, er å gjøre andre glad! | Beate tenker høyt. Jeg liker så godt ELSKER at markedsførere verden over endelig begynner å tenke utenfor boksen.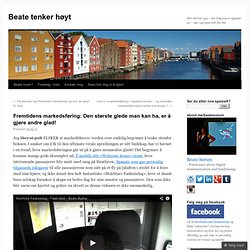 I ønsket om å få til den ultimate virale spredningen av sitt budskap, har vi havnet i en trend, hvor markedsføringen går ut på å gjøre mennesker glade! Det begynner å komme mange gode eksempler nå, T-mobile sitt «Welcome home»-stunt, hvor intetanende passasjerer blir møtt med sang på Heathrow, Spanair som gav personlig tilpassede julegaver til alle passasjerene som satt på et fly på julaften i stedet for å feire med sine kjære, og ikke minst den helt fantastiske «Mukhtars Fødselsdag», hvor et dansk buss-selskap forsøker å skape en bedre dag for sine ansatte og passasjerer. Den som ikke blir varm om hjertet og gråter en skvett av denne videoen er ikke menneskelig. Fremtiden er mobil – apps og sosiale nettverk « Petter`s Blogg.
Fremtiden er mobil – apps og sosiale nettverk Publisert av Petter 17. februar 2011 · Legg igjen en kommentar WPP konsernsjef Sir Martin Sorrell har hevdet at det er vanskelig for byråer og andre selskaper til å tjene på apper selv om «mobil vil bli et kraftig reklame medium».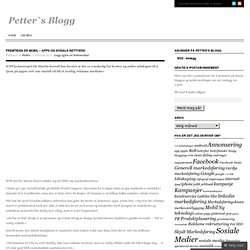 WPP sjef Sir Martin Sorren uttaler seg til CNBC om markedstrendene. Uttaler på i går, Sorrell fortalte på Mobile World Congress i Barcelona for to dager siden at app markedet er tredoblet i størrelse til $ 15 milliarder, men den er liten «hvis du husker vår bransje er en billion dollar industri» uttaler Sorren. SAS på lufta i sosiale medier. De fleste har fått med seg at SAS har ansatt ny fanebærer for sosiale medier.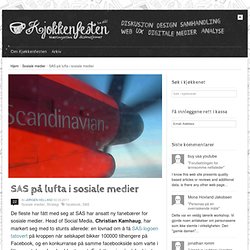 Head of Social Media, Christian Kamhaug, har markert seg med to stunts allerede: en lovnad om å få SAS-logoen tatovert på kroppen når selskapet bikker 100000 tilhengere på Facebook, og en konkurranse på samme facebookside som varte i litt over et døgn før den ble stoppet. Er dette veien å gå for kjente merkevarer i tiden framover? Facebook & Twitter: Shadow Customer Support « Dachis Group Collaboratory. For social media savvy customers looking to engage companies directly, Facebook and Twitter serve alternate customer support channels.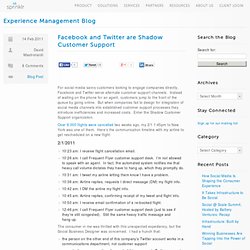 Instead of waiting on the phone for an agent, customers jump to the front of the queue by going online. But when companies fail to design for integration of social media channels into established customer support processes they introduce inefficiencies and increased costs. A Big Picture Social Media Strategy. It can be difficult for organizations to see the strategic big picture when it comes to social media, especially if they are focusing all their energy on tools and tactics.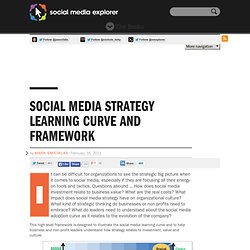 Questions abound … How does social media investment relate to business value? What are the real costs? Social Business. Stowe Boyd wrote today about his discomfort with the phrase Enterprise 2.0 and his preference for "social business" as a way of describing the changes we are seeing currently.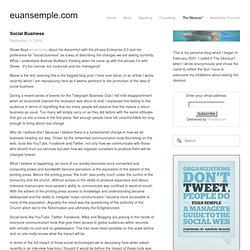 While I understand Andrew McAfee's thinking when he came up with the phrase I'm with Stowe - it's too narrow, too corporate and too managerial! Below is the text (warning this is the biggest blog post I have ever done) of an article I wrote recently which I am reproducing here as it seems pertinent to the promotion of the idea of social business During a recent series of events for the Telegraph Business Club I felt mild disappointment when an economist claimed the recession was about to end. I explained this feeling to the audience in terms of regretting that too many people will assume that this means a return business as usual. Too many will simply carry on as they did before with the same attitudes that got us into a mess in the first place.
Social Media Strategies: Is Social Media Adoption The New Quality Standard Of Successful Company? | Social Media Citizens. Posted on 13 February 2011. Tags: changing social media, corporate social responsibility, Giedrius Ivanauskas, Social Media, social media and csr, social media quality standard, social media strategy, social media value chain Social media is maturing. As many companies have successfully integrated social media in their communication/business strategies and as many more are planning to do so in very near future, it is no longer perceived as the risky investment but more as a necessity in order to keep a competitive edge in the market and maintain the dialogue with consumers.
B2B i sosiale medier – tall og trender « Petter`s Blogg. B2B i sosiale medier – tall og trender Publisert av Petter 16. februar 2011 · 1 kommentar Forrige uke skrev jeg et innlegg rundt om B2B eller B2C er best egnet i sosiale medier. Som en videreføring av det innlegget har jeg funnet noen fakta og tall rundt bruk av B2B markedsføring i sosiale medier. Videoen under visualiserer disse tallene. Fortune 100 i sosiale medier – Burson-Marsteller – Norge. Fortune 100 i sosiale medier av Jeppe Alexander M.
Grøttland i 16. februar 2011 • B-M Bloggen Oslo, 16. februar, 2011, Europeiske og andre globale selskap opprettholder fokus på interaktivitet i sosiale medier. Samtidig øker asiatiske selskapers tilstedeværelse på disse plattformene kraftig. ROI på Sosiale medier. Hvordan måler du din egen bedrifts suksess med sosiale medier? . Husk på det til senere, for forståelsen av dette «mottoet» er egentlig ganske så avgjørende for forståelsen av du kan måle om satsningen på sosiale medier har lønnet seg eller ikke… ROMI: Return of Marketing Investment – Langsiktig vs kortsiktig avkastning på bruk av markedsmidler.
Kortsiktig brukt til å måle effekten av en spesifikk markedsføringskampanje, mens den langsiktige i større grad konsentrerer seg på oppbygging og vedlikeholdet av merkevaren. CMO Survey Results Reported. Socialmediasandy.wordpress. Your Social Business Maturity Level. The main thing I loved about the post was this one side maturity assessment, which could be used in conjunction with the Social Media Strategy and Framework in a previous post of mine. Another thing I liked about the post was the following graphic which gives you a very broad overview of how you can match spending or resource commitment to your social business maturity. Check out the full report here on slideshare Like this: Like Loading...
U.S. Social Media Ad Spending To Surpass $3 Billion This Year | Smedio | The New Media and Social Web Guide for Business and Marketers. Overcoming the 5 Barriers to B2B Social Media Marketing Success | B2C Marketing Insider. How Small Businesses Are Using Social Media [INFOGRAPHIC] Jeffbullas. Sales and marketing: Can a social media firestorm sink your brand? | Executive. 8 steps to build your Social Media strategy - Rune Haugestad's posterous. Live from Social Media Week: The Suxorz picks the worst social media moves of 2010. - Får ikke inntekter fra sosiale medier | Bransjetrender, Finansiering, Forretningsstrategi.
Cutting Through The Noise: Tying Social Media Program to Business Objectives. Best Practices: Five Simple Rules For Social Business. 10 Things Your Agency Missed That Continue to Hurt Your Business. The Psychology of Facebook: Implications for Social Commerce. Report: How Corporations Should Prioritize Social Business Budgets - Founder of Altimeter Group, Author of Open Leadership, Coauthor of Groundswell. Richard Branson on 'Social' Relations. The Top 10 Digital Media Trends of 2010. The Many Faces of Enterprise 2.0. Social Commerce: About People or Software? Spend Wisely. Finally, an Investment Roadmap for Social Business Buyers (Altimeter Report) Keynote: Social Business Forecast: 2011 The Year of Integration. Essential SharePoint: Award winning SharePoint intranets that don't look like SharePoint | Network World.
IT Poll: Should Enterprise Technology Be Sexy? From e-business to Social Business. Facebook and Twitter Dominate Small Biz Social Media Use. 5 Ways to Tie Social Media to Business Goals | oneforty. Forrester identifies four technologies b-to-b CMOs should watch. Sequoia-Backed Hearsay Launches Social Media Platform For Corporations With Local Branches. More Brands Need To Become Social Media Publishers. Social Business As Usual « Dachis Group Collaboratory. Hearsay Corporation. Magic Quadrant 2010 for Internal Social Software. Social Commerce To Rise Six Fold To $30 Billion In 2015, According To Booz & Co.
Liminal: The 2011 Razorfish Customer Engagement Report. Social CRM: Ground zero for Enterprise 2.0 in 2010. How to Engage in Social Media: A Dell Perspective. Email Evolution: Web-based Email Shows Signs of Decline in the U.S. While Mobile Email Usage on the Rise. A Year in Social Commerce [infographic. Where Are Social Media Marketers Seeing the Most Success? Top 14 Benefits of Social Media Marketing for You and Your Business. Enterprise Social Networking: 4 Ways You're Probably Doing It Wrong — Datamation.com. Rethinking the Future of Business Part 1: The State of Corporate Social Media « Brian Solis Brian Solis. Do Enterprises 'Get' Social Media? — ecrmguide.com. Jive Software Survey Shows Growth in Social Enterprise Software | Arik Hesseldahl | NewEnterprise | AllThingsD.
---