Social Bookmarking
Get flash to fully experience Pearltrees
When serial entrepreneurs Cameron Brain (built and sold 3 web startups prior to this one) and Eric Roach (built and sold a brokerage company to Morgan Stanley, worked with & invested in several early-stage startups) met through a mutual connection, they hit it off right away. The two teamed together and produced a blog called the RoachPost.com that focused on their own operational experiences as entrepreneurs – stuff like building a board, raising capital for startups and so on. They quickly realized that they didn't want to write a blog, but the time that they spent producing content, promoting it, and building their readership set them on course towards an idea that would eventually become XYDO . Given the sheer amount of content that's published on a daily basis, combined with the number of different channels through which you can consume it, the 2 co-founders felt that it's becoming increasingly difficult to separate the signal from the noise.
Sign up for XYDO Curation , the web's leading content curation platform. Team XYDO has been hard at work on XYDO , our drive toward reinventing News on a truly social level. After crawling out of our bat cave of over 9 months of development, we are pleased to introduce you to XYDO.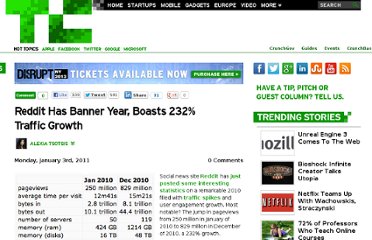 Social news site Reddit has just posted some interesting statistics on a remarkable 2010 filled with traffic spikes and user engagement growth. Most notable? The jump in pageviews from 250 million in January of 2010 to 829 million in December of 2010, a 232% growth. Reddit has increasingly become a favorite haunt of many in the social media community, especially since competitor Digg's v4 redesign underwhelmed both its casual and core users leading to an exodus in September . Digg which was worth $170 million earlier in the year , is now valued at just $102 million.
Continuing the mantra that the third wave of the Web is one of personalized news, streams and social experiences, XYDO is on the verge of launching what they call a personalized news network that claims to show you only the news you find interesting from all the friends and people you follow across the social Web. XYDO claims to learn what you like, and feels a lot like an intelligent mix between Digg and Quora , tapping into your social graph to discover the most frequently shared articles, spotting trending topics, and presenting the opportunity to follow subjects, sites and users. Founded by Eric Roach ( @veroach ) and Cameron Brain ( @cameronbrain ), the app pulls links shared from your Twitter, automatically assigns the links categories ( much like Socialmedian once did ), and tabulates shares from your network to assign a point value which brings items to the top.