Not sorted 3
Can content curation be entrusted to the crowd? > Systems Documentation, Inc. > Blog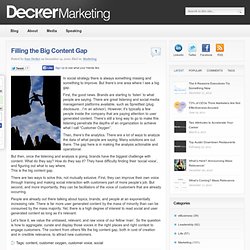 In social strategy there is always something missing and something to improve. But there's one area where I see a big gap. First, the good news.
Decker Marketing » Filling the Big Content Gap
The discussion surrounding the merits of so-called web aggregators went to another level this week as some Internet heavies weighed in on the debate We first discussed the nature of content curation in piece entitled: Creating order out of aggregation. This provides some useful background on this debate. The pressures on the mainstream media are acute.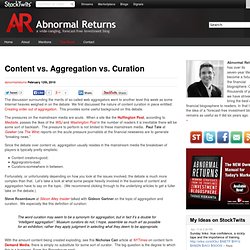 Search history within your filtered Twitter & Facebook feeds - Solo Web Startup
Is Quora Worth the Hype?: Tech News and Analysis «
Around the end of the year, the hype surrounding Quora kicked into overdrive.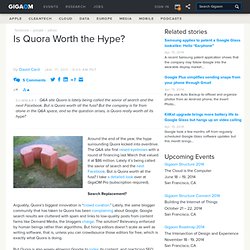 Part III: Curation Types and Real-World Examples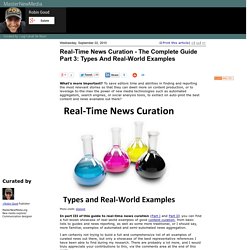 Content curation: Shaping and influencing your social reputation
Here are three curation tools I've been using to help tell stories online. I'm still figuring some of them out, but I'm sharing them them here for your feedback and insight. Make Your Story a Scoop: Scoop It is one of a handful of curation tools to emerge from the Web 2.0 fire hose they're designed to mitigate.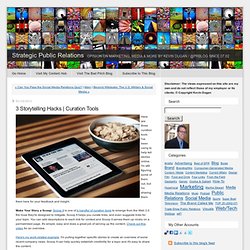 3 Storytelling Hacks | Curation Tools
The Jeff Pulver Blog - Notes, comments and observations
Humans vs. automated search: Why people power is cool again - CNN.com | Web Content & Digital Curation
Twitter: Digital Content Curator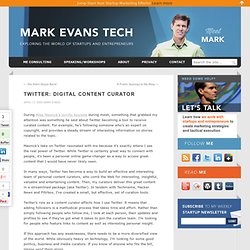 During Mike Masnick's terrific keynote during mesh, something that grabbed my attention was something he said about Twitter becoming a tool to receive curated content. For example, he's following someone who's an expert on copyright, and provides a steady stream of interesting information on stories related to the topic.
Posted by Guest Writer - January 8, 2011 Here is a guest article by Partice Lamothe - CEO of Pearltrees (Pearltrees is a consulting client of SVW.)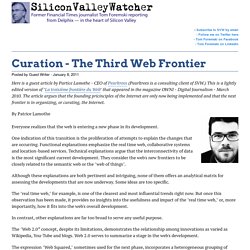 Key excerpts from: Choose your friends carefully - the move to Social Network Curation in 2011
Posted by Tom Foremski - November 2, 2010