Not sorted 3
Can content curation be entrusted to the crowd? > Systems Documentation, Inc. > Blog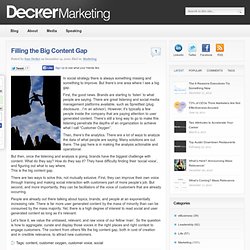 In social strategy there is always something missing and something to improve. But there's one area where I see a big gap. First, the good news.
Decker Marketing » Filling the Big Content Gap
The discussion surrounding the merits of so-called web aggregators went to another level this week as some Internet heavies weighed in on the debate We first discussed the nature of content curation in piece entitled: Creating order out of aggregation. This provides some useful background on this debate. The pressures on the mainstream media are acute.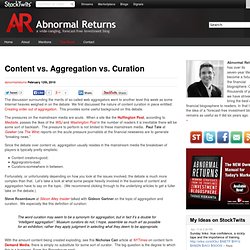 Search history within your filtered Twitter & Facebook feeds - Solo Web Startup
Is Quora Worth the Hype?: Tech News and Analysis «
Around the end of the year, the hype surrounding Quora kicked into overdrive. The Q&A site first raised eyebrows with a round of financing last March that valued it at $86 million. Lately it's being called the savior of search and the next Facebook. But is Quora worth all the fuss? I take a detailed look over at GigaOM Pro (subscription required).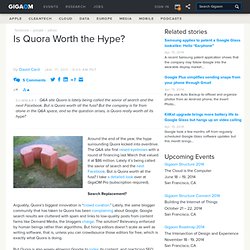 Part III: Curation Types and Real-World Examples There exists many types of curation, and many ways to interpret what curation really is. As I have attempted to illustrate in Part II of this guide, in my own view, aggregation is automated and it is not the same as curation. As I wrote, "aggregation is automated, curation is manual". This does not mean that curation does not need or can do altogether away of any form of automated aggregation or social-based filtering.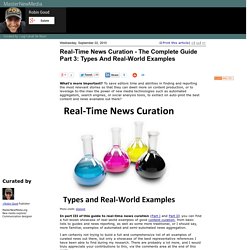 Content curation: Shaping and influencing your social reputation
Here are three curation tools I've been using to help tell stories online. I'm still figuring some of them out, but I'm sharing them them here for your feedback and insight. Make Your Story a Scoop: Scoop It is one of a handful of curation tools to emerge from the Web 2.0 fire hose they're designed to mitigate.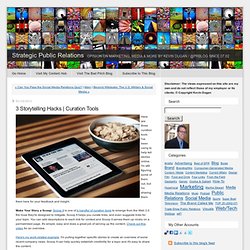 3 Storytelling Hacks | Curation Tools
The Jeff Pulver Blog - Notes, comments and observations
Humans vs. automated search: Why people power is cool again - CNN.com | Web Content & Digital Curation
Our knowledge sharing institutions of today are beginning to "humanize," to focus more of their resources on creating readable, shareable media than on reporting cold, hard facts, simply to stay relevant and on top of peoples' online radars. To make facts more palatable, many medias will interpret ideas with respect to their own unique brand Point-of-View, one only has to consider CNN versus FOX news here in the USA. But, do institutions who stand and a major knowledge source for world readers have a responsibility to keep bias out of their findings?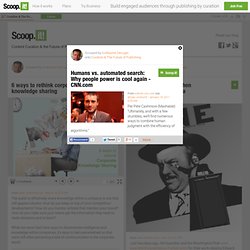 Twitter: Digital Content Curator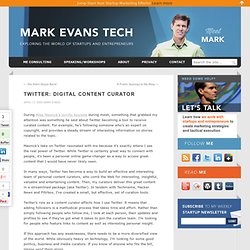 During Mike Masnick's terrific keynote during mesh, something that grabbed my attention was something he said about Twitter becoming a tool to receive curated content. For example, he's following someone who's an expert on copyright, and provides a steady stream of interesting information on stories related to the topic. Masnick's take on Twitter resonated with me because it's exactly where I see the real power of Twitter. While Twitter is certainly great way to connect with people, it's been a personal online game-changer as a way to access great content that I would have never likely seen. In many ways, Twitter has become a way to build an effective and interesting team of personal content curators, who comb the Web for interesting, insightful, valuable and entertaining content. Then, my curators deliver this great content in a streamlined package (aka Twitter).
Posted by Guest Writer - January 8, 2011 Here is a guest article by Partice Lamothe - CEO of Pearltrees (Pearltrees is a consulting client of SVW.) This is a lightly edited version of "La troisième frontière du Web" that appeared in the magazine OWNI - Digital Journalism - March 2010. The article argues that the founding pricinciples of the Internet are only now being implemented and that the next frontier is in organizing, or curating, the Internet. By Patrice Lamothe Everyone realizes that the web is entering a new phase in its development.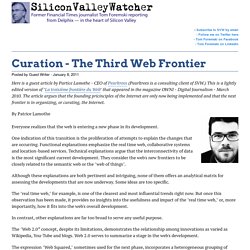 Key excerpts from: Choose your friends carefully - the move to Social Network Curation in 2011
Posted by Tom Foremski - November 2, 2010 Curation is becoming an increasingly important term and for good reason: the online world is increasingly messy, muddled and full of blind alleys. Search used to be the best way to navigate online but today it is only one part of an Internet user's dashboard. Finding things is fine if you know what to look for, but search is increasingly less effective in judging the quality of links, or putting those links into a context. Blekko, the recently launched search engine tries to provide a context for search terms but it's still not curation but aggregation