New 4
Get flash to fully experience Pearltrees
Companies are realizing the value in "brands as publishers" and are making real commitments to the creation of content in their online marketing mix. It's no longer enough to provide fundamental features and benefits information about products and services to succeed competitively online. Consumers and of course, business buyers, seek additional information, resources and others to connect with on the topics of interest to them. Some companies choose a pure creation strategy and find it to be a formidable undertaking, especially creating unique and valuable content over a long period of time. Within the field of content marketing, curation is becoming a popular topic of discussion.
Knowledge federation as a convergent human technology: why is the nexus of digital collaboration and live event so powerful? Fred Wilson's post December 30th highlighted some salient points around our current business landscape through the lens of digital technology. He was talking about how mobility will become an inherent function of web economics. Wilson went on to say that "scarcity is not a viable business model for the Internet".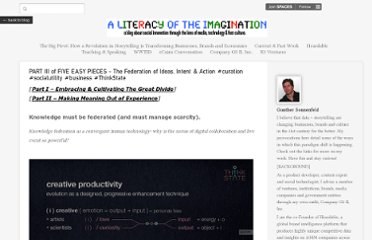 There's no doubt that companies in hyper growth mode find that they can only do so many things well at one time. And for many of us, our interactions with Google exist as a series of 'siloed' experiences. - We need directions; we use Google maps -- an extraordinary product.
Over the past few months, there has been a growing chorus of criticism — much of it anecdotal, but coming from a number of respected technology observers — about Google's increasingly useless search results. Now the web giant has responded to these criticisms in a blog post , saying it doesn't believe its search is getting any worse (if anything, it claims results have improved), but noting that it is going to be coming down hard on so-called "content farms" that try to game its algorithm with low-quality pages filled with keywords. And that could mean some pain for Demand Media, which is planning a closely-watched initial public offering that could launch as soon as next week . The Google blog post came from Matt Cutts, who heads up the company's search-spam team.
If you've noticed lately that Google's search results are a bit spammy, you're not alone. In a blog post , Google Principal Engineer Matt Cutts acknowledged that "we have seen a slight uptick of spam in recent months," and that tech watchers are growing critical . Cutts then outlined a few new initiatives to improve the quality of Google's search results. Among them: Google has a new "document-level classifier" that's better at detecting the hallmarks of spam, such as oft-repeated keywords; Google is improving its ability to detect hacked sites, which were a big source of spam last year; and the company is evaluating other changes, including a crackdown on Websites that primarily copy other sites' content. But on the issue of "content farms," Cutts didn't have all the answers. If you're not familiar with the term, you've probably stumbled upon some content from purveyors.