Articles
Two weeks ago, I wrote about the increasing attention crisis facing many of us as we work to find relevant and beneficial content from the many different sources that are challenging us for our time and energy. The gist? More content is being created in more places and "can't miss" content is increasing at the same rate, making many of us feel we are constantly in a state of missing things, forced to chew through the noise to find the best updates, but still falling short.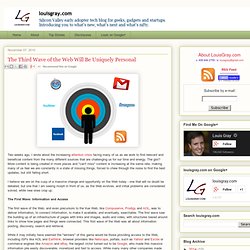 The Third Wave of the Web Will Be Uniquely Personal
chris dixon's blog / Graphs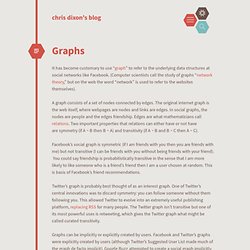 A graph consists of a set of nodes connected by edges.
Why We Desperately Need a New (and Better) Google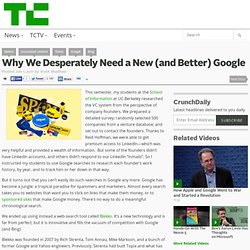 This semester, my students at the School of Information at UC-Berkeley researched the VC system from the perspective of company founders. We prepared a detailed survey; randomly selected 500 companies from a venture database; and set out to contact the founders.
Why the Search Marketing Industry Must Adapt or Perish
Tommy Swanson is the Social Media Specialist at KMA (A Pursuant Company), a full-service fundraising company.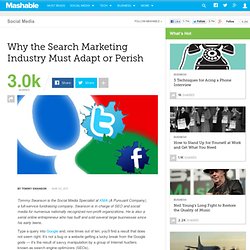 Serendipity is not randomness. It is unexpected relevance. I constantly hear the fear that serendipity is among the many things we're supposedly set to lose as news moves out of newsrooms and off print to online.
Serendipity is unexpected relevance « BuzzMachine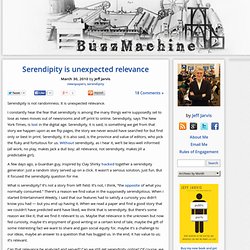 Subscriptions are the New BLACK. (+ why Facebook, Google, & Apple will own your wallet by 2015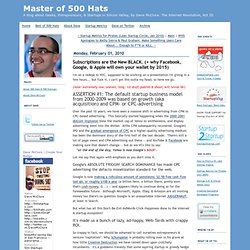 I'm on a redeye to NYC, supposed to be working on a presentation i'm giving in a few hours... but fuck it, i can't get this outta my head, so here we go. (note: extremely raw, uneven, long, 1st draft publish & shoot; will revise l8r)
Editor's note: This is a guest post submitted by Mahendra Palsule, who has worked as an Editor at Techmeme since 2009. Apart from curating tech news, he likes analyzing trends in startups and the social web.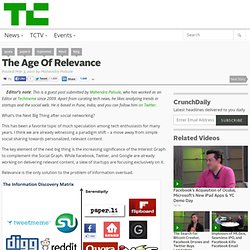 The Age Of Relevance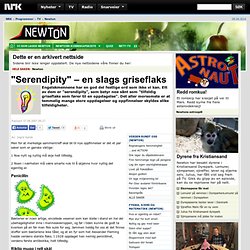 Engelskmennene har en god del festlige ord som ikke vi kan. Ett av dem er "serendipity", som betyr noe sånt som "tilfeldig griseflaks som fører til en oppdagelse".
"Serendipity" – en slags griseflaks - Newton
Building Better Social Graphs
I'll say right upfront that this may be a feature that many people don't need. But I need it so I thought I'd post it anyway. As software becomes social, the creation of the social graph on each web service becomes a chore.