Listen
Don't Worry, I'm Yours [Remastered] (Jason Mraz vs. Bobby McFerrin vs. Israel Kamakawiwo'ole) by DJ Dain. JAZZRADIO.com - enjoy great jazz music. Whole Wheat Cracker Streaming Playlist Mixtapes and MP3s. An Every Genre Music Blog. As slow as things are around here, due to time spent on other projects , still gotta holla at WWC every once in a while.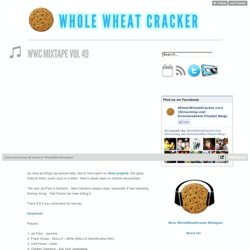 Here's whats been on rotation around here. The new Jai Paul is fantastic. Music to use » Search. Jukesy - music player powered by youtube and last.fm. Musicovery. Handcrafted internet radio | 8tracks. Top 100 Best Acoustic Songs Ever -The Greatest of All Time | Acoustic Guitar Music | TopAcousticSongs.com. Here is a list of the best acoustic songs ever written.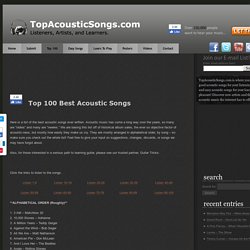 Acoustic music has come a long way over the years, so many are "oldies" and many are "newies." We are basing this list off of historical album sales, the ever so objective factor of acoustic-ness, but mostly how easily they make us cry. They are mostly arranged in alphabetical order, by song – so make sure you check out the whole list!
---