Marches d'options
FB closed Tuesday trading at $49.40, down 1.7% with IV30™ down 1.7%. The LIVEVOL® Pro Summary is below. Facebook, Inc. (Facebook) is engaged in building products to create utility for users, developers, and advertisers. People use Facebook to stay connected with their friends and family, to discover what is going on in the world around them, and to share and express what matters to them to the people they care about. This is a quick follow up the article I posted on Friday 10-25-2013.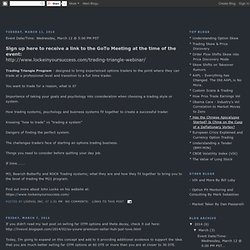 Livevol Options Blog
Tyler's Trading
Just in case you didn't have enough reasons to consider Apple Inc. (AAPL) stock for your portfolio, here's another fascinating tidbit to mull over: the tech titan has declared its independence from the market. That's right. AAPL and the S&P 500 Index have experienced a falling out of sorts.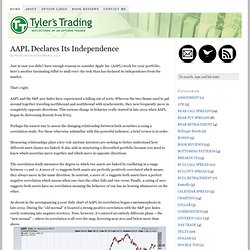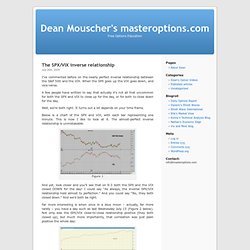 Dean Mouscher's masteroptions.com
I've commented before on the nearly perfect inverse relationship between the S&P 500 and the VIX. When the SPX goes up the VIX goes down, and vice-versa. A few people have written to say that actually it's not all that uncommon for both the SPX and VIX to close up for the day, or for both to close down for the day. Well, we're both right. It turns out a lot depends on your time frame. Below is a chart of the SPX and VIX, with each bar representing one minute.
Investing with Options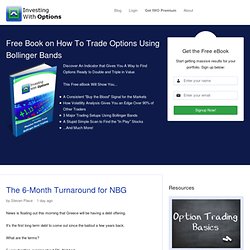 We've currently got low float, low cap names in the battery/alternative energy space running. And they sure are running hot. BLDP, FCEL, PLUG to name a few. Have a look at the chart of PLUG:
Options Blog
Today we are going to discuss an option strategy that you may not have thought about in quite some time. A straddle is an option strategy that traders can use when the market is volatile but direction is uncertain. Another play similar to the straddle is the option strangle. In a straddle, the trader is betting on both sides of a trade by purchasing options with the same strike price and the same expiration date, on the same underlying. A trader can create a similar trade, but with a lower price by trading a strangle instead. Rather than purchasing a put and a call at the same strike (which makes up a straddle), the trader purchases a put and a call at different strikes, still with the same expiration.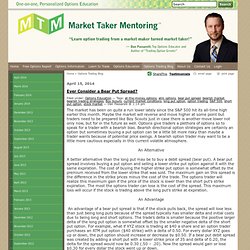 Options Trading Beginner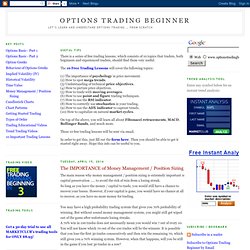 Impact of Implied Volatility (IV) on Gamma When the Implied Volatility increases, the Gamma of ATM options decreases, whereas the Gamma for deep ITM or OTM options increases. When the Implied Volatility is very low, the Gamma of ATM options is relatively high, while the Gamma for deep ITM / OTM options is relatively low (close to 0). This is because when the volatility is low, the time value portion of an option is low. However, time value of ATM option is still higher relative to ITM & OTM options, hence the Gamma of ATM option is higher as compared to ITM & OTM options. On the other hand, when IV is high, Gamma tends to be stable for ATM option as well as ITM and OTM options.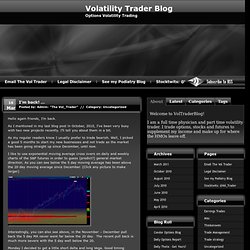 Volatility Trader Blog
Today I'll tell you about a trade I often do on equities that I'm bearish on. First, I scan for bearish chart patterns. Once I find one I look at the skew curve. I like to see a relatively flat vertical skew for at the money strikes.
Distressed Volatility
Tail risk protection will be one of the many topics to be discussed at CBOE's inaugural Risk Management Conference (RMC) in Europe. Now in its 28th year in the U.S., the first RMC Europe will be held on 5 – 7 September 2012 at The Ritz-Carlton Powerscourt, County Wicklow, Ireland. The conference agenda and registration information are at www.cboermc.com/Europe Keynote speakers at the conference will be Dr.
VIX® Views
Volatility Futures & Options
John "Hojun" Hwang is the author of VIX, VIX Futures, and VIX ETNs , a conceptual guide to trading the VIX index. He graduated with degrees in Computer Science and Mathematics from Stanford University, where he spent summers working at Symantec and Goldman Sachs. Afterwards, John joined Morgan Stanley as a quantitative trader. In 2009, John was recruited into U.S. index derivatives trading, where he was responsible for managing VIX index products, variance swaps, and structured volatility vehicles.
[The following originally appeared in the November 2012 edition of Expiring Monthly: The Option Traders Journal. I thought the contents might be timely in light of the upcoming holiday season.] With fewer trading days and a historical record that favors an uptick in stocks and a downtick in volatility, the end of the year never fails to present an intriguing set of trading opportunities. One phenomenon related to the above is something I have labeled the "holiday effect," which is the tendency of the CBOE Volatility Index (VIX) December futures to trade at a discount to the midpoint of the VIX November and January futures.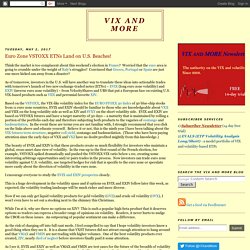 Condor Options
Upcoming Talk: Implied Volatility Term Structure & Time Spread Trading Time spreads (calendar spreads) are one of the most frequently discussed options trade structures, but I think they're also one of the most poorly understood. The primary problem is that people describe the purpose of time spreads in ways that don't differentiate them from the reasons you might trade a straddle or strangle. For example, you can find statements like these in many popular texts and on prominent websites: A garden variety calendar spread seeks to exploit the… Dispersion and Stock-pickers' Markets Here's an interesting new paper from S&P Dow Jones Indices about dispersion and why it is a more valuable estimate than correlation: "[W]hat does it mean to say that a particular index (or portfolio) is diversified?