Entertainment
The Tim Burton Collective.
Music. Goofy Time Sucks. Histoires drôles de jouets. Honestly Now. A Disney Princess Guide to Your Not So Happily Ever After. Remember way back in the '90s when you wanted to grow up to be a Disney Princess?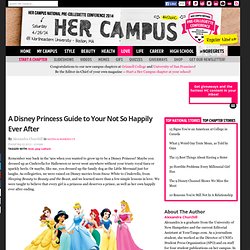 Maybe you dressed up as Cinderella for Halloween or never went anywhere without your trusty royal tiara or sparkly heels. Or maybe, like me, you dressed up the family dog as the Little Mermaid just for laughs. As collegiettes, we were raised on Disney movies from Snow White to Cinderella, from Sleeping Beauty to Beauty and the Beast, and we learned more than a few simple lessons in love. We were taught to believe that every girl is a princess and deserves a prince, as well as her own happily ever after ending.
---