Bachman
Get flash to fully experience Pearltrees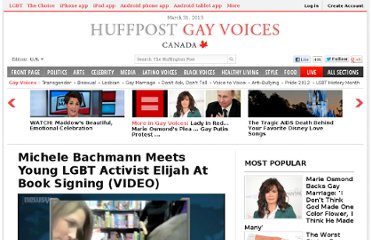 After her husband Marcus' Christian counseling center came under scrutiny for allegedly promoting "reparative therapy," a form of counseling that seeks to make gay people renounce their sexuality, Bachmann's gay rights views have taken center stage. Described by The San Francisco Chronicle as "arguably the most socially conservative Republican running for president," Bachmann is a strong opponent of same-sex marriage. "If you're involved in the gay and lesbian lifestyle, it's bondage," she is quoted by the Human Rights Campaign as saying. "It is personal bondage, personal despair and personal enslavement."
Michele Bachmann That was actually three dripping custard pies, rather than just the one, with which Rep. Michele Bachmann assailed her own face by bragging to Fox News about her small-town Iowa roots. Having hymned the incomparable Dairy Queen and Wonder Bread facilities boasted by the sturdy small town of her girlhood, she went on to claim that "John Wayne was from Waterloo, Iowa," adding, "That's the kind of spirit that I have, too."
WASHINGTON -- Ed Rollins, the former campaign manager for Rep. Michele Bachmann (R-Minn.), strongly criticized the presidential candidate's comments earlier this week that a vaccine once mandated by Texas Gov. Rick Perry might cause "mental retardation" in children. "She made a mistake. The quicker she admits she made a mistake and moves on, the better she is," Rollins said in an interview on MSNBC on Wednesday. "Ms.
Thank you for your comment on my Pearl. I try to keep up my Peartree links as often as I can, but at times it seems overwealming with the number of interests I have. Lately the state of the economy has provided me with forced retirment and given me more time to spend on Pearltree. Keep checking back as I plan to add more links that you may find interesting. by lqguitarist Jun 28