Divers
Amazon.com: acquiert LOVEFiLM. Amazon.com annonce l'acquisition de LOVEFiLM International Limited, offrant des services de vidéo en ligne au Royaume-Uni, en Allemagne, en Suède, en Norvège et au Danemark.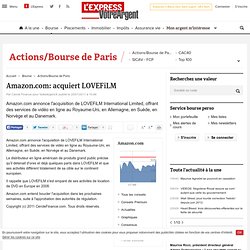 Le distributeur en ligne américain de produits grand public précise qu'il détenait d'ores et déjà quelques parts dans LOVEFiLM et que ses activités diffèrent totalement de sa cible sur le continent européen. Il rappelle que LOVEFiLM s'est emparé de ses activités de location de DVD en Europe en 2008. Amazon.com entend boucler l'acquisition dans les prochaines semaines, suite à l'approbation des autorités de régulation. Amazon acquires LoveFilm, the Netflix of Europe. Firefox claims victory in browser wars. Mozilla's Firefox has overtaken Microsoft's Internet Explorer as the leading browser in Europe – the first time Microsoft has lost its top spot in a major market.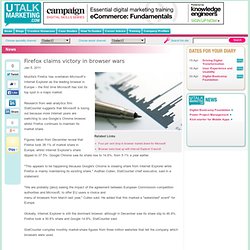 Research from web analytics firm StatCounter suggests that Microsoft is losing out because more Internet users are switching to use Google's Chrome browser, whilst Firefox continues to maintain its market share. Figures taken from December reveal that Firefox took 38.1% of market share in Europe, whilst Internet Explorer's share dipped to 37.5%. Google Chrome saw its share rise to 14.6%, from 5.1% a year earlier. Steve Jobs annonce son départ en congés maladie. Royal Pingdom » Internet 2010 in numbers. Posted in Tech blog on January 12th, 2011 by Pingdom What happened with the Internet in 2010?
How many websites were added? How many emails were sent? How many Internet users were there? This post will answer all of those questions and many, many more.
---