Beauty
Out of the ordinary Beauty Tips that work | Cher Cabula's Mindbox. Use toothpaste on yellow nails.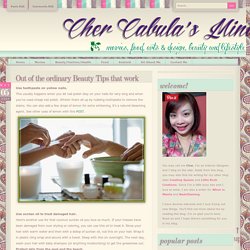 This usually happens when you let nail polish stay on your nails for very long and when you've used cheap nail polish. Whiten them all up by rubbing toothpaste to remove the stains. You can also add a few drops of lemon for extra whitening, it's a natural bleaching agent. See other uses of lemon with this POST. Use suntan oil to treat damaged hair. Hairstyles For Girls - The Story Of A Princess And Her Hair. How To Use A Sock To Get Beautiful Curly Hair Without Heat. If you are a mom on the go with long hair you HAVE TO try this.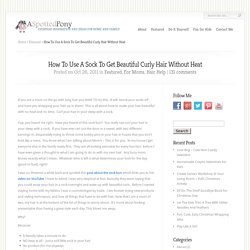 It will knock your socks off and have you wrapping your hair up in them! This is all about how to make your hair beautiful with no heat and no time. Curl your hair in your sleep with a sock. Cute Nail Art Ideas For Spring. How to Get Rid of Freckles - Causes of Freckles and Treatment. If you want to get rid of your freckles, you need to understand what they are first: small, flat, tan, brown, or black spots on the skin caused by increased production and localized build-up of melanin in skin cells.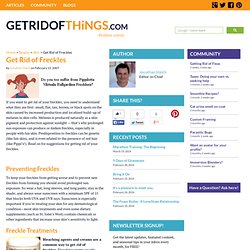 Melanin is produced naturally as a skin pigment and protection against sunlight — that's why prolonged sun exposure can produce or darken freckles, especially in people with fair skin. Predisposition to freckles can be genetic (like fair skin), and is even related to the presence of red hair (like Pippi's!). Read on for suggestions for getting rid of your freckles.
Preventing Freckles. The Beauty Department: Your Daily Dose of Pretty. How To Get Rid Of Freckles Naturally? | Beauty Secrets Revealed. I personally think that Freckles look cute but I know lots of people who don't like them and just want to get rid of them.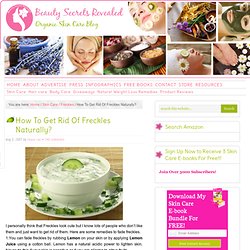 Here are some remedies to fade freckles. 1.You can fade freckles by rubbing Lemon on your skin or by applying Lemon Juice using a cotton ball. Lemon has a natural acidic power to lighten skin. Never do this if your skin is sensitive or if you are allergic to citrus fruits. Alternate Sleep Cycles. Most people only think that there is one way to sleep: Go to sleep at night for 6-8 hours, wake up in the morning, stay awake for 16-18 hours and then repeat.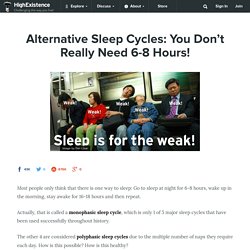 Actually, that is called a monophasic sleep cycle, which is only 1 of 5 major sleep cycles that have been used successfully throughout history. The other 4 are considered polyphasic sleep cycles due to the multiple number of naps they require each day. How is this possible? Nail Nerd. Daisy Marc Jacobs.
---