Desserts
Peanut Butter Truffle Brownies. Peanut Butter Truffle Brownies Peanut Butter Truffle Brownies with three layers of rich and decadent goodness!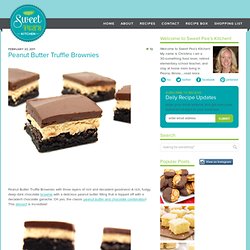 A rich, fudgy, deep dark chocolate brownie with a delicious peanut butter filling that is topped off with a decadent chocolate ganache. Oh yes, the classic peanut butter and chocolate combination! Homemade Oreos | Flour Child. Fact #1: I made Oreos.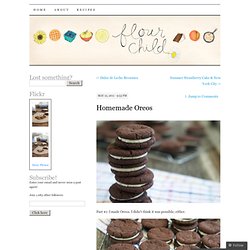 I didn't think it was possible, either. Fact #2: They tasted just like the real ones.. on crack. So much better. Inspiration and ideas of dessert recipes such as cupcakes and muffins, pies and cakes, cookies, biscuits and brownies. Apple crumble bars recipe. Do you love apple pie?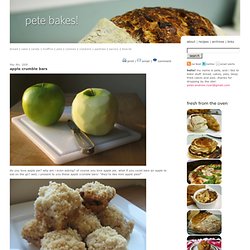 Why am i even asking? Of course you love apple pie. what if you could take an apple to eat on the go? Well, i present to you these apple crumble bars: "they're like mini apple pies!" The most time consuming part of this recipe is dicing up 6 cups of apples. the hardest parts of this recipe are a) not eating most of the crisp granny smith apples as you dice them and b) not digging into the bars with a fork before you bake them. Oreo Truffles. Attention ladies and gents – Valentine's Day is around the corner, and you are about to be given the tools for a delectable sweet that will have your sweet thinking you are: a. thoughtful b. a great cook and c. not at all concerned with the size of their ass!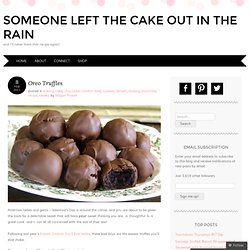 Following last year's Easiest Cookies You'll Ever Make, these bad boys are the easiest truffles you'll ever make. Three ingredients. Copycat Candy Recipes. To make all of these Instructables, download this collection of How To's as an ebook.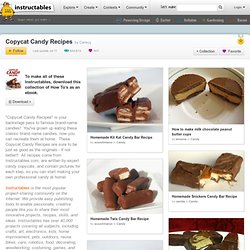 Download » "Copycat Candy Recipes" is your backstage pass to famous brand-name candies!
---