CheckList
Launchlist - Your one stop website checklist! Web standards checklist. Date: 13 August 2004 Author: Russ Weakley Web standards – more than just 'table-free sites' The term web standards can mean different things to different people.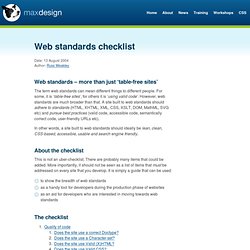 For some, it is 'table-free sites', for others it is 'using valid code'. The Ultimate Website Launch Checklist | Our Blog. We're developing a checklist that all websites should be checked against before launch.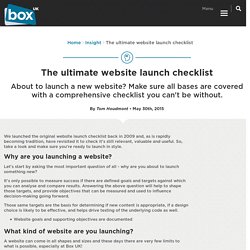 Let us know if we've missed something out, or if something needs further clarification. Some well-known and well-documented tasks (such as validation and accessibility testing) are not explained in detail. Add your suggestions in the comments. Updated 17 Feb '09, 15:21 Added notifications ( @keeran ), Hidden copy ( @jennybee ) and Test search ( @bwass ). Website Check List (David Skyrme Associates) This website check list is a high-level check list of activities to include in your project plan.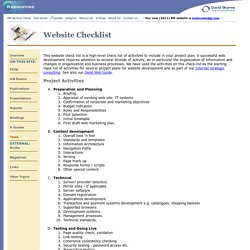 A successful web development requires attention to several strands of activity, an in particular the organization of information and changes in origanization and business processes. We have used the activities on this check-list as the starting input list of activities for several project plans for website development and as part of our Internet strategic consulting. Customer Service Scorecard: What's Your Grade? As we near the holiday shopping season, online businesses are scrambling to get email campaigns, paid search ads, home page banners, SEO tweaks and last-minute site updates out the door.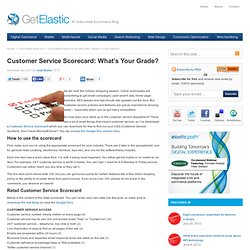 But customer service policies and features are just as important to winning sales – especially when you've got many competitors. So how does your stack up in the customer service department? The Official 'Successful Website Checklist Challenge' If your website doesn't stand out and do a heck of a lot of things right, then chances are it's going to crash and burn.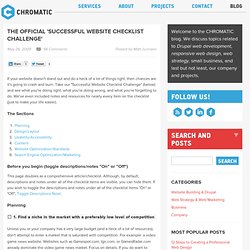 Take our "Successful Website Checklist Challenge" (below) and see what you're doing right, what you're doing wrong, and what you're forgetting to do. We've even included notes and resources for nearly every item on the checklist (just to make your life easier). SEO Guide for Designers. According to a poll I conducted, just over 1 out of 10 people don't think SEO (Search Engine Optimization) is mandatory as a designer; and what really surprised me is about 24% don't even know what SEO is!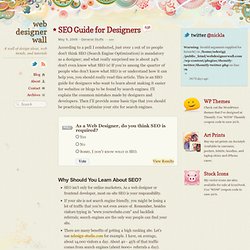 If you're among the quarter of people who don't know what SEO is or understand how it can help you, you should really read this article. This is an SEO guide for designers who want to learn about making it easier for websites or blogs to be found by search engines. I'll explain the common mistakes made by designers and developers. Then I'll provide some basic tips that you should be practicing to optimize your site for search engines. A Step by Step 15 Minute SEO Audit (A Sample from SEO Secrets) The author's posts are entirely his or her own (excluding the unlikely event of hypnosis) and may not always reflect the views of Moz.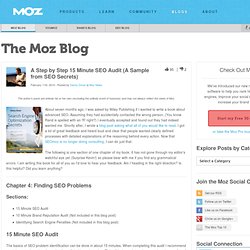 About seven months ago, I was asked by Wiley Publishing if I wanted to write a book about advanced SEO. Assuming they had accidentally contacted the wrong person, (You know Rand is spelled with an 'R' right?) I eventually accepted and found out they had indeed wanted me. Shortly after, I wrote a blog post asking what all of you would like to read. 50 Questions to Evaluate the Quality of Your Website. I know, it has been a while since my last post, but I was crazy busy.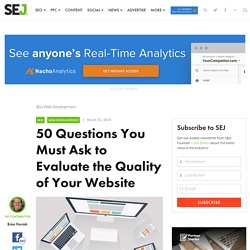 I have something else that I plan to write about in my queue, but it is not finished yet. But I have something else ready that is also fairly useful in my humble opinion. Here is a long and pretty detailed list of questions that a website owner should asked himself about his own website. SEO Tips: What Are The Top 10 On-Page SEO Tasks To Do and To Avoid? SEO Tips: What Are The Top 10 On-Page SEO Tasks To Do and To Avoid?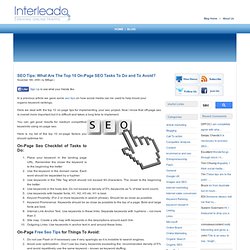 November 19th, 2009 | by BillEgan | In a previous article we gave some seo tips on how social media can be used to help boost your organic keyword rankings. Here we deal with the top 10 on page tips for implementing your seo project. Now I know that off-page seo is overall more important but it is difficult and takes a long time to implement. » The Top 5 SEO Mistakes and How to Avoid them - SEO Software for Professionals from Interleado. The Top 5 SEO Mistakes and How to Avoid them October 19th, 2009 | by BillEgan | Having analysed many websites we are constantly being asked to identify some of the common SEO mistakes that are made.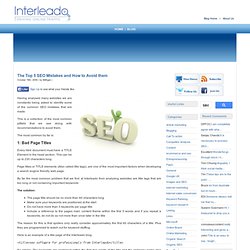 This is a collection of the most common pitfalls that we see along with recommendations to avoid them. The most common by far is: 1: Bad Page Titles. » 22 steps to the perfect SEO (Search Engine Optimisation) campaign! - SEO Software for Professionals from Interleado. August 21st, 2008 | by Peter Cullen | SEO – Search Engine Optimisation – Internet Marketing – Web Marketing -Digital Marketing Call it what you like, but getting more people to buy from you, contact you, subscribe to your website, phone/email you – this is the goal of SEO.
45 Incredibly Useful Web Design Checklists and Questionnaires - Smashing Magazine. Advertisement Designing websites can be a long and complicated process. Dealing with clients, designing prototypes, coding, programming, and testing – there's a lot to keep track of and a lot to make sure gets done. That's where checklists can make your life a whole lot easier. With lists of points covering multiple areas from content to usability to accessibility to standards, you're a lot less likely to overlook important parts of a site. Below are 45 checklists to make your design process easier and more organized. 15 Essential Checks Before Launching Your Website - Smashing Magazine.
Advertisement Your website is designed, the CMS works, content has been added and the client is happy. It's time to take the website live. Or is it?
---