CheckList
Get flash to fully experience Pearltrees
Date: 13 August 2004 Author: Russ Weakley
We're developing a checklist that all websites should be checked against before launch.
This website check list is a high-level check list of activities to include in your project plan. A successful web development requires attention to several strands of activity, an in particular the organization of information and changes in origanization and business processes. We have used the activities on this check-list as the starting input list of activities for several project plans for website development and as part of our Internet strategic consulting .
As we near the holiday shopping season, online businesses are scrambling to get email campaigns, paid search ads, home page banners, SEO tweaks and last-minute site updates out the door. But customer service policies and features are just as important to winning sales – especially when you've got many competitors. So how does your stack up in the customer service department?
If your website doesn't stand out and do a heck of a lot of things right, then chances are it's going to crash and burn. Take our "Successful Website Checklist Challenge" (below) and see what you're doing right, what you're doing wrong, and what you're forgetting to do.
According to a poll I conducted, just over 1 out of 10 people don't think SEO (Search Engine Optimization) is mandatory as a designer; and what really surprised me is about 24% don't even know what SEO is!
I know, it has been a while since my last post, but I was crazy busy.
SEO Tips: What Are The Top 10 On-Page SEO Tasks To Do and To Avoid?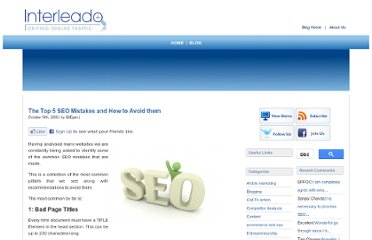 The Top 5 SEO Mistakes and How to Avoid them October 19th, 2009 | by BillEgan |
August 21st, 2008 | by Peter Cullen | SEO – Search Engine Optimisation – Internet Marketing – Web Marketing -Digital Marketing Call it what you like, but getting more people to buy from you, contact you, subscribe to your website, phone/email you – this is the goal of SEO.
Designing websites can be a long and complicated process. Dealing with clients, designing prototypes, coding, programming, and testing – there's a lot to keep track of and a lot to make sure gets done .
Your website is designed, the CMS works, content has been added and the client is happy.