Budget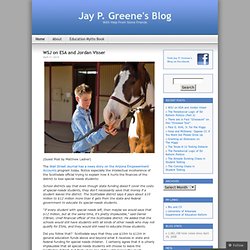 Jay P. Greene's Blog
(Guest Post by James Shuls) Traditionally trained teachers typically enter the profession after completing coursework that is designed to prepare them for the classroom. This training includes a student teaching experience—a hands-on opportunity to practice their craft. Alternatively certified teachers, on the other hand, often enter the classroom with little to no pedagogical training or classroom experience. So, how do alternatively certified teachers compare to traditionally trained teachers in terms of effectiveness? Many scholars have examined this question, but Julie Trivitt and I are the first to do so using Arkansas data.
School Budget Hold'em :: ERS
Quick Tips for Succeeding On a Low Budget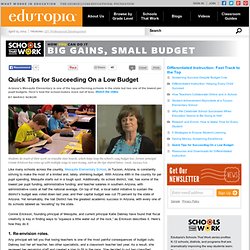 Arizona's Mesquite Elementary is one of the top-performing schools in the state but has one of the lowest per pupil budgets. Here's how the school makes more out of less. Watch the video.
Remember this figure: 18,000 plus. That figure, according to Democratic Gov. Bev Perdue and House minority leader Joe Hackney ( D-Orange ), – is the number of public school jobs that would be lost if the Republicans passed their version of the 2011-12 state budget. Last week, the Department of Public Instruction (DPI) released results from a survey showing – as of August 25th 2011 – 6,307 positions had been eliminated, including about 2,418 that were filled when eliminated.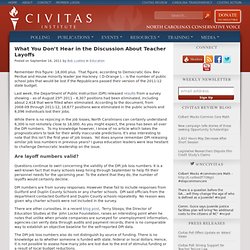 What You Don't Hear in the Discussion About Teacher Layoffs - Civitas Institute