Budget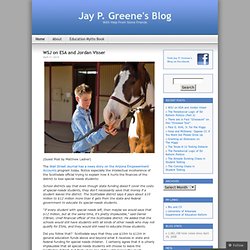 Jay P. Greene's Blog
(Guest post by Greg Forster) A good Higgy nomination is a tough target to hit. As we found out last year, your pick can be rejected for being too powerful and thus being more a case of BSDD (Big Scary Dictator Disorder) than PLDD (Petty Little Dictator Disorder), as happened to my nomination of David Sarnoff. But your nomination can also be rejected for being not powerful enough, and thus not making a sufficiently large contribution to the worsening of the human condition to merit the award; this was the rationale given by the judges for not selecting Jay's nomination of Louis Michael Seidman. So the big behind-the-scenes bigshots who pull the real strings of power are out, and TV blowhards who just talk about what the bigshots do are also out. The core value of the Higgy is "arrogant delusions of shaping the world"; the bigshots are not deluded in thinking they can shape the world, whereas the blowhards don't really even try to shape the world so much as describe those who do.
School Budget Hold'em :: ERS
Quick Tips for Succeeding On a Low Budget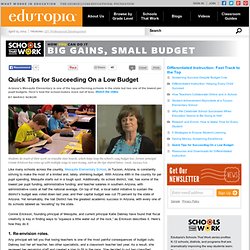 Arizona's Mesquite Elementary is one of the top-performing schools in the state but has one of the lowest per pupil budgets. Here's how the school makes more out of less. Watch the video.
Remember this figure: 18,000 plus. That figure, according to Democratic Gov. Bev Perdue and House minority leader Joe Hackney ( D-Orange ), – is the number of public school jobs that would be lost if the Republicans passed their version of the 2011-12 state budget. Last week, the Department of Public Instruction (DPI) released results from a survey showing – as of August 25th 2011 – 6,307 positions had been eliminated, including about 2,418 that were filled when eliminated.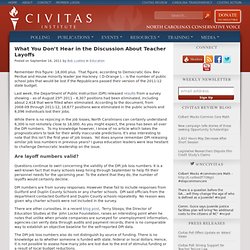 What You Don't Hear in the Discussion About Teacher Layoffs - Civitas Institute