Edu Info
CNDP
EFMD- Business schools and companies-network & accreditation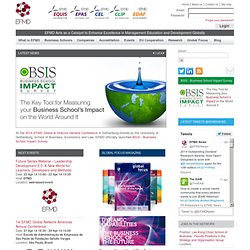 Business schools need to focus more clearly on their dynamic capabilities in order to re-invigorate and re-develop themselves and their students. By Howard Thomas, Peter Lorange and Jagdish Sheth. Jørgen Thorsell and Justin Bridge explore new perspectives on achieving immediate impact from executive development. Scientific research, and particularly management research, is in dire straits, accused of lack of relevance and impact and an unhealthy preoccupation with theoretical and methodological rigor. Marco Busi suggests some solutions.
Highlights We are very pleased to congratulate the winners of our 2013 Awards, announced at the AMBA Awards and Gala Dinner on 6 November: Winner of the MBA Student of the Year Award, sponsored by The Independent: Glad Dibetso, GIBS (Gordon Institute of Business Science), South Africa Winner of the MBA Entrepreneurial Venture Award: Simo Dragicevici, MBA graduate of Cass Business School, with his venture Bet Buddy. Winner of the MBA Innovation Award: Athens University of Economics & Business, Greece, with their MBA international, harnessing e-skills within MBA teaching.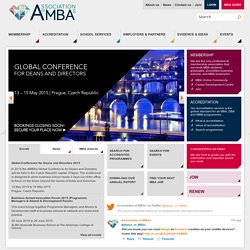 mbaworld
TechBA
It's nearly impossible for the young man or woman to start in the financial solutions industry except if they already know many well-off individuals. In the old days, Twenty years ago or more, one could simply make use of sales techniques including direct mail or even cold calling or maybe seminar marketing. However the new Repencounters a number of troubles using these techniques. First, you have the do-not-call list which has been with us since Mid 2001. Thus contacting prospects by phone is out of the question. Direct mail as well as seminar promoting entails composing, printing and mailing bulk mailings to the community.
International Book and Journal Publishers
Les Grands Explorateurs
Archipel