Bored
Arcade - Bubble Shooter. Free old school flash gaming action online! Flower origami ball. Origami For Everyone. To make all of these Instructables, download this collection of How To's as an ebook.
Download » Origami for Everyone gives you full step-by-step instructions for 30 awesome origami projects for everyone from beginners to experts. Learn how to make flowers, masks, and the ubiquitous paper crane! All projects come from Instructables.com, are written by paper folding experts, and contain pictures for each step so you can do it yourself. Happy folding! DICEWARS - flash game. WordSquared - a massively multiplayer online word game. Classic Rock Guitar Riffs Quiz.
Presents: Awesome Mysteries You've Never Heard Of. The Mothman Mothman was the name given to a strange creature thought to have been sighted many times in the Point Pleasant area of West Virginia, on the border with Ohio between November 1966 and November 1967.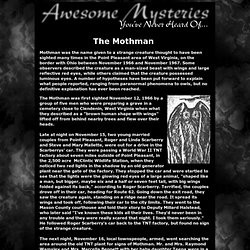 Some observers described the creature as a man-sized beast with wings and large reflective red eyes, while others claimed that the creature possessed luminous eyes. A number of hypotheses have been put forward to explain what people reported, ranging from paranormal phenomena to owls, but no definitive explanation has ever been reached. The Mothman was first sighted November 12, 1966 by a group of five men who were preparing a grave in a cemetery close to Clendenin, West Virginia when what they described as a "brown human shape with wings" lifted off from behind nearby trees and flew over their heads. Late at night on November 15, two young married couples from Point Pleasant, Roger and Linda Scarberry and Steve and Mary Mallette, were out for a drive in the Scarberrys' car.
Play Fun Multiplayer Games Free At OMGPOP. INCREDIBOX [ Official website ] Typing Speed Test - how fast can you type? Sorry, but Javascript is required.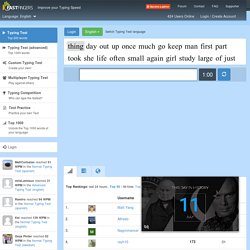 Please <a href=" Javascript</a></p><p> Please activate Cookies. If you have Cookies activated, try to reload the page (CTRL+R). Error or Bug?
---
mu5icliz Jun 2 2011

i'll be sure to check it out thanks

timepeaces Jun 2 2011

There are some orgami pearls in my collection. You welcome to visit if you like. Happy Pearling l8trs
---