Relations de presse
5 reasons to use an infographic as a press release
People have been declaring the press release dead for a while now, and while I don't agree with that assessment, I also think it's time to push the boundaries.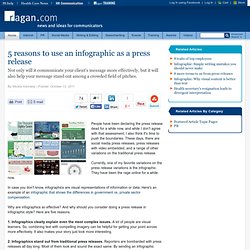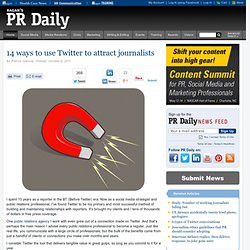 I spent 10 years as a reporter in the BT (Before Twitter) era. Now as a social media strategist and public relations professional, I've found Twitter to be my primary and most successful method of building and maintaining relationships with reporters. It's brought my clients and I tens of thousands of dollars in free press coverage.
14 ways to use Twitter to attract journalists
7 Positive News Sites To Cheer You Up
The next time you write a press release, give the reporter a reason not to delete it, otherwise you might as well write "For Immediate Delete" in the subject line. Here are eight tips for writing press releases that don't drive journalists to hit delete. 1.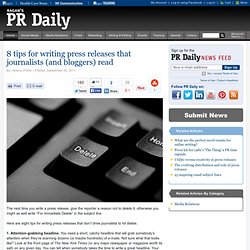 8 tips for writing press releases that journalists (and bloggers) read
5 crucial factors for generating buzz in Canada
The following article is provided by mononews, which specializes in the targeted distribution of lifestyle and cultural news in Canada. Canada is an attractive place for U.S. businesses. One problem for American companies that want to tap into the Canadian market is that generating buzz is not always easy north of the 49th parallel.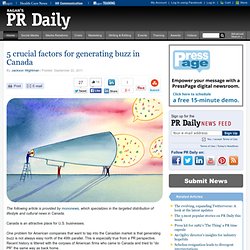 Perfect PR pitches: NYT tech columnist picks his favorites
Radio-Canada pour iPhone/iPad Accédez à toute l'information de Radio-Canada dans tous les formats en téléchargeant l'application iPhone/iPad de Radio-Canada. Foire aux questions - Application iPhone de Radio-Canada Quels sont les contenus offerts avec l'application Radio-Canada? L'application de Radio-Canada vous permet de consulter toutes les nouvelles de Radio-Canada (texte, photo et vidéo), de regarder RDI en direct et RDI à la demande, d'écouter le Radiojournal et de suivre nos journalistes sur Twitter, la météo de votre région. Un appareil de type iPad vous permet de consulter en plus les meilleurs contenus de la radio et de la télévision de Radio-Canada et les émissions d'affaires publiques.
Annuaire des réseaux sociaux | Mes abonnements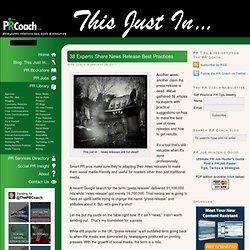 38 Experts Share PR News Release Best Practices
This just in… news releases are not dead!
Using Social Media for Media Relations « HighTalk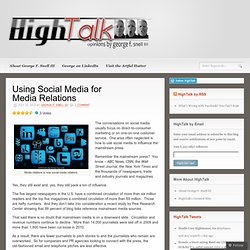 i
100 Tips for Becoming a Rockstar With the Media — Sakita Holley
Twitter that Pitch: Introducing Pitch140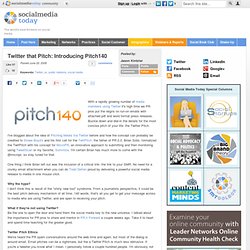 With a rapidly growing number of media members using Twitter it's high time we PR pros put the reigns on run-on emails with attached pdf and word format press releases. Buckle down and dial-in the details for the most concise pitch of your life- the Twitter Pitch. I've blogged about the idea of Pitching Media Via Twitter before and how the concept can probably be credited to Stowe Boyd's and his first call for the TwitPitch. the father of PR 2.0, Brian Solis, formalized the TwitPitch with his concept for MicroPR, an innovative approach to submitting and then monitoring using TweetScan or my favorite, Summize.
Jason Falls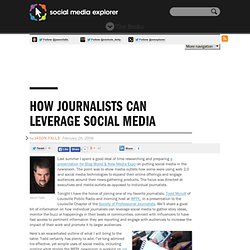 How Journalists Can Leverage Social Media
Citizen journalism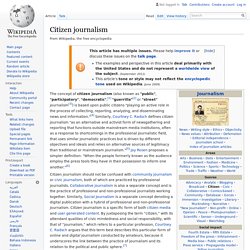 The concept of citizen journalism (also known as "public", "participatory", "democratic"),[1] "guerrilla"[2] or "street" journalism[3] is based upon public citizens "playing an active role in the process of collecting, reporting, analyzing, and disseminating news and information."[4] Similarly, Courtney C.
Canadian Journalists on Twitter - Politwitter
Cyberpresse/Suivez nos journalistes - Abonnés
Rue Frontenac on Listorious
Medias Twitter List by JP Boudreau - Gepeto on Listorious
Tous les fils RSS
Qu'est-ce que le RSS
Mathieu Perreault | Recherche | Cyberpresse
Media Contacts, Editorial Calendars and Profiles
Request a Demo Now
Relations Medias
Alltop - Top Journalism News
Make the news