Relations de presse
5 reasons to use an infographic as a press release. People have been declaring the press release dead for a while now, and while I don't agree with that assessment, I also think it's time to push the boundaries.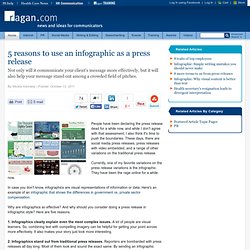 These days, there are social media press releases, press releases with video embedded, and a range of other variations on the traditional press release. Currently, one of my favorite variations on the press release variations is the infographic. They have been the rage online for a while now. In case you don't know, infographics are visual representations of information or data. 14 ways to use Twitter to attract journalists.
I spent 10 years as a reporter in the BT (Before Twitter) era.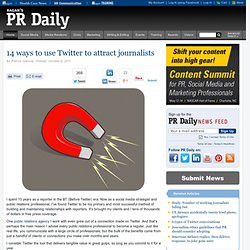 Now as a social media strategist and public relations professional, I've found Twitter to be my primary and most successful method of building and maintaining relationships with reporters. It's brought my clients and I tens of thousands of dollars in free press coverage. 7 Positive News Sites To Cheer You Up. We've all heard the phrase, 'If it bleeds, it leads.'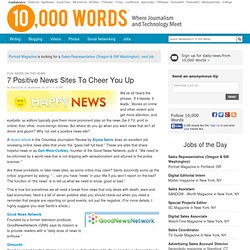 Stories on crime and other violent acts get more attention, and eyeballs, so editors typically give them more prominent play on the news (be it TV, print or online) than other, more benign stories. But where do you go when you want news that isn't all doom and gloom? Why not visit a positive news site? 8 tips for writing press releases that journalists (and bloggers) read. The next time you write a press release, give the reporter a reason not to delete it, otherwise you might as well write "For Immediate Delete" in the subject line.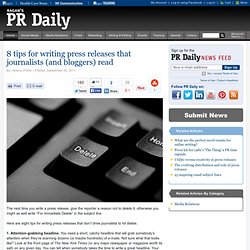 Here are eight tips for writing press releases that don't drive journalists to hit delete. 1. Attention-grabbing headline. You need a short, catchy headline that will grab somebody's attention when they're scanning dozens (or maybe hundreds) of e-mails. Not sure what that looks like? Look at the front page of The New York Times (or any major newspaper or magazine worth its salt) on any given day. 5 crucial factors for generating buzz in Canada. The following article is provided by mononews, which specializes in the targeted distribution of lifestyle and cultural news in Canada.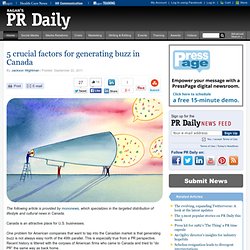 Canada is an attractive place for U.S. businesses. One problem for American companies that want to tap into the Canadian market is that generating buzz is not always easy north of the 49th parallel. Perfect PR pitches: NYT tech columnist picks his favorites. Annuaire des réseaux sociaux | Mes abonnements. Radio-Canada pour iPhone/iPad Accédez à toute l'information de Radio-Canada dans tous les formats en téléchargeant l'application iPhone/iPad de Radio-Canada.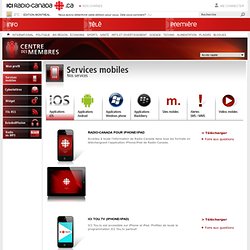 Foire aux questions - Application iPhone de Radio-Canada Quels sont les contenus offerts avec l'application Radio-Canada? 38 Experts Share PR News Release Best Practices. This just in… news releases are not dead!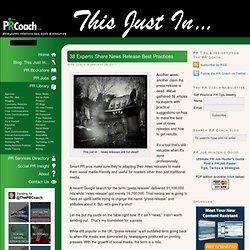 Another week, another claim the press release is dead. We've gathered 38 articles by experts with practical suggestions on how to make the best use of news releases and how to get results. It's a tool that's still valuable when it's done professionally. Using Social Media for Media Relations « HighTalk. Media relations is now social media relations.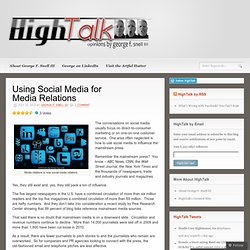 The conversations on social media usually focus on direct-to-consumer marketing or on one-on-one customer service. One area often neglected is how to use social media to influence the mainstream press. Remember the mainstream press? You know – ABC News, CNN, the Wall Street Journal, the New York Times and the thousands of newspapers, trade and industry journals and magazines. 100 Tips for Becoming a Rockstar With the Media — Sakita Holley. Twitter that Pitch: Introducing Pitch140. With a rapidly growing number of media members using Twitter it's high time we PR pros put the reigns on run-on emails with attached pdf and word format press releases.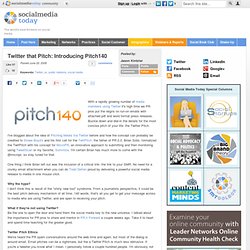 Buckle down and dial-in the details for the most concise pitch of your life- the Twitter Pitch. I've blogged about the idea of Pitching Media Via Twitter before and how the concept can probably be credited to Stowe Boyd's and his first call for the TwitPitch. the father of PR 2.0, Brian Solis, formalized the TwitPitch with his concept for MicroPR, an innovative approach to submitting and then monitoring using TweetScan or my favorite, Summize. How Journalists Can Leverage Social Media. Jason Falls Last summer I spent a good deal of time researching and preparing a presentation for Blog World & New Media Expo on putting social media in the newsroom.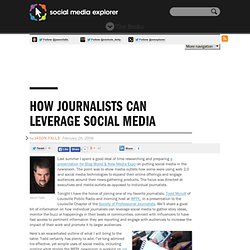 The point was to show media outlets how some were using web 2.0 and social media technologies to expand their online offerings and engage audiences around their news-gathering products. The focus was directed at executives and media outlets as opposed to individual journalists. HARO - Help a Reporter Out (TM) | Free Publicity. Citizen journalism. The concept of citizen journalism (also known as "public", "participatory", "democratic"),[1] "guerrilla"[2] or "street" journalism[3] is based upon public citizens "playing an active role in the process of collecting, reporting, analyzing, and disseminating news and information. "[4] Similarly, Courtney C.
Canadian Journalists on Twitter - Politwitter. Cyberpresse/Suivez nos journalistes - Abonnés... Rue Frontenac on Listorious. Medias Twitter List by JP Boudreau - Gepeto on Listorious. Tous les fils RSS. Qu'est-ce que le RSS Le RSS est l'acronyme de Really Simple Syndication et signifie en français « souscription vraiment simple ». Il est une variante du langage de programmation XML et permet aux internautes de s'inscrire à un ou plusieurs fils de syndication à l'aide d'un agrégateur. Ce système vous permet de retrouver en un seul lieu, dans votre agrégateur, tout le contenu qui vous intéresse, peu importe sa provenance. Mathieu Perreault | Recherche | Cyberpresse.
Afin de faciliter l'accès aux articles, Cyberpresse propose un moteur de recherche avancée. La recherche s'effectue par mot-clé (un mot ou un ensemble de mots). « Tous les mots » : tous les mots seront cherchés; « Au moins un des mots » : au moins un des mots inscrits sera cherché; « Exclusion de mots » : le ou les mots inscrits ne devront pas être inclus. Les majuscules ou minuscules ne sont pas importantes lors de la recherche. Cependant, l'orthographe l'est, si le mot est mal écrit, le système vous présentera des suggestions, mais il est possible qu'il ne trouve rien si le mot ne ressemble à aucun mot connu.
Journalists on Twitter - Breaking News, Politics, Opinion and more - Muck Rack. Media Contacts, Editorial Calendars and Profiles. Request a Demo Now Identify, reach and engage key contacts. Monitor and measure your PR efforts. Our powerful Web-based solutions are designed to efficiently identify and reach key traditional and social media contacts, monitor the effectiveness of your campaigns and measure the impact of your efforts. Relations Medias. Alltop - Top Journalism News. Make the news.
---