Politiques d'entreprise 2.0
Army Social Media Handbook 2011. Highlights from the Army's Social Media Handbook. The United States Army just released the second edition of their Social Media Handbook.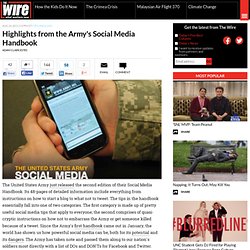 Its 48-pages of detailed information include everything from instructions on how to start a blog to what not to tweet. The tips in the handbook essentially fall into one of two categories. The first category is made up of pretty useful social media tips that apply to everyone; the second comprises of quasi-cryptic instructions on how not to embarrass the Army or get someone killed because of a tweet. Since the Army's first handbook came out in January, the world has shown us how powerful social media can be, both for its potential and its dangers. Politique d'utilisation des médias sociaux : modèle et exemples « Geoffroi Garon M.A.| Expert/formateur Internet, Entrepreneur en innovation sociale/numérique et Techno-anthropologue du Web.
Cette semaine, j'ai donné un atelier sur les politiques d'utilisation des médias sociaux lors du Camps d'été Les Affaires 2011 sur les médias sociaux.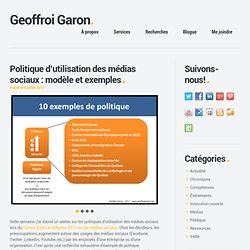 Chez les décideurs, les préoccupations augmentent autour des usages des médias sociaux (Facebook, Twitter, LinkedIn, Youtube, etc.) par les employés d'une entreprise ou d'une organisation. C'est après une recherche exhaustive d'exemple de politique d'utilisation des médias sociaux que j'en suit arrivé à ce modèle pour les classifier. J'ai aussi débusqué, parmi une centaine, les 17 meilleurs exemples de politique disponibles sur Internet à l'été 2011. Online Database of Social Media Policies. Ford Social Media Guidelines.
TCCC-Online-Social-Media-Principles-12-2009.pdf (Objet application/pdf) Online Database of Agency Social Media Policies. Social-media-policies-ebook.pdf (Objet application/pdf)
---