Thought Provoking
100 Best (Free) Science Documentaries Online. No matter how much you know, there is always something new to learn about science.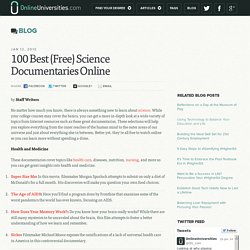 While your college courses may cover the basics, you can get a more in-depth look at a wide variety of topics from Internet resources such as these great documentaries. These selections will help you explore everything from the inner reaches of the human mind to the outer areas of our universe and just about everything else in between. Better yet, they're all free to watch online so you can learn more without spending a dime. Gay Parents Bashed. US-Mexico Border. Pastor Eddie S Smith-Namaste. How To Be Alone. Snap Judgment. 8 secrets about your debit card. Before I Die. What is important to you 2011 After Candy Chang lost someone she loved, she went through a long period of grief and depression.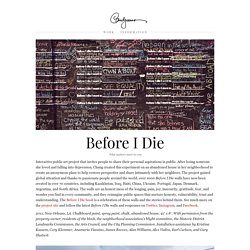 With time she felt gratitude for the time they had together and eventually she found clarity in her life by contemplating death so much. But she struggled to maintain this perspective. Dan Pink-Motivation RSA. All Videos. RSA Animate – Re-Imagining Work How can we get people more engaged, more productive, and happier at work?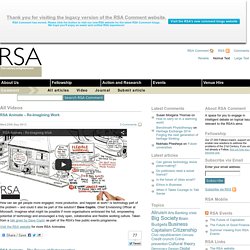 Is technology part of the problem – and could it also be part of the solution? FIFTY PEOPLE ONE QUESTION - GALWAY, IRELAND 2011 by Kamil Krolak. Barry Schwartz on the paradox of choice.
---